If Your Home Renovation's Been Put on Pause, Here's What to Do
We independently select these products—if you buy from one of our links, we may earn a commission. All prices were accurate at the time of publishing.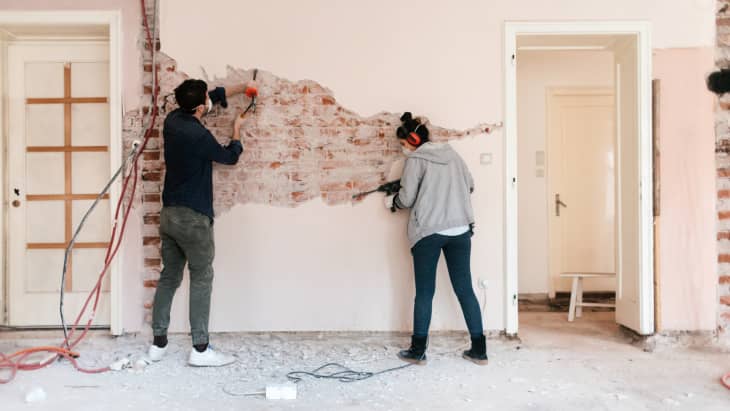 Renovations are exciting—but also stressful and fraught with delays, especially right now. With many companies deemed non-essential and contractors understandably choosing not to work during the COVID-19 pandemic, a lot of homeowners are facing stalled and unfinished home renovations. That means some spaces in your home could be only half done, with dust and debris just waiting get all over the rest of your house, or unfinished projects beckoning for someone to complete the job. Incomplete and stalled renovation jobs are likely adding another layer to your quarantine stress—but they don't have to. Follow these tips to properly (and calmly) deal with living in a half-done state.
Follow Topics for more like this
Follow for more stories like this
Clean, organize, and separate the space
Before you do anything else, make sure the renovation space is cleaned and organized. Ideally your contractors will take care of that before they leave your home. But if they don't, you'll have to handle some of it yourself. Michael Clarke, contractor and founder of home improvement app Pulled, suggests wearing protective gear to go in and seal off air vents and ductwork, organize tools and materials, wrap loose wires with electrical tape and secure them to the wall, make sure all breakable materials are protected, and then seal off the entire area with thick plastic sheeting to separate it from the rest of the house.
Control the dust and debris
Sealing off the renovation space will help keep dust and debris contained, but what if the project spot is in the middle of your home and you have to walk through it every day? Clear a path through the space, tape down thick paper as a makeshift pathway, and watch your feet.
"Put a box of booties right there," Clarke said. "Get everyone to put those on their feet or shoes when they walk into the space and then take them off when they walk out. It can be a challenge but it's a good option."
Also be sure to regularly sweep up or vacuum any mess that may have found its way into the living space. Just be sure to use a shopvac, Clarke says, because construction materials can damage regular vacuum cleaners.
With construction work stopped, it's the perfect time to reevaluate your project.
"You get to really pause and look at your space longer because you aren't rushing," said Amalia Graziani, a real estate developer and designer with Noor Property Group. "I've been able to recognize improvements or slight errors that I wouldn't have recognized before. I would have just been moving full steam ahead and maybe would have caught it when it was way too late to fix it. Now you can really spend time in your empty space and see if there are better ways to optimize it. Can you put an extra closet here, can you move a door there? If you see this as an opportunity to make more strategic decisions, this little bit of extra time may lead you to being happier with the finished product."
If you're a DIY aficionado, it can be tough to look at an unfinished project that you know you can work on and then not do anything. But it's important right now that you leave that renovation site alone.
"I highly recommend the homeowner doesn't try to finish any work themselves," Clarke said. "Contractors have already started and put together their method for how they want to complete the project. It can be difficult for the homeowner to jump into the middle of the schedule."
Plus, contractors often buy materials through wholesalers. And if you try to get similar materials through a hardware store, it's likely the color or size will vary from what you already have—and you could end up making more work for the crew when they get back on-site.
There's an exception, though. If the project you want to work on hasn't been started yet and doesn't require specialty knowledge, Graziani says go ahead and get started if you absolutely need to do something.
"DIY absolutely cannot replace contractor expertise, ever," she said. "Don't do anything structural or electric. But there are certain things you can do on your own."
So if you want to refinish cabinets, add molding or paneling, refinish a surface, get started on landscaping, tile a bathroom floor, or do something else along those lines, give it a shot.
"It can help with the anxiety that comes with waiting on a construction site, and it also helps move things along so the second the ban is lifted, you're able to hit the ground running," Graziani said.
Yes, it's difficult right now—especially when you see an unfinished project every day, all day. But do your very best to relax; it'll be better for you (and the job) in the long run.
"It is so important to stay calm," Graziani said. "You set the tone for everything being done and it trickles down to the people that will be coming back to your job site."
You don't want everyone who's working on your home to be stressed out about your job before they even get back to your house. So be kind, be patient, and relax.