Staub Just Launched a New Color and It Might Just Be Their Most Stunning Yet
We independently select these products—if you buy from one of our links, we may earn a commission. All prices were accurate at the time of publishing.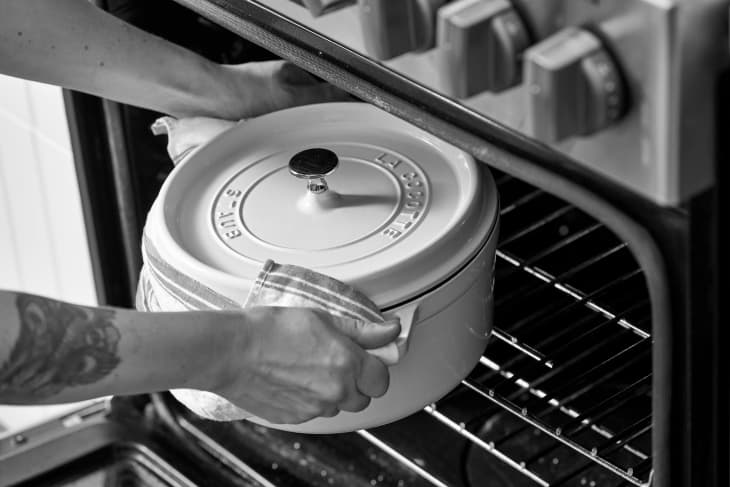 If there's one thing a home cook should splurge on, IMO, it's cookware. You can trust me — I mean, I do have the creds. I used to be a pastry chef, and I've cooked with just about every piece of cookware out there, and believe me: Trading out sub-par pots and pans for even one high-quality piece will seriously transform your food. And, when seeking out a new piece to grace your kitchen with, there are a couple of things to look for. You'll want to check off the boxes when it comes to heat retention and distribution, durable construction, thoughtful design, and of course, aesthetics. 
Follow Topics for more like this
Follow for more stories like this
While there are tons of new and innovative brands out there that we love, there's also a reason some companies have a longstanding reputation within the world of home cooks and professional chefs alike. If we're talking about well-deserved clout, there's no doubt that Staub is a top player. In fact, you'll find members of my team often referring to their own Staub pieces as the MVP of the kitchen — aka, their Most Valuable Pan. Needless to say, the time-tested, strong and sturdy, and absolutely stunning cookware is exactly what I'm talking about when it comes to splurge-worthy kitchenware. And, boy, has that sentiment never been more true than right now: Staub just launched some of their most iconic cookware pieces in a brand-spanking-new color on Williams Sonoma's site: Lilac. (Some of which are already on sale!) Best day ever? I think so.
It's only fitting that their versatile Deep Oven is available in the new hue. In fact, since my colleague, Vanessa Spilios, named it the "most-used piece of cookware in [her] kitchen" last year, I think it's safe to say the entire AT team has been coveting the do-it-all piece. The Deep Oven (aka Cocotte; aka Dutch oven) is a one-of a-kind piece of cookware thanks to it's specialized black interior (which has trace amounts of quartz for unparalleled even heating and extra grit for supreme browning and searing) and its lid's textured interior (which captures and redistributes moisture for a succulent outcome). It's also got a chip-, scratch-, and stain-resistant exterior that's composed of multiple coats of the subtly speckled, virtually sparkling Lilac enamel finish. (The gorgeous essential is also discounted right now!)
There's another staff-favorite in the Lilac lineup: the Everything Pan. Aptly named after is endless potential and multitude of uses, this workhorse is a braiser that effortlessly takes on the tasks of a skillet, fry pan, casserole dish, roasting pan, Dutch oven … need I continue? Its glass lid will allow you to keep an eye on whatever it is you've got cooking, ensuring no steam or moisture will escape. With a 3.5-quart capacity, it can cook holiday-sized batches of just about anything, all while its sleek, shallow body and wide handles keep it from becoming cumbersome when transporting from oven to table or when stowing it away. If it ever leaves your stovetop, that is!
Now, here's a phrase I'll never back down on: Everyone needs this Deep Skillet. This thing does the job of your cast-iron skillet, stainless-steel fry pan, and nonstick pan all while having tall enough sides to keep your stovetop splatter-free and a deep enough body to easily execute varied cooking projects. It's compatible with all stovetops, dishwasher-safe, and, sure, while you could opt for a traditional red or grey hue, buying this skillet in Lilac promises to make the pan the most unique piece of cookware in your kitchen.
Besides the three fan-favorite pieces above, Williams Sonoma is also offering Staub's 4-Piece Stackable Cookware Set, Round Dutch Oven, and Oval Gratin in the new hue. The truth is, having cookware that looks as good as it performs makes weeknight dinners, holiday prep, and hosting all the more exciting and fun. I've truly never seen cookware in a shade like this — and I've seen a lot of cookware in my day. The Lilac exterior on these pieces is whimsical yet elegant, fun yet versatile, unique yet subtle. Gifting any of the above would make someone's entire year — and yes, the same goes for you. I mean, with some of these Lilac beauties on sale, what's stopping you from treating yourself to an all new MVP? You deserve it.