What Can You Take From a Hotel Room? Leave the Towels, Take the Conditioner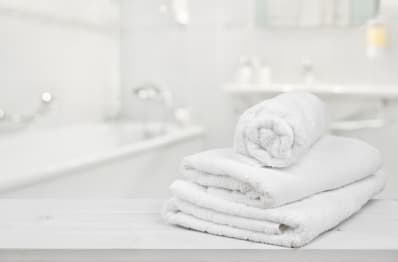 (Image credit: Getty)
Growing up, my dad was a firm believer of that if you were paying for a hotel room, you were entitled to take a few towels for the road. Turns out, dad laws aren't real laws and stealing towels from a hotel room is not only frowned upon, it is technically illegal.
So what is fair game? Hotels actually want you to take toiletries—they're not going to re-use them and it's a good way to spread the brand around. Everything else, though, is strictly off limits.
According to Travel + Leisure, it is highly unlikely you'll be thrown in jail for taking one towel (though they do share a cautionary tale) but you may find yourself on a list. For really serious hotel offenders—the rude, the gross, the theft inclined—there's a hotel blacklist. And as hotels begin to share their blacklists, naughty behavior could get one banned from numerous hotels.
One pillow or a washcloth may seem like NBD to you, but all those little thefts add up. As T+L points out, theft can cost the hotel industry around $100 million dollars a year. With many luxe hotel items available for sale, you can take a little bit of the experience home with you while remaining totally on the up and up. And you can always call down to the front desk to ask for a few extra bottles of their tiny Kiehl's lotion if you're feeling daring.
Now that you know the rules, you may want to check out these hotels: