Here's a Budget- and Rental-Friendly Smart Use for Any Leftover Stone Tiles
We
independently
select these products—if you buy from one of our links, we may earn a commission. All prices were accurate at the time of publishing.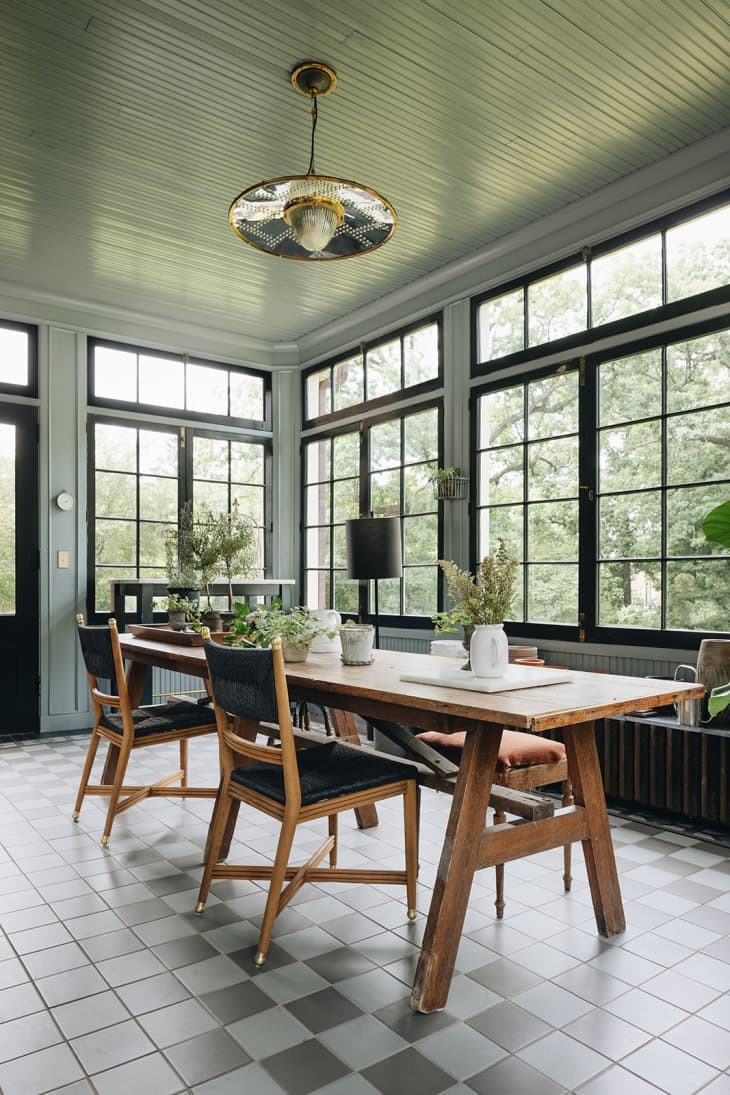 Radiators can be a tough home feature to decorate around. They take up a lot of space and are usually placed in prime real estate spots, like by windows or doors. Plus, putting items like books or decorative objects on them can pose a risk of fire and may impede how well the radiator actually works. Radiators are also useless for about half of the year when it's warm outside. So I was thrilled to see a nifty idea to make radiators smart, attractive, and multi-functional year-round on designer, author, and TV personality Jean Stoffer's Instagram: stone floor tiles set out across the top of the radiator in her sitting room, which effectively turned the piece into a perch for small items like planters, watering cans, and a wire brush for cleaning. This decorating move makes the radiator blend in with its surroundings — all while adding another luxe material to the fabric of the sitting room.
"I wanted a smooth surface to put stuff on that wouldn't get damaged with heat," Stoffer says. "I had marble tiles left over and used some on the the radiators." For Stoffer, the solution was an easy project born of materials she had on hand, but if you don't have your own leftovers, you could buy one or two à la carte tiles at a home center or tile store for an incredibly affordable DIY. You could even have a stone countertop remnant cut down to size, though tiles are probably a more economical solution. For the best fit, find something that's approximately the depth of your radiator. All this DIY requires is simply placing smaller tiles side by side to cover the radiator width-wise.
The trick here is using real stone tiles, since stone is a natural element capable of withstanding large variations in temperature. Another advantage to the stone tiles is their ability to absorb and retain heat — that's why you often see stone fireplace mantels. Long after the radiator has turned off, you may still feel warmth emanating from the stone tiles as they've held onto heat, so you just want to be conscious of what you set on it. 
Different stones have different heat retention properties, too. Marble, travertine, and limestone absorb heat. This means they'll stay cooler to touch, which is why you see these used on pool decks and why these materials were used in the architecture of sunny places like ancient Rome or Greece. Granite, soapstone, and quartzite conduct heat, which means they'll hold and release it over a period of time. This diagram shows the different thermal conductivity (known as k-value) and thermal resistance (known as R-value) of various types of stone; use it to see how a particular material you're considering for this project stacks up against other stones.
If you have some leftover travertine from the travertine side table craze, this would be a great way to repurpose the natural tile in a new way, too. There's really nothing stopping you from making your radiators more functional and beautiful, so give Stoffer's idea a go.