8 Stylish Puzzle Brands to Know About (and Give to the Puzzle Lover in Your Life)
We independently select these products—if you buy from one of our links, we may earn a commission. All prices were accurate at the time of publishing.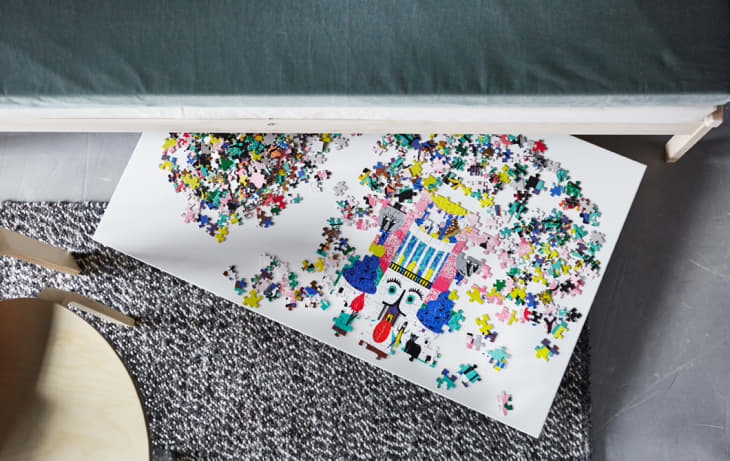 Keep friends and family entertained this holiday season with a gift that'll keep hands busy and reap the reward of a few hours' work by revealing a pretty picture at the end: a jigsaw puzzle. There's been an explosion of new stylish puzzle brands lately, and that means just one thing for you home decor enthusiasts out there: The fun doesn't stop once the puzzle is over! A finished piece can always double as stylish, framable art once assembled. From traditional landscape scenes to patterns that are on the wilder side of things, these eight jigsaws are all from fun, newer brands and make the perfect gift that keeps on giving for the puzzle lover in your life.
Follow Topics for more like this
Follow for more stories like this
JIGGY
Featuring artwork from emerging female artists, each JIGGY puzzle comes in a reusable glass jar and includes a tube of puzzle glue so the framing part of the process (should you wish to partake) is easy peasy. Founded by Kaylin Marcotte in late 2019, JIGGY just recently collaborated with Bloomingdale's for the 2021 holiday season, releasing a 500-piece puzzle featuring stunning artwork of the iconic 59th St. and Lexington Ave. storefront. It'd be perfect for the fashionista in your family or friend group.

Buy: JIGGY x Bloomingdale's 500 Piece Puzzle, $40.00 from Bloomingdales
Le Puzz
Inspired by vintage puzzles from the '60s, '70s, and '80s, Le Puzz offers retro-looking, quirky jigsaw puzzles. Think classic designs like this fruit assortment or a dog wearing sunglasses. There's also a give-back aspect to the brand, too. For every puzzle sold, Le Puzz donates $1 to the Boys & Girls Club of America.

Buy: "Juicy" 500 Piece Puzzle, $28.00 from Le Puzz
Piecework
Founded in 2019 by Rachel Hochhauser and Jena Wolfe, Piecework Puzzles offers a curated line of beautifully-designed, photo-real still life jigsaw puzzles. From florals and food to late nights and party scenes, the brand offers a wide range of designs. Piecework has collaborated with the likes of Goop, Anthropologie, and even Broccoli Magazine. The most recent partnership is with intimacy brand Maude, the sultry "Bottoms Up" puzzle, which is a little risqué in subject (so, not suitable for children), but fun nonetheless.

Buy: Piecework Puzzles x maude "Bottoms Up" 500 Piece Puzzle, $25.60 $32.00 from Piecework
Cloudberries

Cloudberries is a small, family-run puzzle company in the U.K. with quirky and modern offerings, from the world's first crowdsourced puzzle, to otherworldly, 3D puzzles that come with 3D glasses to augment the effect of your completed design, as seen in the space scene above. Many of their puzzles retail for less than $25.

Buy: "Space 3D" 500 Piece Puzzle, $24.99 from Cloudberries
Modern Puzzles
Modern Puzzles is exactly what it says on the tin: puzzles that are modern. Designs range from architecture to spectacular scenery and are available as 500- and 1,000- piece sets. "Frost and Fire," which is shown above, marks the brand's first-ever holiday jigsaw that'll transport puzzlers straight into a winter wonderland.

Buy: "Frost and Fire" 500 Piece Puzzle, $24.99 from Modern Puzzles
Water & Wines
Want a refreshing approach to a classic activity? Enter wine-themed jigsaw puzzles from Water & Wines, a brand helmed by a female sommelier from Sweden. These sets take puzzlers on a journey through the world of wine by featuring designs that highlight different wine regions' topography, grape profiles, and more. Pair one with a bottle of vino to win your holiday gift exchange.

Buy: "France" 1000 Piece Puzzle, $49.00 from Water & Wines
Gray Malin
Looking for a real challenge? Consider a double-sided jigsaw puzzle. Fine art photographer Gray Malin offers two-sided puzzles that feature a range of his characteristically-dreamy landscape and nature shots. New for the 2021 festive season is the "Winter Holiday" puzzle, with two whimsical images that capture the snowy magic of winter in Aspen, Colorado.


Buy: Gray Malin"Winter Holiday" 500 Piece Two-Sided Puzzle, $25.00 from Galison