I'm a Hiking Guidebook Author. Here's How I Make a Hiking Bucket List Every Summer
We independently select these products—if you buy from one of our links, we may earn a commission. All prices were accurate at the time of publishing.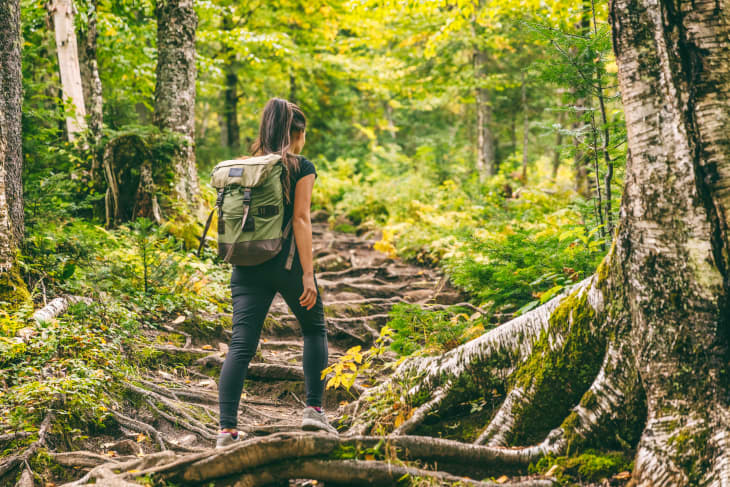 Something fun and cool about me? I love making lists. Putting thoughts into order, tidying them up into columns — that's the good stuff.
I also love going on nature walks, which is part of the reason I wrote a hiking guidebook for one of the loveliest places on earth: Eastern Massachusetts. Naturally, it makes sense that I'd organize hikes I'd like to try into lists. At the beginning of every summer, I make a hiking bucket list of all of the places I'd like to explore that season. Maybe that sounds intense, but I try not to put too much pressure on myself to get to them all. Instead, it's a nice resource I turn to when I want a fresh air-filled way to spend a Saturday. 
To have a list of hikes you've already vetted — ones you know you want to go on — feels like a luxury, in my opinion. In fact, I encourage you to make one for yourself. Here's how to get started.
How to Make a Summer Hikes Bucket List
While writing my book, I input hikes into a color-coded spreadsheet that I could organize by distance and location. This, of course, is not the kind of fun, lighthearted bucket list you'll be creating this summer. Instead, I'll use my monster spreadsheet as a guide for creating a more relaxed list. 
First, think about what you like in a hike and write it down. Is it the views? The cool plants? The workout? Maybe it's all of the above, or maybe your preferences change with the weather. In any case, it's good to jot down what kinds of strolls you dig.
Let's say you love beachy walks, woodsy hikes with nice views, and heart-pumping climbs. Those are three categories you can divide your list into. Then, start researching hikes in your area that fall into each of those categories. I consult sites like AllTrails and TrailLink, plus guidebooks (!) and local conservation organizations, to find fun trails and walks. (Another pro tip: If I want to find out if a hike is especially scenic, I'll look up its geotag on Instagram to see what kind of pictures people have posted.)
When putting the hikes into categories, I'll usually note a couple of details about each one. The length or distance of the hike, the time it might take to complete, and the town or region where it's located are my big three. These data points come in handy when I want to figure out, say, where to take a short, gentle walk after a night out — without thinking about it too hard.
Making the list pretty and personalized is one of my favorite parts. You can make a tricked-out Google doc like me (and use the strikethrough text effect or a checkmark once you've completed a hike) or hand-write your list, bullet journal-style. 
By the end of this process, hopefully you have 10 to 20 scenic hikes you hope to try out this summer. When a friend asks what you want to do this weekend, somebody asks to try a hike near a local brewery, or a date suggests hitting the trails, you'll already have a few spots in mind. There'll be no last-minute Googling and no guessing — just a lovely edited list of places you'd like to explore. Happy trails!