Sunset Projection Lamps Are Trending, and They're As Instagrammable As the Real Thing
We
independently
select these products—if you buy from one of our links, we may earn a commission. All prices were accurate at the time of publishing.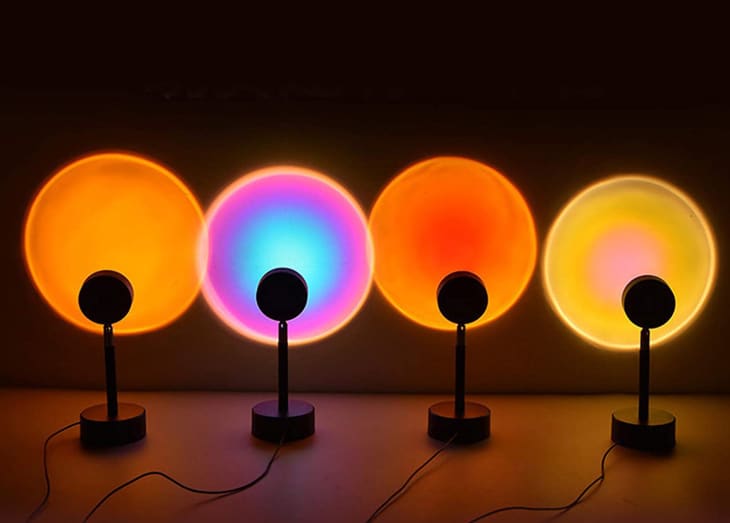 You've likely heard about light therapy lamps — the kind of lamps that mimic sunlight and is said to curb the symptoms of seasonal affective disorder (SAD), which is often associated with a lack of sunlight. But there's a new kind of sunlight-imitating lamp gaining popularity on Twitter. They're called sunset projection lamps, and they recreate that late-afternoon wash of sun that doesn't seem to last quite long enough during the winter months. While there are no proven health benefits, they will make your place look really cool.
There are only a handful of sunset projection lamps currently out there on the market, with some costing over $1,000.
Luckily, Amazon sells a couple more affordable options, including the VELIHOME lamp that comes in Sunset and Sunset Red, the red option being a deeper hue than its regular Sunset counterpart. VELIHOME also sells Sunlight and Rainbow lamps if you're looking for a brighter or more colorful option for your space.
Etsy Seller EPlightStore also sells a version of the sunset projector lamp, which has been garnering great reviews with those who were looking for the designer $1,000 version for less. "It allows you to create new graphic patterns and extend the possible projection surface, the ceiling and walls become immense paintings where artwork is displayed," the Etsy listing reads. "It's a powerful tool to create endless composition and decor gently the environment with its presence."