Here's How You Can Support the AAPI Community Right Now
We
independently
select these products—if you buy from one of our links, we may earn a commission. All prices were accurate at the time of publishing.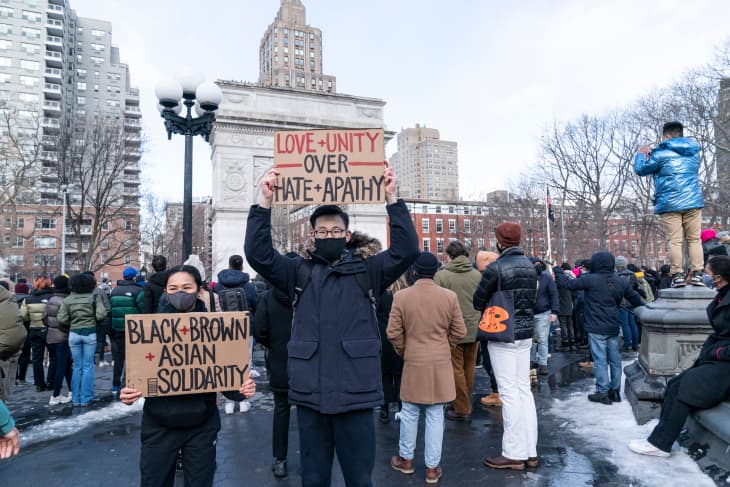 The tragic murder of eight people in Atlanta this week — six of them Asian women — is the latest in a series of hate crimes against the Asian-American community. Hate crimes perpetuated against Asian American and Pacific Islanders (AAPI) have increased by nearly 150 percent since the start of the COVID-19 pandemic, according to the Center for the Study of Hate and Extremism at California State University, San Bernardino. 
In addition to reaching out and checking in with your AAPI friends and family, here are other ways to show support for the community right now.
Racism targeted at Asian Americans isn't new. It was coded into the fabric of America with the Chinese Exclusion Act of 1882, which prevented immigrants from China from entering the United States. It continues with Japanese internment camps during World War II, and countless other examples of hate. NBC News has a list of educational resources, including a YouTube documentary series on the experiences of AAPI people during COVID. This site also features statistics, articles, and donation links related to stopping anti-AAPI violence.
Help your local community
This Google doc compiled by Twitter users @sasponella and @minstantramen includes resources and organizations in many states and across the country dedicated to supporting the AAPI community.
In addition to the organizations already listed, there's a GoFundMe set up for AAPI causes. Goldhouse is a non-profit that furthers the unity, representation, and success of Asians and Pacific Islanders. There's also the Asian Mental Health Collective, which aspires to make mental health resources easily accessible to the community. The Strategist has a robust list of additional organizations.
Support local Asian-American communities and Asian-owned businesses
Many Chinatowns across the country have been feeling the economic effects of the pandemic moreso than other neighborhoods and businesses due to pandemic-fueled racism. Though the victims of this most recent attack were largely Korean-American, frequenting your local Chinatown or Koreatown and shopping our roundup of Asian-owned businesses is always a good idea.