Here's an Unexpected but Smart Secondhand Shopping Tip, According to a Person who Wrote a Book on Thrifting (and Thrifts Every Week!)
We independently select these products—if you buy from one of our links, we may earn a commission. All prices were accurate at the time of publishing.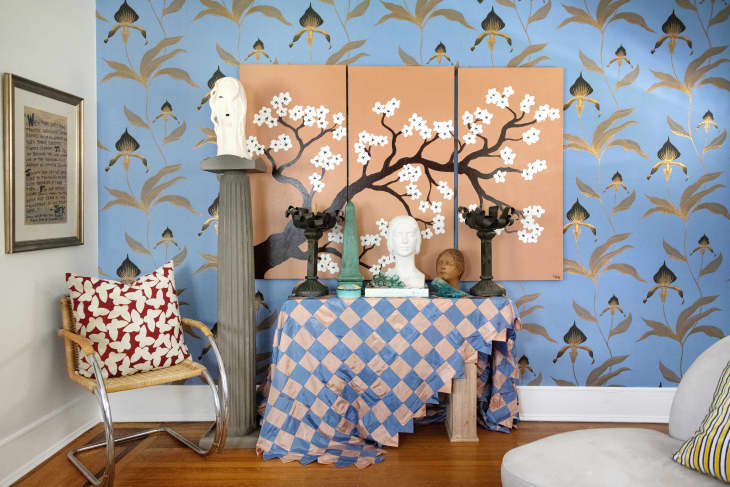 Follow Topics for more like this
Follow for more stories like this
A self-described thrift store enthusiast, Chamlee scouts flea markets, estate sales, and thrift shops weekly and has unearthed some true gems over the years. That said, even she struggles to find those diamonds in the rough because of the way items can be stacked on top of each other in secondhand shops — or just jumbled on tables, shelves, and in corners in general.
"Merchandise is everywhere, and it's rarely ever styled," says Chamlee. "Because of that, it can be really difficult to see the forest for the trees (or, as the case may be, to see the chair for the pile of trinkets on top)." 
That's why Chamlee's most unexpected thrifting tip is to do a little rearranging on the fly while shopping; she recommends viewing pieces on their own before buying. "If you see something that catches your eye, pull it out from the pile, or remove it from the stack it's in, and try to view it individually," she says. "This might mean holding a plate in your hand to get a closer look, or moving a chair to a clutter-free area so you can view it without something under or on top of it." Essentially, this trick can give you a better sense of an item's true potential. "Viewing an item on its own makes it easier to mentally copy and paste it into your own home," says Chamlee.
She used this method recently when she spotted a wavy wooden mirror leaning horizontally against a table full of merchandise at a flea market. "It looked like a dog bone, and apparently, it had been hung in a veterinarian's office previously," she says. "When I moved it to the side, away from all the other odds and ends and leaned it vertically, I realized it would be perfect for a blank wall I had in my dining area." Now, no one mistakes the mirror for a dog bone, since it's displayed in an entirely different context (as shown above).