Susan's Dream Come True Nantucket Cottage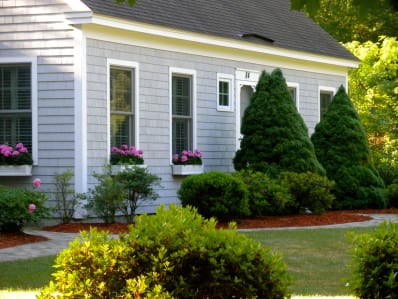 (Image credit: Submitted by Susan )
Name: Susan
Location: Bedford, New Hampshire
In 2002 I found myself a single mom raising two daughters, I had a dream of designing and building a Nantucket Cottage. I set out to find land, design my cottage and sub contract out the work. The property is surrounded with the charm of the old gray stone walls once used by farmers to mark their land. In 2005 I opened an interior design and home furnishings store in historic downtown Concord New Hampshire. I hope to inspire other single moms that when one door closes you have the power to open another door, to find your passion and always keep moving forward.
(Image credit: Submitted by Susan )
My home is located in Bedford New Hampshire, it is approximately 2400 sq. ft. Bedford is a small New England town with much history, incorporated in 1750.
(Image credit: Submitted by Susan )

The part of my home that I'm most proud of is when I pull into my driveway and look at what I have created during a time when I felt my world had fallen apart, and knowing how proud my daughters are of me.
(Image credit: Submitted by Susan )

My favorite room is the back porch with the large windows and painted checkerboard floor looking out onto the deck and secluded backyard. My inspiration came from the gray shingled homes on Nantucket Island. What I love is the comfortable feeling when you walk into my home, wood floors, brick floor, sisal rug, beadboard, vintage and heirloom acccessories, mixed with new.
(Image credit: Submitted by Susan )
Thanks, Susan!
• Interested in sharing your home with Apartment Therapy? Contact the editors through our House Tour & House Call Submission Form.