17 Sustainable Swaps to Remember That Don't Involve Your Recycling Bin
We
independently
select these products—if you buy from one of our links, we may earn a commission. All prices were accurate at the time of publishing.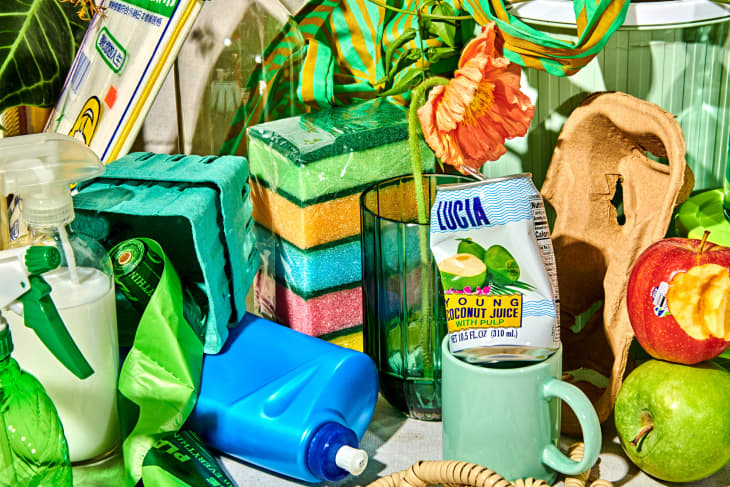 Kathryn Kellogg, who chronicles her sustainability journey on Going Zero Waste, wasn't originally concerned with living a more sustainable life. Instead, she wanted to live in a cheaper one. "I started because I wanted to save money and reduce my exposure to toxins, because I was having some health problems," says Kellogg. "What I found was that so many of the swaps I was making were so much better for the environment."
The same can be true for your daily habits. Read on for 17 ways to help the planet that go beyond your recycle bin, and see what else you can try. Even if you've heard of some of these before, here's your reminder to pick up a habit or two.
The Ways You Eat and Drink
1. Eat more plant-based meals at home: If you're not willing to give up meat all together, consider minimizing your usage for each recipe. Kellogg suggests cutting the amount of ground beef you're cooking with in half, and subbing in 50 percent lentils and beans instead. Not only is it better for the environment (beef takes 1,800 gallons of water per pound to produce), but it'll save you quite a bit of money, since beef is more expensive. 
2. Switch to a non-dairy milk: If you're not willing to ditch traditional milk in your coffee, consider a plant-based option for baking purposes. Chances are you won't even be able to taste the difference. To make your own almond milk, Kellogg suggests blending a third of a cup of almonds for 4 cups of water, and straining that using a coffee press. 
3. Buy fewer single-use packaged foods and drinks: Avoiding single-use packages is one of Kellogg's top tips. "I think on the whole, just reducing the amount of single-use items you get is the best thing moving forward," she says. If you have the option, reduce the amount of packaging you consume by buying one large item, like a container of yogurt or bag of chips instead of individually packed ones. "It's also typically cheaper to buy the larger one," said Kellogg. Shopping at co-ops or in the bulk goods section and bringing your own containers can eliminate packaging all together.
4. Use reusable coffee pods: If you're devoted to a pod-style maker for your morning cup of joe, consider a reusable option. Not only do they prevent a lot of garbage (they are often not recyclable, depending on where you live), but buying coffee by the pound is much easier on your wallet. 
The Ways You Run Your House
5. Switch to LED fixtures: Nobody's expecting you to exclusively sit by candlelight. But when it comes to illuminating your house, switching to LED fixtures can make a big difference in your carbon footprint. "They use 80 percent less energy than incandescent bulbs, and last much longer," says Steve Pallrand, Founder of CarbonShack, a sustainable design-build firm. For your appliances, purchase big-ticket items like refrigerators, dishwashers, washers, and dryers that have earned an Energy Star. This means that they have met energy efficiency criteria set by the U.S. Environmental Protection Agency or the U.S. Department of Energy. 
6. Install low-flow appliances: Transporting and filtering water and treating sewage requires a lot of energy. When you factor that in with a shrinking water supply, minimizing your use makes a big difference. "Low-flow shower heads and single-gallon flush toilets are much, much more efficient, and more pleasant to use than they used to be," said Pallrand.
7. Wait to buy and avoid returns, if possible: Avoiding impulsive buys is the best way to avoid amassing junk you'll just toss away. "I try to wait 30 days before I buy anything. What you find is that when you wait, you really don't need most of the stuff you think you need," said Kellogg. She also recommends removing yourself from the cycle of non-stop online purchases. If you tend to buy things without consideration only to return them, they probably just end up in a landfill. "It's more expensive to restock them," said Kellogg. "The carbon footprint of returns is out of this world."
8. Buy from your community: Shop secondhand, or find an alternate method of consumption within your community. These days, neighborhood Facebook "Buy Nothing" groups are overflowing with items that people are looking to get rid of, and often they're in good condition. Also, don't hesitate to ask family and friends. Kellogg suggests at least 50 percent of the stuff in her home is from family and friends that she got for free.
9. Bring a reusable tote — if you'll use it: Yes, it's good to bring your own reusable bags to the grocery store. But you actually have to use them consistently. "You need to use a cotton bag 131 times to have the emission impact of one plastic bag," Kellogg notes. Therefore, piling up a supply of reusable totes in your closet may not make much of an impact. Your best bet is to purchase some sturdy totes and mesh produce bags that can be tossed in the washing machine when soiled.
10. Avoid short-lived trends: Sure, you want to look cute. But the price tags of some sustainable fashion lines will have you running to the discount chains in no time. Instead of buying into several different trends that will be banished to the back of your closet soon enough, spend your money on high-quality basics that won't go out of style after just one season. 
11. Make your own cleaning products: You can usually complete most cleaning tasks with a combination of baking soda, vinegar and lemon. "That's pretty much all you need," Kellogg sys, who suggests a bit of hydrogen peroxide and soap for other situations. "If you have those in your cleaning caddy, then you can clean anything immaculately, except your laundry."
12. Wash on cold and skip the dryer: Not only is it a great way to save energy, it will help your electric bill. And don't over-wash your clothing, either. "When it comes to pants and shirts, if it doesn't smell or isn't soiled, there's no reason to wash it after one wear," said Kellogg, who said that will also help clothes last longer. When it's warm enough, ditch the dryer all together and hang-dry your clothes. If you don't have an outdoor clothing line, a drying rack can serve great purpose in the smallest of apartments.
13. Ditch paper towels: Paper towels create a tremendous amount of garbage, and can't be recycled. Kellogg suggests buying "a really good pack of reusable paper towels," like a $40 set that could last you five years, or just reusing old rags and towels. There are also bamboo options; one roll of Bambooee UnPaper Towels replaces up to 429 paper towel rolls, and they can be washed up to 100 times.
14. Educate yourself: In order to advocate for climate change, know what you're talking about. From climate change to sustainable fashion, there are tons of books out there to educate you about sustainability.
15. Be sure to vote — in every election: One of the ways you can promote change is by voting in more than just the presidential election. Throughout the year, there are several local elections that tend to go ignored. In reality, a lot of those environmental decisions that impact your community are being made by these elected officials. Chose to vote for ones who aren't rolling back environmental protections.
16: Call your legislators: If there's a sustainability issue that's important to you, consider reaching out to your local representatives or speaking up about it in a public forum. "I would rather have the biggest impact with less time," Kellogg says. "That involves looking at larger things like voting, calling your legislator, attending a city council meeting. Taking five minutes to call your legislator is more impactful than remembering to wash and bring your straw with you multiple times."
17. Start small: You don't have to craft your own recycled napkins overnight. "Wanting to live a more environmentally friendly life is a lifelong thing," Kellogg says. "There's no reason you have to be perfect." Instead, she focuses on changing one or two habits at first. Once you master those, you'll go on to more. "Start small, and just continue to learn and grow," she continues. "Thats the biggest commitment I could expect of anyone."
This piece is part of Green Week, where we're talking about ways to make eco-friendly choices and contributions at home. Head over here to read more!