This Is the $10 Card Game You've Probably Never Heard of Before, But Is Simple Enough to Pick Up Instantly
We
independently
select these products—if you buy from one of our links, we may earn a commission. All prices were accurate at the time of publishing.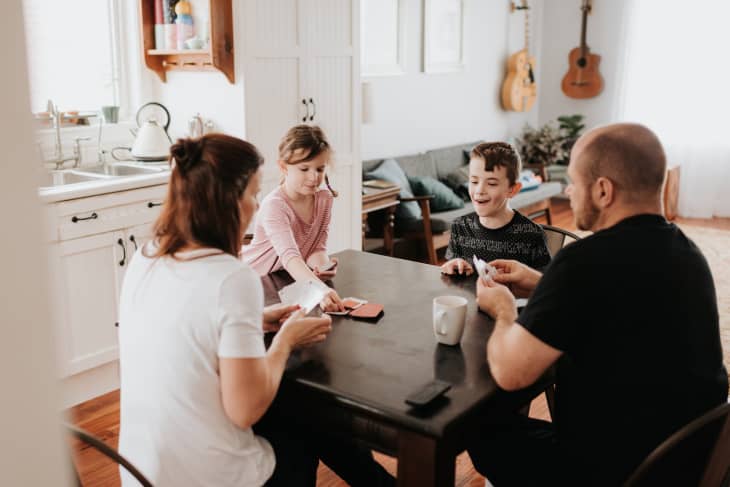 Growing up, my family rarely planned game night. We fell into it, lured by whatever game we suddenly remembered was stashed away in a drawer or linen closet. Card games were a particular favorite. They were associated with big barbecues on hot summer days, where the kids would band together for their own adventures while adults gathered around the table with a shiny set of dominoes. It wasn't long before we amassed multiple decks of cards for games of Battle, Speed, Blackjack, Old Maid, and Go Fish. UNO continues to be a popular pick for card-filled chaos. However, in searching for a new addition to bring some needed change to the family game night line-up, I found a deck of cards that shook the table… and game night altogether.
Taco Cat Goat Cheese Pizza is a fast-paced card game with a twist: It's an actual tongue-twister. It mixes a word relay with a matching game, then throws in visual cues and physical humor for absolute mayhem. Don't let the levels fool you, however: The game is still simple enough for kids to grasp and cutthroat enough to keep adults interested. It has over 19,000 reviews and a 4.8-star (out of 5) rating on Amazon. "It's a speed game but you don't have to be the fastest, you just can't be the slowest," said one Amazon reviewer. Though recommended for ages 8–100, some reviewers have stated that with some help, those as young as five have been able to participate.
Gameplay is simple: The entire deck is split between 2-8 players, who then place their individual stack of cards face-down in front of them. Each person takes a turn flipping a card face-up on a pile in the middle while saying the words "Taco," "Cat," "Goat," "Cheese," "Pizza" — in that order. If the card in the middle matches the word being spoken, the players race to slap their hands down on top of all the cards. Whoever is last must add the entire stack to their own set of cards. The winner is the person who gets rid of all their cards first.
Many players have shared that it's a great game to play with family, especially when it comes to appealing to more than one age group. "The rules are quick to learn and yet the game is fun and engaging for all ages," said a Taco Cat Goat Cheese Pizza gamer who highly recommends it.  "It is just silly enough for kids to really enjoy it and adults to get lost in the joy of laughing." 
Because the rules of Taco Cat Goat Cheese Pizza are straightforward, the only snags you'll have to keep an eye out for are the three bonus cards that could sneak up at any moment. Each of these cards requires a fun extra step toward securing the victory. Altogether, the game itself only lasts around 15–30 minutes, making it a lively way to spend a short burst of time.
Look below for an instructional video from Taco Cat Goat Cheese Pizza game creator Dave Campbell:
According to Dolphin Hat Games, a standalone expansion set called Taco Cat Goat Cheese Pizza: On the Flip Side is coming soon.