Here's What You Can (and Can't) Take with You After Selling Your Home
We
independently
select these products—if you buy from one of our links, we may earn a commission. All prices were accurate at the time of publishing.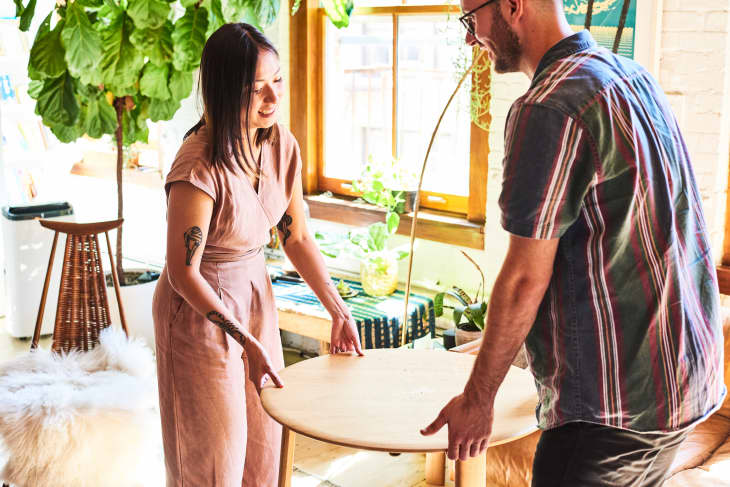 After spending a week or so on the market, your house received a great offer from an interested buyer. Congrats! You've wisely avoided the things that can bring your closing to a grinding halt, and now, you've sealed the deal and are packing up everything to move out. But not so fast—you can't really take everything with you. Just like it's no longer your house, not all of the home's contents belong to you either. 
"Buyers can easily fall in love with your home as the result of a fixture, appliance, yard ornament, built-in, or feature that you, as the owner, intend to take with you, because you feel it is yours," says broker Gerard Splendore of Warburg Realty in New York City.
So, before you start grabbing items like it's a fire sale, you need to view your potential actions from the buyer's perspective.
"How would you feel if, as a buyer, you paid full price, or even more than full ask, just to score the crystal chandelier in the dining room, or the wood nymph spouting water in the garden fountain—and that item is gone?" In fact, Splendore says more than once he's seen a seller remove a fixture and replace it with a lesser or cheap imitation of the original.
This leads to the burning question: what can you, as the seller, take when you leave the home—and what items are off-limits?
According to Hartford-based Kris Lippi, realtor and owner of ISoldMyHouse.com, it's important to understand the difference between a "fixture" and a "chattel". 
"A fixture is something that is attached to the house and is unable to be moved, whereas a chattel is something that is moveable," he says. In other words, fixtures are usually required to remain in the home. On the other hand, Lippi says chattel is considered personal property and can be taken with you. Ahead, find some specific examples.
"If the lighting is attached to the house, such as a ceiling light, chandelier, or wall sconce, it would be a fixture," Lippi says. But a lamp that just plugs into the wall is chattel. Splendore adds that it's plain wrong to remove a light fixture that is connected to the house or hardwired into the electrical system. "It is a necessary part of the house, and the buyer will not have light in certain rooms which were in place and lit when they originally viewed the house and bid on it," he explains.
This is a tricky one, since Lippi explains that, technically, most appliances, like refrigerators, washers, and dryers would be considered personal property. "However, if the appliance has been built into the kitchen in any way or customized such as refrigerator doors matching the cabinets, this now becomes a fixture," he says.
Built-in bars, bookcases, counters, desks, and vanities
If you're in love with your built-ins, you can assume that the seller is, too, and expects to see them when arriving at their new home. "Removing built-ins, constructed features of the house that are attached and therefore part of the structure, is not appropriate, as these features are integral parts of the home," Splendore says. How egregious is it to take these architectural elements? He compares it to removing every other step in the staircase, or removing the doorknob from the front door. Not great.
Features and structural parts
Perhaps you spent thousands of dollars on those imported exotic hardwood floors or that travertine tile. The thing is, you can't pry them up and take them with you. Similarly, a soaking tub you installed, which may be better for resale value, can't be loaded on the moving truck when you leave. "Features and structural parts of the house are included in the sale," Splendore says. "The seller is not at liberty to eliminate or remove random features from the house prior to the buyer taking possession."
But you're not leaving empty handed
Aside from your beds, chairs, tables, and knick-knacks, it may seem like you can't take anything when you leave. However, you can actually take most of the home's items. "You can take outdoor furniture, ornaments, plants, planters, and grills," Splendore says. You can also take wall-mounted televisions—but leave the mounting hardware if you can't remove it without damaging the wall. Splendore says you can also take standard curtains and rugs. Expensive, custom drapes are a case-by-case basis.
To avoid confusion over what you can and can't remove from the home, Lippi recommends an inclusions and exclusions rider. "Having this in your purchase and sale agreement clearly states what is included and not included with the sale, and prevents any disagreements at closing," he says.  
There's also another way to avoid disputes over what should be left in the house. "When the seller does not want to sell a fixture or feature, remove it prior to listing the property," advises Splendore. When he's listing a house, Splendore says he goes through the home and asks about everything: air conditioners, light fixtures, wall-to-wall carpeting, mirrors attached to the wall.  "If the buyer never sees the chandelier or built-in mirror or the garden feature, then they cannot expect it to be part of the sale," he says.