This Is the World's Largest Tree — But You Could Be Fined or Imprisoned for Visiting It
We
independently
select these products—if you buy from one of our links, we may earn a commission. All prices were accurate at the time of publishing.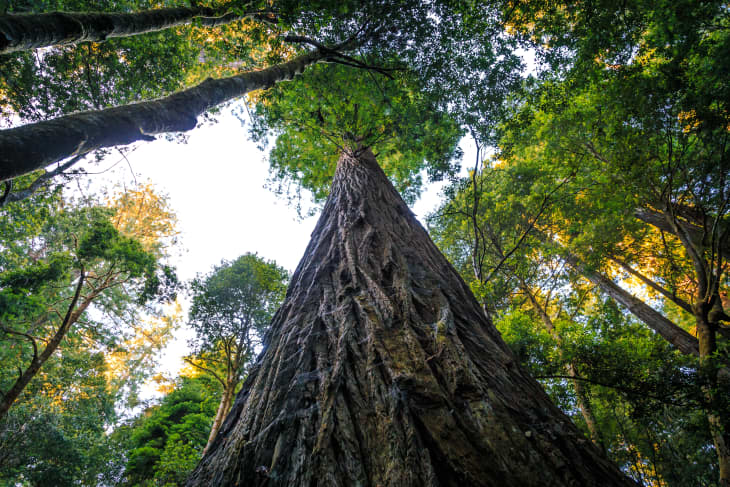 If you've been planning a visit to see the world's largest tree — Hyperion, located in California's Redwood National Park — cancel that trip ASAP, or else you may end up facing jail time. 
A statement released by the National Park Service (NPS) on July 25 alerts travelers to the Redwood National Park that Hyperion is officially off limits due to the fact that tourism has resulted in the destruction of Hyperion's habitat.
"Hyperion is located off trail through dense vegetation and requires heavy 'bushwhacking' in order to reach the tree," the statement reads. "Despite the difficult journey, increased popularity due to bloggers, travel writers, and websites of this off-trail tree has resulted in the devastation of the habitat surrounding Hyperion."
NPS asks would-be visitors to consider whether they want to be part of the preservation of Hyperion and its landscape or part of its destruction.
And to make that question easier to answer, NPS said that any travelers caught headed to Hyperion could be arrested and jailed for six months as well as issued a $5,000 fine.
Hyperion was "discovered" in 2006. It measures over 380 feet tall and is believed to be at least 600 years old. NPS decided not to create a trail to Hyperion because in doing so, it would limit the tree's growth. As the statement explains, Redwood roots are incredibly shallow and soil compaction due to trampling negatively affects the trees' growth and stability.
There are hundreds of miles of trails in the Redwood National Park on which you can admire the beauty of the massive Redwood trees. Hyperion may be the tallest, but it's not necessarily the most impressive. Stick to the trails and do your part to save Hyperion and its environment.