TikTok's $5 Freezer Storage "Hack" Instantly Clears Frozen Food Clutter
We
independently
select these products—if you buy from one of our links, we may earn a commission. All prices were accurate at the time of publishing.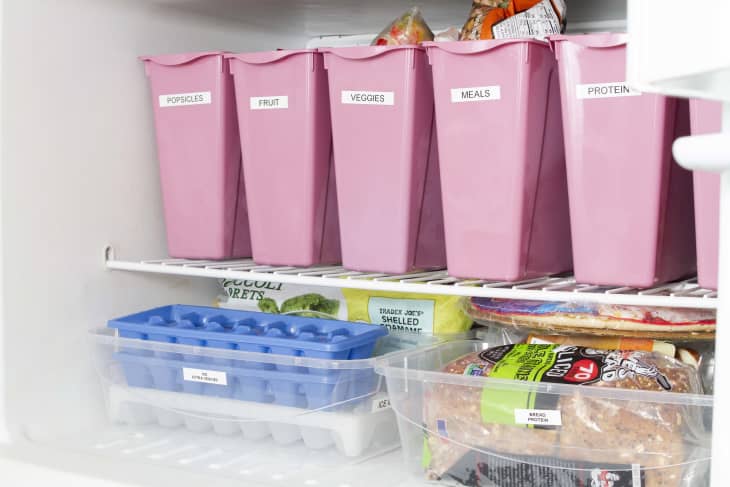 You know that terrible feeling that comes when you find a long-forgotten-about pint of ice cream in the back of your freezer that's now freezer burnt? Now you can make that a thing of the past, thanks to organizing and styling TikTok account @thetidyhomenashville. The Nashville-based Tidy Home team found a way to save your freezer clutter in little to no time at all — with budget-friendly items, too — thanks to a simple and space-saving "hack."
The video, posted to the account on November 7, shows how to use Target brand Brightland multipurpose storage bins for an ingenious clutter-free storage solution. It's especially timely ahead of the holiday season, when you'll have guests and parties on the calendar at nearly every turn.
"Do you need an easy freezer solution?! Grab these bins from Target!" the caption reads before a shelf filled with plastic organizers goes from cluttered to clear with bins that create instant organization and order.
Once the organizers are in place, The Tidy Home Nashville creators are able to "file" away each food item according to different categories that they've labeled (with a marker) according to need, like a bin labeled for breads and sweets, the one next to it filled with frozen veggies, and the others holding frozen breakfasts and other grab-and-go meals. 
"Omg thank you! I need this!" wrote one commenter, and another added: "Excuse me, I tripped running to the Target app!"
If you're worried about longevity and durability, The Tidy Home Nashville creators said in the comments section that bins are sturdy amidst the cold environment. "I've had these for 3+ years and no issues!"
To take your organizing one step further, you can use a dry erase marker and write your entire inventory on your freezer door (or level up and do it for both your fridge and freezer). With this method, you'll know what you have in stock, what's out, and what you need to pick up at the grocery without having to go through your entire freezer.