I Bought This $10 Target Candle Because It Smells Exactly Like Abercrombie & Fitch and I Have No Regrets
We
independently
select these products—if you buy from one of our links, we may earn a commission. All prices were accurate at the time of publishing.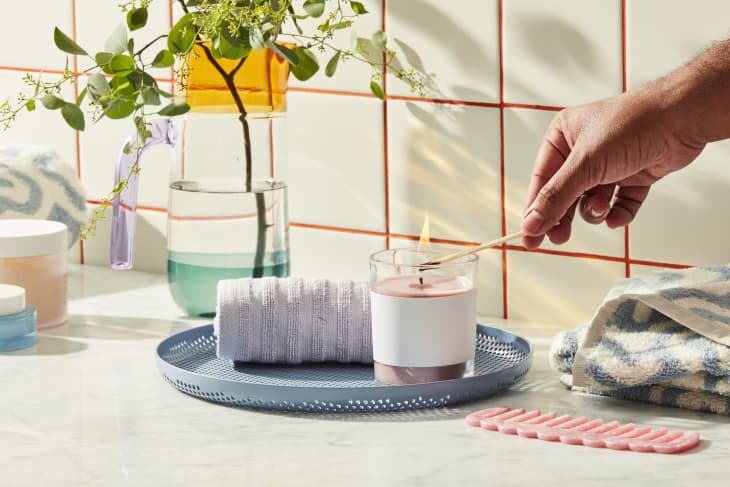 Picture it: it's 2005, and you and your friends are spending a Saturday afternoon cruising your local suburban shopping mall. You're wearing a polo with the collar popped and a distressed denim miniskirt. Your purse is emblazoned with a big old letter — your initial — and all your friends have matching ones with theirs. In your grips are sugar-laden Starbucks drinks with calorie counts that defy the laws of nature. 
Sure, you pop in to peruse a few of your go-to shops. Charlotte Russe, Wet Seal, Victoria's Secret (after all, Pink is available in all stores now!). You sneak past the Hot Topic, wondering what your life would look like if you just dropped the prep act and let yourself indulge in the beauty of edgy, thought-provoking, and pop-culture-inspired graphic tees. But these stores aren't what the trip is about. 
There's only one place you're spending that babysitting money. And it's marked by the looming faux bust of an unlucky moose and guarded by the soft, alabaster flesh of a couple young men with a hummingbird's metabolism and weekends swallowed by football practice. Friends, I'm talking about Abercrombie & Fitch. 
Hey, the early aughts were a strange time to be alive. Looking back, I have no idea how I ever justified to my mom the prices of their washcloth-sized t-shirts and more importantly, how I (and U.S. consumers in general) tolerated their graphic tees' frequent blatant appropriation and racism. (Sidebar: if you haven't seen Netflix's "White Hot: The Rise and Fall of Abercrombie & Fitch" yet, it's worth a watch!) I let myself get sucked in, weekend after weekend, by the scent of Fierce. 
You know the scent. High school fellows would wake up, dip themselves in a vat of their precious cologne, and gift us with the "aroma" that Abercrombie & Fitch's website describes as a "bold blend of marine breeze, sandalwood, and sensual musk wood notes." But all I could smell was youthful, inexperienced, primal urges, baby! And I wanted that all up in my nose parts something fierce.
Since my therapist and I have spent the past decade focusing on my more pressing mental health crises, I am still plagued by my devotion to the smell of regular people pretending to be sexy, seafaring lumberjack hunks. And so, when I recently came across Threshold's "Find Your Truth" oakmoss and vetiver candle at my local Target, wow, was I ever transported back to Cherryvale Mall in Rockford, Illinois, specifically between 2004-2006! 
Oh my goodness! When I forced my friends to do a blindfolded smell test of this candle (meaning, I shoved my hands over their peepers, shoved the jar in their face, and instructed them to breathe and recollect), THEY KNEW EXACTLY WHAT I WAS TALKING ABOUT. 
At just $10 for a 10-ounce jar, it's not a huge issue to pick up a candle (or three) to add to your candle collection. (And for more show-stopping candle options, check out some of Apartment Therapy contributors' go-tos, like Tribe & Oak and, of course, cult-favorite Otherland.) 
Pop over to a Target and snag your Fierce-dupe today! (And then stream "White Hot" and do a little self-reflecting!) I've been enjoying my summer soaking up the scent of a bygone era, and thanking the ultra low-rise denim goddesses that the early aughts are a literal thing of the past.