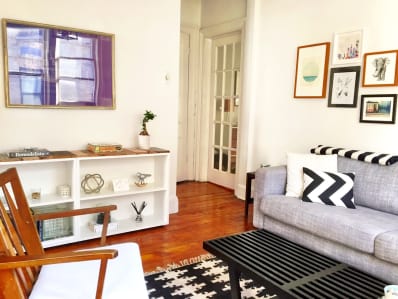 (Image credit: Taylor Gulbins)
Name: Taylor Gulbins
Location: Hoboken, New Jersey
My girlfriend and I share a 900 square foot apartment in Hoboken, New Jersey. We moved into the space together five months ago. It is the top floor of a four-story walk up, and has a ton of character and the kind of old-fashion charm that you just can't find in new construction buildings.
(Image credit: Taylor Gulbins)
Our story with this apartment began with a tough sell. She didn't want to leave New York City, but when I found this apartment online I pleaded with her to get on the train to New Jersey — she fought me every step of the way. When we got there, the apartment looked nothing like it did now, but I could tell she saw the potential, and I promised her I would make it an apartment she would love — and worth crossing the river for! Based off that promise, we signed the lease the next day on our two-year anniversary.
(Image credit: Taylor Gulbins)
She was working full-time already so she was incredibly busy. Together, we painted the apartment, and went shopping for the essentials, but since I had a month before I started a new job, she trusted most of the decorating to me (bless her). She would come home to me refinishing chairs, dressers, tables, and eventually the place came together.
(Image credit: Taylor Gulbins)
It got to a point where I was obsessing so much about how the apartment looked that she began to make fun of me for being her "interior designer" first, boyfriend second. And my only comeback is "Someday we will get on Apartment Therapy and then you can't make fun of me anymore!" All in all, we are really proud of the final product. We love our home, and hope you will love it, too.
(Image credit: Taylor Gulbins)
Thanks, Taylor Gulbins!
• Interested in sharing your home with Apartment Therapy? Contact the editors through our House Tour & House Call Submission Form.