Renters Solutions: Temporary Cork Floors on a Tiny Budget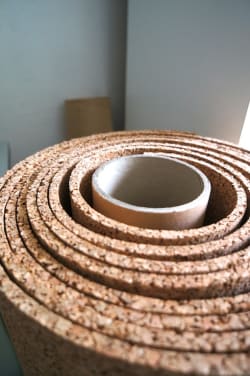 I love my tiny apartment, but I don't love the floors. While some rooms were done in wood, others were floored with an odd mish-mash of vinyl tile that would never get clean, chipped ceramic tile, and plywood (no flooring). The biggest trouble spots were in the kitchen and entry, since I was able to cover the majority of the non-wood with floating floors from IKEA. Due to the small size of these spots, laying the floating floors would mean lots of cutting and since my friend with the saw moved away, I was looking for something a bit easier to install.
After researching various options that wouldn't make my landlord cringe (we're renters), I realized that they were all 1. Out of the budget, 2. Too permanent, or 3. Ugly. Ideally I wanted flooring that would be under $1 per square foot and could be something I might potentially reuse. Here's what I found and how I made my rental flooring dreams come true under budget.
After doing a bit of brainstorming I realised that cork could be just thing considering it's available on a roll for only $.70 a square foot. Cork that makes for good flooring needs to be thicker than what one would buy for a bulletin board. I got mine thick, but not so thick that I'd need a saw to cut it. After prototyping with a few sheets of cork in various sizes (I use cork for bulletin boards, to line cabinets and shelves, and for coasters and trivets), I discovered that my ideal cork floors would be at least a 1/4 inch thick. Luckily this was also the size of the cork on a roll that was available in from Home Depot (who also shipped it to my home for free).

Once the material was sorted, the next challenge was how to adhere it. While cork cut to size can be snug, I didn't want it to rise in spots and so needed a little bit of adhesive to keep it flat. The adhesives that Home Depot suggested I use with the cork were all far more permanent than what I was looking for, so I turned to my mom, the avid scrapbooker, for help. Mom's scrapbooking habit lends itself to numerous adhesives, only some of which are permanent, and all of which are non-destructive, and so on her recommendation I picked up a can of 3M General Purpose 45 Photo Safe adhesive.

The project took just under 3 hours, with the longest amount of time spent on measuring and getting the fit right. If you're looking to do this project and don't mind have the cork permanently adhered, I strongly recommend using a more permanent adhesive, as the one that I used for this project came loose once it got a bit humid.

What You Need
Materials
Tools
Ruler
Measuring Tape
T-square
Pencil
Utility Knife
Pots & Pans
Instructions
Measure your space.
Use the measurements to create a template for your floor using the kraft paper.
Cut the kraft paper to measure and fit it in the space, making any necessary adjustments.
Use the cut kraft paper as a template for cutting the cork.
Cut the cork carefully, as thinner cork will break off easily at the edges.
Lay the cork on the floor, making any additional fit adjustments.
Adhere the cork to the floor, working a section at a time.
Place pots and pans over the glued down cork to help it adhere. Note that it will take longer for it to set if the room is warm.
(Images: Joelle Alcaidinho)
Apartment Therapy supports our readers with carefully chosen product recommendations to improve life at home. You support us through our independently chosen links, many of which earn us a commission.