Texas Laundromat Features a Secret Hidden Speakeasy Behind an "Out of Order" Machine
We independently select these products—if you buy from one of our links, we may earn a commission. All prices were accurate at the time of publishing.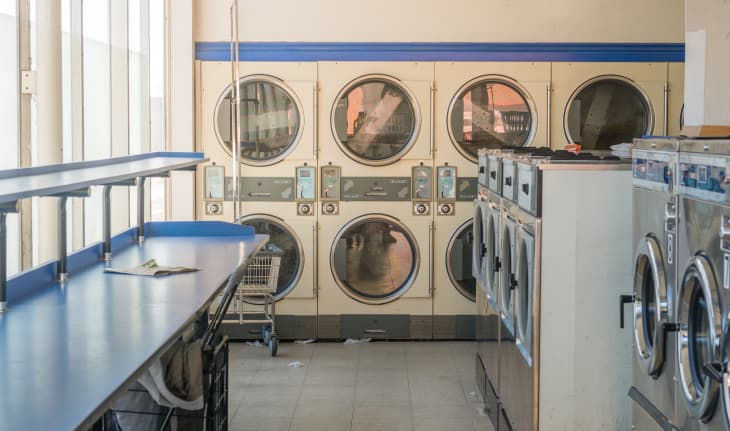 Doing laundry might not be most people's idea of a fun time, but one laundromat in Fort Worth, Texas is hoping to change that. Dirty Laundry in Fort Worth is a fully functional new laundromat, save for one machine that's perpetually out of order. Turns out, it's hiding a secret speakeasy — and yes, the cocktails are perfectly crafted to fit the theme, so you can enjoy a drink or two while you're "waiting" for your laundry to finish.
Upon entering this unassuming laundromat in Fort Worth's entertainment district, you'll see plenty of industrial washers and dryers hard at work. But instead of being annoyed by the "out of order" machine, you'll want to open the door for a fun surprise. You'll be greeted by a wall of laundry, before you get to the main attraction: an inviting, darkly lit cocktail lounge that will make you forget about pretreating or hang-drying.
Naturally, the bar is already becoming a hotspot among locals, who seemingly love shocking their unassuming pals. Turns out, it's not even the only laundry-themed cocktail bar around. Recently opened in St. Pete's Grand Central District, Dirty Laundry St. Pete is Florida's take on the trend, offering a full menu of Latin cuisine and a vintage vibe in a kitschy themed cafe. Entry into the hidden speakeasy will require using the cafe's payphone, which is out of order during daytime hours, but offers a secret code at night that grants access to a swanky, 15-seat bar.
Over in Gainsville, there's a more family-friendly take in the newly opened Fresh Laundry & Cafe. This full-service laundromat includes a cafe that offers coffee, tea, smoothies, baked goods from local bakeries, and light bites, along with plans for a kids zone so that parents can let their kids have some fun while they tend to the laundry.
Here's hoping more laundry-themed offerings will pop up in other cities, because there's no better way to make chores more fun than by enjoying a coffee or cocktail of choice while you wait.