I've Written Countless Thank You Notes and These are My Top 4 Tips for Writing the Perfect One
We independently select these products—if you buy from one of our links, we may earn a commission. All prices were accurate at the time of publishing.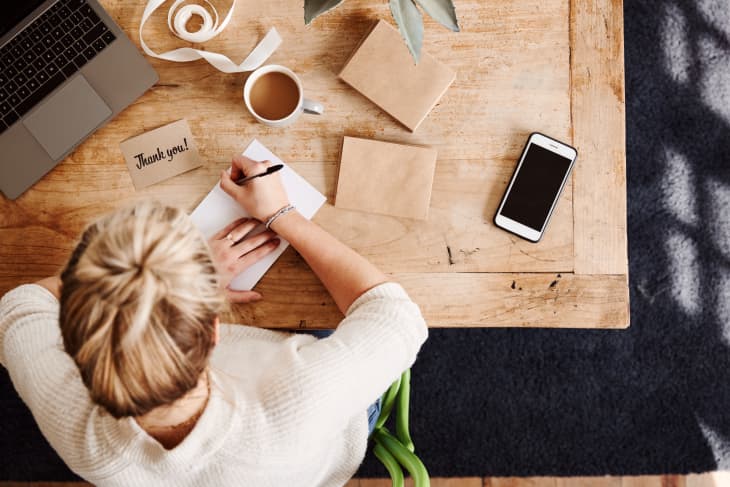 My mom has taught me plenty of valuable lessons in my life, but the way she instilled the power of a good thank you note in me at an early age is one I've greatly appreciated into adulthood. As a child, I wasn't always thrilled when, after a birthday, she'd announce, "It's thank you note time," and sit me down with a stack of cards to send to friends and relatives who so graciously gave me gifts. Despite my initial reluctance to the task, the practice reminded me of how important it is to be grateful, and to let the people you love know that you do, in fact, love them.
While a text, call, or in-person expression of gratitude gets the message across, I still believe a handwritten note is the most powerful way to say thank you. It costs very little to put a note in the mail, but the thought is priceless. Given my slight expertise in the subject of letter writing, I've compiled a few tips on making the most out of a thank you note that you and your recipient will be sure to enjoy. 
My biggest piece of advice when it comes to thank you note writing is to send one as soon as possible. If you receive a birthday gift or stay at someone's home over the weekend, put the card in the mail within the week. That way, the joy of the event or gift is still fresh in both parties' minds, and the thank you note will serve to continue the good vibes. I will be the first to admit that sitting down and completing a tedious task, such as writing with a pen and paper, can be tricky, as can actually making it to the mailbox down the block. But actually finding a stamp, placing said stamp on an envelope, and putting that envelope in the mail is a small accomplishment worth savoring. 
Aside from thanking a loved one for the gift itself, it never hurts to get specific. As my college creative writing professors would say, "Show, don't tell." If I received a book as a gift, for example, I'd mention that I loved the first two chapters, and I can't wait to finish it. Or, if I'm writing a thank you note after staying at a friend's home, I'd mention that I love the soap they have in the guest bathroom or that I'm still thinking about the meal they cooked the first night I arrived. By acknowledging these details in your note, you're appreciating more than just the gift or gesture itself — you're appreciating their thoughtfulness and effort. 
Find Stationery That Makes You Happy
I love to have a set of notecards with my initials at the ready for thank you notes, but there's also no shortage of stunning thank you-themed greeting cards out there. By using stationery that captures your personality, your words will come to life. I currently have my eye on Papier's Scallop Trim Notecard Set, which strikes the perfect balance between classic and modern. Etsy is also a great destination for affordable stationery no matter your style, whether you're going for a chic monogram or playful illustrated details. And for greeting cards, I typically shop at Goods for the Study in Manhattan and Yours Truly in Brooklyn, both of which offer a beautifully curated selection of cards that are at once charming, cheeky, and sincere. 
It's the Thought That Counts (It's OK If Your Handwriting Isn't Perfect)
I'm not just saying this because I, personally, have bad handwriting. But I firmly believe as long as it's legible, no one will fault you for your messy lettering. The thought really is what counts here. The effort and sincerity that goes into a thank you note is what means the most (although beautiful stationery and neat penmanship certainly don't hurt). 
If you're not already in the habit of writing thank you notes, there's absolutely nothing wrong with you. It's not the easiest or most intuitive habit to keep up in the digital age. But if you'd like to go the extra mile the next time an expression of gratitude is in order, I can't recommend pulling out a pen and paper enough.