The Best Summer Projects for Increasing Resale Value, According to Real Estate Agents
We independently select these products—if you buy from one of our links, we may earn a commission. All prices were accurate at the time of publishing.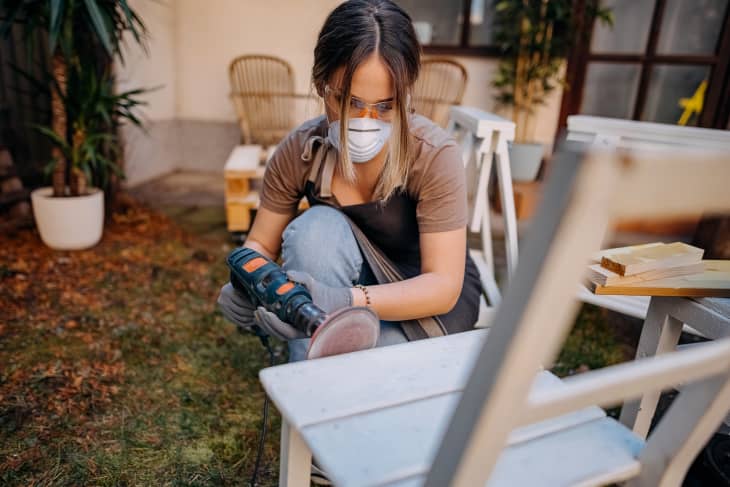 Summer is the time for hanging around the fire pit with friends, taking a dip in the inflatable pool in the backyard, and hosting an outdoor movie night under the stars. But if you're a homeowner, the warmer months are also a good time to take stock of your house and yard — and make adjustments as needed. Especially if you plan to sell your house anytime soon, put these summer projects at the top of your to-do list.
Energy-Efficient Upgrades
When the air conditioner is roaring at full blast, you're probably at least slightly more aware of just how much energy your home is using on a regular basis. For that reason, summer can be a good time to make energy-efficient changes, such as updating your appliances, swapping out lightbulbs, or installing solar panels, says Kent Rodahaver, a real estate agent in Florida.
"Changing out lightbulbs from incandescent or fluorescent to LED is a very inexpensive undertaking that not only adds value, but will also reduce heat and energy consumption," he says. 
To that same end, update your window coverings — blinds, curtains, and shades — to help keep your house cool on hot summer days while also refreshing your decor, Rodahaver says. 
And according to HomeLight, these updates can also have a big payoff when you sell your house: 48 percent of agents who responded to the real estate company's summer 2022 agent insights survey said homebuyers are increasingly prioritizing energy efficiency in their search. Agents also estimated that the ROI of energy efficiency updates has increased from $6,556 to $8,246 over the last year.
Major renovations have a time and a place, but during the summer, you'd probably much rather spend your time at the beach, riding bikes, or traveling. Instead, tackle upgrades that still offer a return on investment, but that you can complete over a long weekend, like replacing or repainting the front door, updating light fixtures, or painting one room at a time, Rodahaver says.
"Smaller renovations allow for a stress-free and fun project, rather than a larger home improvement project," he says.
Accents, Hardware, and Finishes
It's still a very competitive seller's market out there, which means homebuyers hoping to sell their home in the near future really don't need to invest a ton of money into renovations this summer, says Jeremy Kamm, a real estate agent in New York City. That said, making affordable changes — like upgrading accents, hardware, and finishes — can still help keep your home looking fresh.
"For example, a powder room that is dated can instantly be transformed with accent wallpaper or a new faucet," he says. "Wallpaper is very trendy right now and can be far less expensive than tile. Swap out the mirror and lighting, and you have yourself an entirely new powder bathroom without the headache and labor of new tiling, sinks, or vanities that can be very expensive."
The same is true for the kitchen: Instead of a full-blown overhaul, swap out the cabinet handles and drawer pulls, install a new pendant light above the island, and update the faucet.
"There's no need to renovate if smaller, less costly, and less laborious changes will get the job done," says Kamm.
Cleaning and Decluttering
Spring cleaning may get all the buzz, but during the summer months, you can throw open all the windows and really get to work, dusting and scrubbing to your heart's content while still breathing fresh air. Or, on days where it's simply too hot to go anywhere, you can crank the AC, blast some music, and feel like you're being at least slightly productive.
Cleaning and decluttering both go a long way when it comes time to sell your home, even though they're not big-ticket projects, says Texas real estate agent Mary Beth Harrison.
"Think of it as knocking two items off your to-do list: beginning the 'moving out' process and creating a blank canvas where buyers can see themselves living in," she says. 
When the weather's warm and plants are in full bloom, you can really get a full picture of what's going on in the front and backyard. This makes summer an ideal time to tackle landscaping projects like replacing your grass with xeric plants or building garden boxes. 
Summer is also a good time to replace or add exterior lighting, since you'll be ideally spending more evenings on the patio or the porch with friends. Also consider patching or replacing your driveway and sidewalks, and tackling any outdoor addition projects, such as patios, decks, screened-in porches, and gazebos, according to New York real estate agent Gerard Splendore.
"Curb appeal is always crucial, as it is the first impression buyers receive when arriving at the property," he says.
Projects Not to Do in the Summer
On the flip side, summer is a particularly bad time to do anything in the attic (because it gets so hot) or anything that will put the air conditioner out of commission during peak hot temperatures, says Splendore.