The Early Aughts Dorm Rooms You Wanted to Hang Out In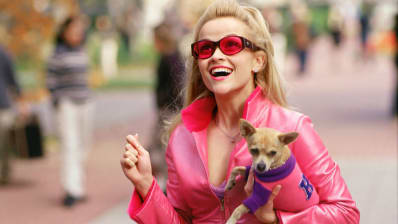 (Image credit: MGM)
My freshman year dorm room was a beautiful, brick, '70s era jail cell I shared with a roommate and her tank of frogs. It was a far cry from the dorm room depictions I was raised on. Still, the promise of these behemoth rooms, and the freedom that came with it, was as good a recruiting tool as any. It wasn't your guidance counselor that convinced you to go to college, it was Rory Gilmore and her sweet pad.
Here are the best dorms from the early aughts you wanted to hang out in.
1. Rory Gilmore – Gilmore Girls (2000 – 2007)
Rory Gilmore's Yale dorm, outfitted by Dame Emily Gilmore, is nothing short of perfection. The gigantic common area has an armoire that hides a TV, a fireplace, and French windows. They let in some great natural light and moonlight on those evenings Marty or Logan or Jess or Dean happen to swing by and move the plot along.
2. Elle Woods – Legally Blonde (2000)
Remember how Elle Woods could fit a treadmill in her Harvard dorm room? Implausible? Sure. Super on brand? Absolutely. Also on brand is her room color and texture scheme. You'll find pink, fuzzy phone and tissue box coverings if you look closely, and a light up margarita glass. Who wouldn't want to hang out in a Barbie dream dorm room?
3. Joey Potter & Audrey Liddell - Dawson's Creek (2001 – 2003)
In season 5 and 6 of Dawson's Creek, Joey Potter and roommate Audrey Liddell share a gorgeous dorm room at the fictional Worthington College. There's so much space it doesn't even matter if you hate your roommate—which the two did at first—you'll never see them! Audrey is from LA and therefore so much more cultured than her provincial roomie, and the cool alt (Delia's) dorm décor proves it.
4. Felicity Porter – Felicity (1998 – 2002)
Scenes of Felicity Porter's dorm room, at the fictional University of New York, don't feel like they're filmed on a sound stage. It's still enormous, a common theme, but the décor is minimal and the bareness of it, the muted color palette, creates a blank canvas for you to dress up as you like. Or you could just sit back and daydream about the phenomenal, heady conversations you'd have in there with Felicity and Resident Assistant, Noel Crane.
(Image credit: Myriad Pictures)
5. Van Wilder – National Lampoon's Van Wilder (2002)
An early aughts college list wouldn't be complete without mention of Van Wilder. As a super senior, with the "keys to the castle," Van Wilder can do pretty much whatever he wants. That's how he ends up with the modern equivalent of a totally groovy '70s bachelor pad as his dorm room at fictional Coolidge College. It's a home built for a king, or at least Teck Holmes, of Real World: Hawaii fame, who plays Van Wilder's trusty roommate.