The Tamagotchi Is Back and the '90s Renaissance Continues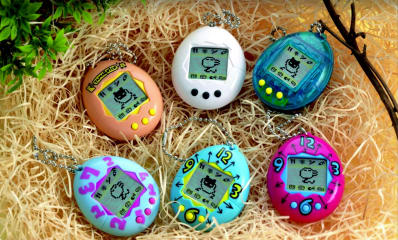 (Image credit: Bandai/YouTube)
Children of the '90s, the nostalgia hits keep coming. Japanese electronic toy company Bandai has re-released everyone's favorite pixelated pet, the Tamagotchi. Here is what we currently know about it:
Bandai's exciting news coincides with the 20th anniversary of the OG Tamagotchi, which was launched worldwide in May 1997 (it was available in Japan earlier, in 1996). There are a few differences from the original. The Verge notes that "they're about half the size, the LCD display is square rather than rectangle, and those helpful icons on the top and bottom of the screen seem to be gone now." People don't seem to be too bothered by the changes, though (this guy is pretty excited about the whole thing).
You may remember that Bandai debuted an updated Tamagotchi in 2014 that was "new and improved" from the OG version: it packed more pixels, your hatched pocket pet could grow up to be one of 24 adult Tamagotchis, and there was "short range communication" (aka, you could "bump" Tamagotchis with a friend). Gizmodo did a detailed review of the toy when it debuted.
The wave of nostalgic tech keeps coming, first with the Nintendo's NES Classic that dropped last year being sold out everywhere, Nokia's return to the "dumb" 3310 phone, and now, everyone's favorite pixelated pet.
If you've got to get your hands on one, the toy is currently available on Amazon Japan for 1,920 yen (about $17). Or, you can snag the 2014 version on Prime and be feeding it and cleaning up digital poo by tomorrow (or you can drop upwards of $329 on an old one).
Did you have a Tamagotchi? A Giga Pet? Or did your parents love you and get you an actual real animal to hug and care for? Tell us in the comments.
Apartment Therapy supports our readers with carefully chosen product recommendations to improve life at home. You support us through our independently chosen links, many of which earn us a commission.