The "Va Va Voom Victorian" Kitchen Makeover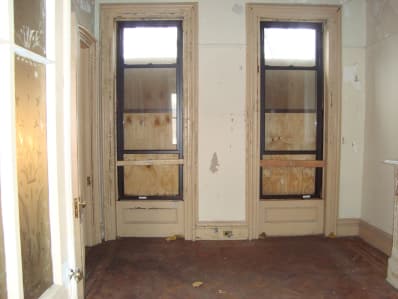 (Image credit: Submitted by Alison Dahl Kelly)
Alison Dahl Kelly shared photos and the story of her amazing kitchen and dining room makeover with us. Take it away, Alison: Purchased in 2009, our artfully restored 1880's townhouse has been taken apart and put back together again, restoring some old and adding some new. What attracted us to buy this house were the still-intact original details—parquet flooring, tin ceilings, marble fireplaces, built-in cabinetry, his and hers vanities. In need of all new electrical work and plumbing, as well as structural reinforcement and cosmetic repair, we wholly underestimated the cost and time frame of this project—which took about 5 long years.
(Image credit: Submitted by Alison Dahl Kelly)
Luckily our dear friend and contractor Grant Davis Thompson Inc. was there to lead the way. The crown jewel is the kitchen and dining area. By removing a wall in the back of the parlor floor we made room for a kitchen with an island. We promised ourselves that if we ever lived together we'd paint our dining room pink (after falling in love with a friend's dining room in Lyon) and we stuck to it.
(Image credit: Submitted by Alison Dahl Kelly)
(Image credit: Submitted by Alison Dahl Kelly)
(Image credit: Submitted by Alison Dahl Kelly)
We began to strip the marble fireplace to it's original state but fell in love with the rustic look and feel of dark and light. We custom designed the cabinets with GDT INC and woodworker Bien Hecho Brooklyn, and had them pickled, a nod to Scandinavian design . We found vintage rippled glass for the cabinet doors and stained glass for above. The Queen Anne style kitchen window was a salvage find, as was the double basin sink. The concrete countertops were done by Oso Industries Brooklyn.
Thanks, Alison!
• Are you interested in sharing a decorating or renovation project with Apartment Therapy readers? Contact the editors through our Makeover Project Submission Form.
Re-edited from a post originally published 12.12.14-NT