There's a Great British Baking Show for Gardens, And Here's How You Can Stream It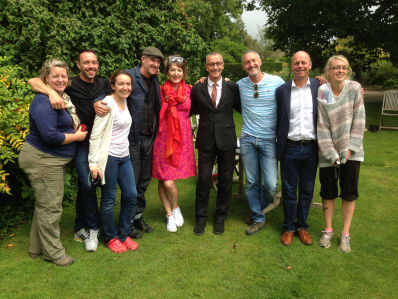 (Image credit: BBC Two)
If you're obsessed with watching charming and talented amateur contestants compete on The Great British Baking Show, it's not a stretch to say you'll enjoy another UK export—and starting in May, you'll be able to stream it here in the US.
Now that Mary Berry has left and Mel and Sue have been replaced, I know I'm going to need a new addictive, yet soothing British competition show. The Great Chelsea Garden Challenge definitely scratches that itch, pitting green thumbed hobbyists against each other to win a spot at the "Olympics of gardening," the Royal Horticultural Society's Chelsea Flower Show. The event has been attended by the Queen, and like many things for society's upper echelon, it is super exclusive and competitive to show your work there.
The first season of Garden Challenge has six amateurs competing over four episodes to snag that elusive spot at Chelsea, with different stunning gardening challenges to ogle each episode.
You can watch the Great Chelsea Garden Challenge on BritBox, the streaming service devoted to UK TV, starting May 1. But that's not the only program for plant people. Here are a few more titles coming to the platform next month:
(Image credit: Courtesy BritBox)
Set at the heart of the most famous flower and landscape show in the U.K., this program gives viewers a behind-the-scenes look at the Chelsea Flower Show. It will air in late May, a day after it premieres on the BBC.
(Image credit: Courtesy BritBox)
Presented by host Helen Skelton and expert garden designer Danny Clarke, The Instant Gardener follows the duo across the U.K. as they help transform old, worn-out gardens in just one day. In the first episode, they redo a swampy garden for a couple who's had some health problems.
(Image credit: Courtesy BritBox)
In this series, viewers will follow gardening expert and British TV Host Monty Don as he travels to 80 of the world's most famous gardens in exotic locations like Bali, Morocco, New Zealand and India. They will be transported to some of the most breathtaking gardens across the globe from ancient to modern, large to small, and grand to humble.
BritBox is $6.99 per month after a free trial period.