This Amazing Device Stopped Me from Being a Mosquito Magnet, and Now I'm Taking it Everywhere (Bonus: It's on Sale for Prime Day)
We independently select these products—if you buy from one of our links, we may earn a commission. All prices were accurate at the time of publishing.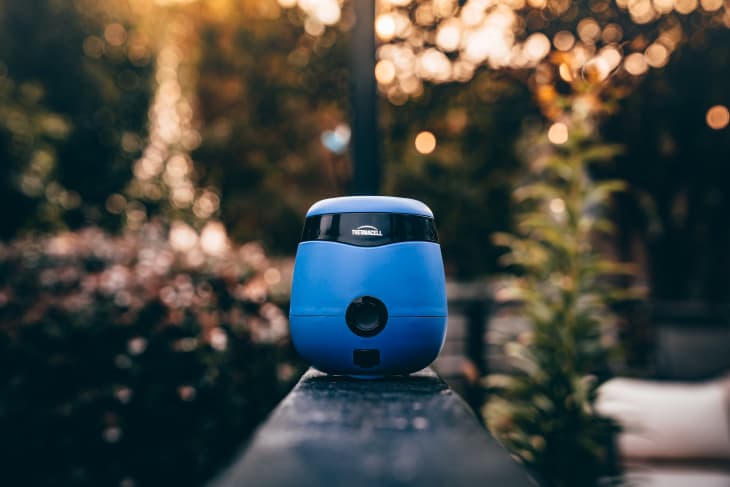 My mom used to say that I got so many mosquito bites because I was so sweet. Well, decades later, I am here to tell you that she was wrong; over the years I've gotten decidedly less sweet, but the mosquitos still love me all the same. Because of this, I'm always on the lookout for ways to keep these pesky bloodsuckers at bay. From contraptions that trap and zap to eco-friendly bug spray, I've tried dozens of "solutions" — some fantastic, others not so much. That's why I was so excited to try out the E55 Repeller, the newest innovation from one of our favorite brands, Thermacell.
Follow Topics for more like this
Follow for more stories like this
I learned about Thermacell when Kitchn's lifestyle director, Lisa, wrote about their game-changing Patio Shield, which gave her bitten-up ankles some much-needed relief last summer. The E55 works similarly, but with major technological enhancements that make it even more powerful and versatile. Think of it as a diffuser that mists out odorless, harmless-to-humans mosquito repellent instead of essential oils. Just charge the device using the included USB cable, pop in a cartridge, and push the "on" button. After heating up for a few minutes, the E55 will dispense an almost undetectable vapor that wards off mosquitos within a 10-foot radius of its location. You don't have to light an overpoweringly aromatic citronella candle, coat your skin with sticky bug spray, or worry about breathing in toxic chemicals. Thermacell's technology is independently tested and EPA reviewed for safety. The machine stays charged for up to five and a half hours, and each cartridge refill lasts 40 hours.
The first place I tried it out was on the porch near my hammock. I like to read there if there's time after work before it gets dark, which also happens to be prime feasting time for hungry mosquitos. My MO has been to either wear long sleeves and pants or wrap the hammock around me like a cocoon, but with the Thermacell, the only precaution I had to take was making sure it was charged. I settled into the hammock in a tank top and shorts, with a book in my hand and a bare leg hanging over the side. Before I knew it, I'd enjoyed an hour of reading uninterrupted by that awful chirp of mosquito wings flying by my ear. I was impressed.
Next, I moved the E55 near my gardening table, the biggest mosquito-related trouble spot for me. Last year I took up planting herbs and vegetables as a new hobby, but little did I know that my legs would wind up looking like I had chickenpox from so many bites! I've been wearing leggings to do my gardening this year, but they're not the most practical attire in 90-degree heat. So I put on a pair of shorts, grabbed the Thermacell, and got my hands dirty. I still wound up with a couple of bites, but nowhere near the usual horrorshow. That's a win as far as I'm concerned.
One of my absolute favorite things about the E55 is its portability. You can easily toss it into your beach bag or your picnic basket (put the cap on the cartridge first so that nothing leaks), and you'll be protected wherever you unpack it — and not just from mosquitos. I brought it to the beach with friends, and we were all shocked that we weren't getting attacked by gnat-like no-see-ums come 4 p.m. (One friend ordered his own E55 on the spot!) I'm planning to bring it to an outdoor party this weekend and will strategically sit near it all day long.