8 Things I Wish I Brought in My First Carload When I Moved to a New House
We
independently
select these products—if you buy from one of our links, we may earn a commission. All prices were accurate at the time of publishing.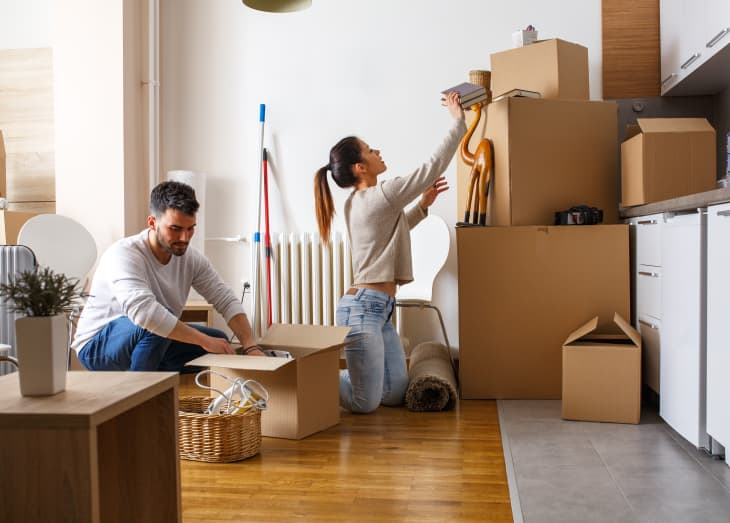 On the first night in our new house, my husband and I woke up to the distant sound of a smoke detector chirping. My husband found the culprit in the basement and pulled the battery out. With the house finally quiet, we went back to sleep until another one started chirping.
I had batteries and could have replaced them, if I only had a sturdy chair or step stool (just another reason why high ceilings are overrated, if you ask me).
When we moved out of our condo in Seattle, we prioritized packing the sedan with things that couldn't be easily packed in boxes left for the movers — like our cat, work computers, and my kettlebell. The thing is, we didn't put much thought into what we would need right away at the new place.
The moving truck wouldn't arrive at our new house in Minneapolis for a month after we got the keys. In that time, I realized I should have prioritized my first carload a lot differently. It would have saved me from buying duplicates of things that would be arriving in a couple weeks. 
In addition to a stool, here's what I wish I had unloaded first at my new place.
Who hasn't spent an evening sitting on the kitchen floor in a new home because they have neither chairs nor ceiling lights in any other room?
"It's super important to pay attention to the ceiling light situation," says Natalie Stanton, a property manager in Minnesota. "Not all apartments will have overhead lighting and necessitate floor lamps. Renters often assume they will and forget to bring any sort of lights."
I only brought a couple of bath and dish towels, which was not nearly enough for all the cleaning we had to do to get rid of the previous owners' dust and dirt to make room for our own. Thankfully, my sister-in-law brought us dish towels as a house-warming gift.
Even if your new home is sparkling clean, you'll likely find that some stuff you packed could use a spritz of multipurpose cleaner before it goes in its new place. Don't forget dish soap, too. If you only have three forks and a couple of mugs, you'll be hand-washing frequently.
Realtor Nicholas Acosta makes sure his clients have what they need for the first night in their new homes.
"I buy all of my clients a welcome home care package, which includes the essentials: paper towels, toilet paper, disinfecting wipes."
We have a small lot on a pedestrian-friendly street in the city. Even though passers-by were on the sidewalk and I was inside, it felt like we were barely social distancing. I desperately wanted to close the blinds on the kitchen windows. The problem was that we didn't have window coverings.
Paper blinds are the perfect temporary solution. Just cut them to fit with scissors and stick them in place. They worked so well in my old New York apartment that I never bothered hanging actual curtains.
You're going to need a knife to open boxes and a screwdriver to assemble things. A corkscrew will come in handy when your first guest stops over with a gift of wine. So I'd recommend having a multipurpose tool or a small box of handyman-recommended items close at hand.
I saved the pretty cloth shower curtain from my old place and planned to replace the liner. But did I grab one before moving day? Of course I didn't. You'll also want hooks and a bath mat in an easy-to-grab spot.
Compostable Plates, Cups, and Silverware
We borrowed a set of dishes from my parents, but make sure you have what you need to sustain and hydrate yourself. Moving day (week, or month!) is frustrating enough without adding hunger and thirst to the mix.
This is one thing we actually did right. When everything is unfamiliar and you're sleeping on a slowly deflating air mattress on the floor, it's nice to have wifi and the comfort of "Ted Lasso" beside you.