3 Things in Your Cabinets You Should Get Rid of Right Now, According to Home Stagers
We independently select these products—if you buy from one of our links, we may earn a commission. All prices were accurate at the time of publishing.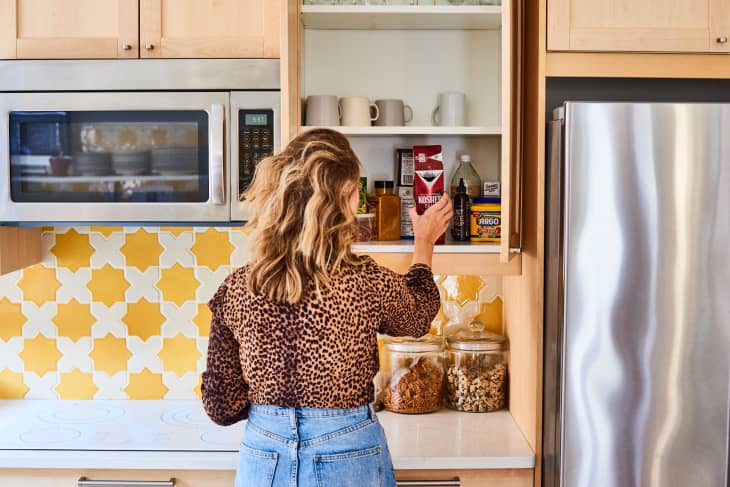 When it comes to buying, selling, and even renting, a kitchen can make or break a decision. The kitchen is the spot house hunters want to scope out first for obvious reasons: It's put to use almost all of the time, it's where everybody tends to gather, and it's a room with tons of storage.
Follow Topics for more like this
Follow for more stories like this
Although it may seem secondary to, say, appliances, cabinetry is often the first thing a potential homebuyer notices in a kitchen. Understandably, it's important to make them look spick and span. "Decluttering cabinets is a huge deal, as is decluttering overall," Chicago-based home stager Joy Williams of Joyful Designs Studio says. "I usually advise clients to remove almost everything and box it up for storage." 
Williams says she usually subs in her own dishes to style cabinets once a client's house is on the market "because the dish ware just serves to show depth and a reference point for buyers imagining their own pieces in the space."
It's important that buyers can picture their own belongings in a home, rather than your own. Rose Ann Senior of New York-based Dream Rose Design says clutter "can make your home look not just messy, but smaller and overly personalized — a real turn-off for potential buyers." 
To help those potential buyers see the potential in your cabinets, whether they're traditional Shaker-style ones, have glass-fronted doors, or are simply open shelves, home stagers offered their advice on what to get rid of. It's time to say goodbye to those travel mugs and Tupperware containers that have lost their lids, plus these three expert-recommended items:
Old Dish Rags and Sponges
If your go-to dishwashing towel has seen better days and your sponge has gotten shabby and gray, these should be the first things to go, Williams says. Once you put your house on the market, invest in that pretty dishcloth you've been eyeing at your go-to home goods store. Keep one or two nice-looking ones out, and tuck the rest away. 
If you've got paper or plastic plates and cups in your cabinets, consider donating those to a soup kitchen or keep them in a pantry instead. Swap the ones in your cabinets for a quality, ideally color-coordinated (or mostly uniform) glass set. If you have glass cabinet doors, this is especially important, home stager Helen Bartlett of Refined Interior Staging Solutions in Kansas City says. "Be sure to show off your finest items. Keeping them to one color will allow it to show its finest without feeling overwhelming." 
Plus, you should get rid of other paper products that might pile up in your kitchen and distract buyers, Senior says. "Remove fridge magnets, artwork, vouchers and anything else you have plastered on your fridge," she says.
Cereal Boxes and Other Dried Foods
Obviously, you don't have to get rid of your canned and boxed food completely — you need to eat. But Williams and Barnett recommend placing these items in a pantry instead. Putting canned goods and dried foods in the same cabinets as dishes can look messy.
If you do have to stow these items in plain sight, Bartlett has three great suggestions for making them look more stylish: "Consider emptying out larger boxes of food such as cereal or cookies and putting those into clear, labeled containers," she says. Baskets and labeled containers make cabinets look more organized and "add texture and style," Bartlett explains. Her extra pro tip? Use the same type of storage containers in both the pantry and in cabinets to make the whole space look cohesive and organized.