5 Things You Should Never Try to Negotiate with Current Homeowners
We
independently
select these products—if you buy from one of our links, we may earn a commission. All prices were accurate at the time of publishing.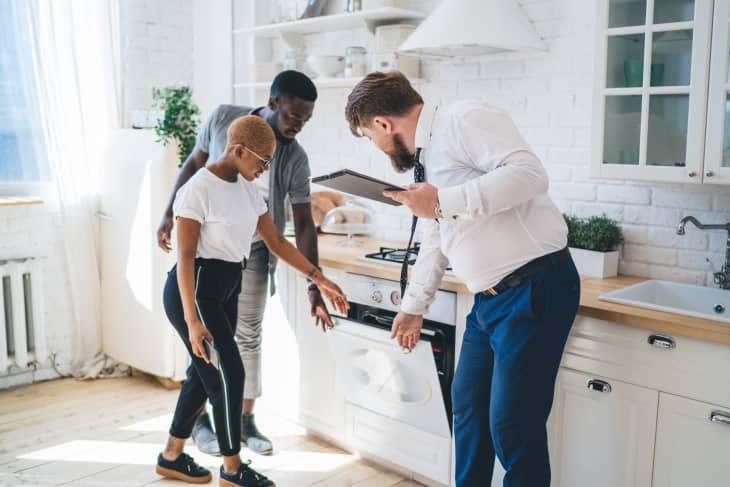 Some homebuyers have been able to cleverly negotiate keeping custom mirrors above vanities, hardware on cabinets, and many other unique details during closing negotiations with current homeowners. But what do the experts think about what you should (and definitely should not) discuss during the closing process in today's seller's market? 
I spoke to several real estate experts to find out what topics should be avoided during negotiations, any exceptions to these rules, and what you should do instead to make the closing process as smooth and painless as possible. 
If the sellers have specifically excluded a home feature in the listing, don't ask for it, says Melissa Zimbelman, a real estate agent based in Las Vegas, Nevada. "There is usually a good reason they are excluding it, and there is no better way to get on the wrong side of a negotiation than to ask anyway," she explains. "I have had buyers try and negotiate for a seller's 'already noted' not-included irreplaceable family keepsake, and then end up blowing the whole deal because the sellers wouldn't budge on that item." 
Remember, Zimbelman says: a home purchase isn't a furniture store or an estate sale; not everything is available for purchase. Still, for any exceptions, Washington, D.C.-based Realtor Yolanda Muckle says typically homeowners will complete an addendum stating what is being included with the sale of the home, such as ceiling fans, kitchen appliances, or the washer and dryer.
Mark Buskuhl, a real estate expert based in Texas, says that homeowners may also have sentimental attachments to certain items, such as artwork or decorative pieces. If a homebuyer tries to negotiate the purchase of these items with the seller during the closing process, he says it could put a strain on their relationship and leave everyone feeling awkward.
Boston-based Realtor Susan Tripi agrees, adding that homebuyers often try to negotiate on property items, especially those items perceived to add value to the home — such as appliances and furniture. Instead, she recommends homebuyers reflect on this helpful question: Is the time, effort, and expense involved in negotiating these items worth the potential cost of losing the sale or delaying the contract? 

"Discern the difference," she says. "While negotiating to include household items may seem like a cost-saving strategy, it can lead to delays in the process, taxing all parties involved." 
Simple(ish) Repairs and Maintenance
A home's closing process is the final stretch of buying a property, and as such, there are certain things you want to shy away from asking for, says Adie Kreigstein, a Manhattan-based real estate pro. "It is never worth nitpicking over small repair items such as loose handles or doors that could use some extra WD-40," she says. "These are small items that any handyman can fix if you aren't able to do it yourself. Bringing them up will only make for a closing with some hostility in the air." 
Instead, Buskuhl says any repair or maintenance request should be discussed and agreed upon prior to closing, adding that "if a homebuyer tries to negotiate for repairs or maintenance during the closing process, it can put off the current homeowners and make them feel like they are being taken advantage of." 
Larger Renovations or Changes
Homebuyers may have their own ideas for renovations or changes they want to make to the property after purchasing it, but discussing these plans with the current homeowners during the closing process can lead to misunderstandings or negotiations that might delay or complicate the closing, says Casey Napolitano, real estate agent and founder of NDA Real Estate in southern California. 
Atlanta-based Realtor and relocation specialist Danielle Napolitano says she and her colleagues have found it's also become taboo for a buyer to discuss their other intentions with a property they're purchasing in the presence of a seller or listing agent. "In our market, some buyers are looking to either rent out the purchased property, have plans to remodel it completely, or may even demolish it to build a new home," she explains. "Many sellers/homeowners have emotional attachments to their homes and want to feel that the next person buying the home will love it as much as they did. If they were to find out the buyer's intentions, it could lead to an uncomfortable and sometimes strained transaction process." 
The amount of closing costs is typically set in stone prior to closing and should not be negotiated with the current homeowners, Buskuhl says, adding that "negotiating on closing costs could make them feel like their offer was too low or that they were taken advantage of, which could sour the entire process." 
Instead, he advises homebuyers to work with their real estate agent to ensure that all of these details are addressed prior to closing. "This will make for a smoother transition and help maintain a good relationship between buyers and sellers," he says.