9 Things to Add to Your Gallery Wall That Aren't Art
We
independently
select these products—if you buy from one of our links, we may earn a commission. All prices were accurate at the time of publishing.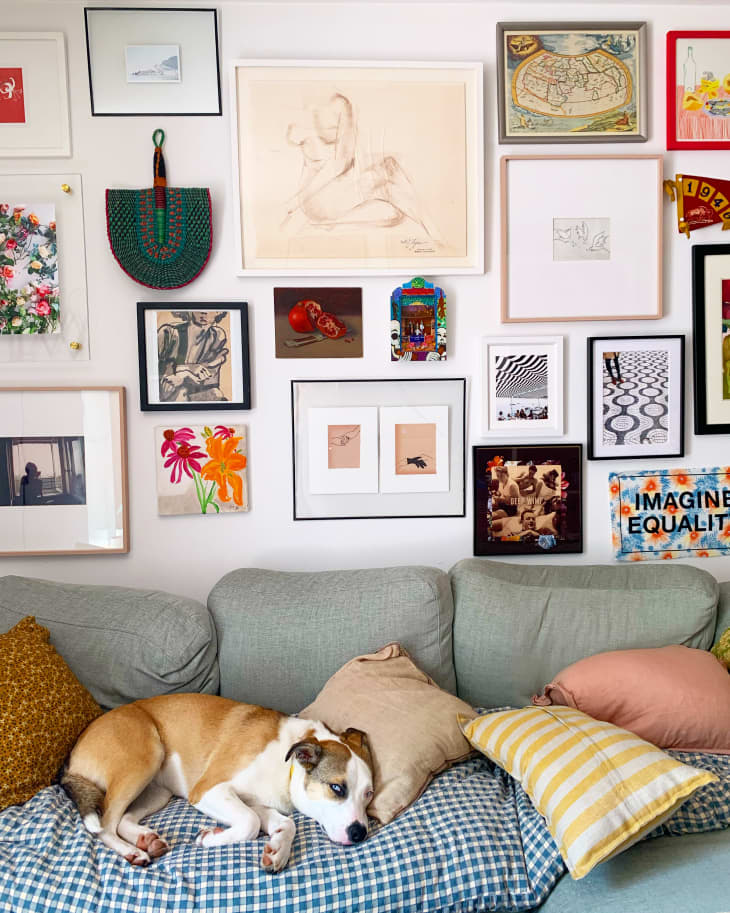 Last year on the apartment hunt, my boyfriend and I were lucky enough to find a place with a large private outdoor deck (a huge plus considering the pandemic!) and a finished basement to serve as an office/second living room/home gym. All the extra space was high on our priority list, but sadly there wasn't any of the pre-war charm and original details that I was also wishing for (finding an apartment in NYC that has everything you want is near impossible). 
The living room, specifically, was feeling like a sad white box, and no one wants to feel like they're living in a sad white box. To add interest and character to the space, I talked myself into going all out to create a gallery wall that would span the entirety of the largest wall in the room — starting at the very top of the wall — an ambitious task for sure. The benefit to starting your gallery wall close to the top of your ceiling though is that it makes spaces with lower ceilings seem taller since the art draws the eye up.
As I began to gather the art I had been collecting over the years and mocking up the layout of the gallery wall on the floor in front of my sofa (my preferred method — I'm not much of a measurer when it comes to gallery walls, I like to just piece everything together like a puzzle as I go), I felt like something was missing. At first I couldn't put my finger on it, but then I realized even though I had varying colors, sizes, and styles of frames and artwork that were all working together, I was missing the different shapes and textures of pieces to make the wall truly feel thoughtfully curated. I also needed something to visually break up all of the frames' squares and rectangles.
So I began my own treasure hunt — pulling from what I already had elsewhere in my home as accents and scavenging thrift stores and Etsy — to find the perfect pieces to add to my gallery wall. Yes, it did take months before I finally found and hung everything, but it was worth the wait. My biggest tip when it comes to a large-scale gallery wall is to take your time collecting and to really think about what you want to include, and some featured items don't have to be art at all. Broaden your horizons with what you choose to display, and don't hang in a hurry because it will show.
Here are some of my favorite ideas (some I did, some I want to do) of things to add to your own gallery wall that aren't traditional framed art. Add just one or two of these things (or more if you like), and I promise your walls will start to look like a museum but in a curated — not precious — way.
A textural object, like the Bolga fan I used here, helps to break up all the glass and adds interest when mixed in with square and rectangular frames. Mini rattan pieces (like a petite basket) could also work, as long it's compact enough to be hung.
Ever browsed at a thrift store and come across a piece of jewelry or accessory that's so out there, cool, and just so wild you know you'd never wear it but still want it? Is that just me? I found this huge bow a couple of years ago, and I love that it adds some personality and weirdness to my gallery wall. This display idea could work well with an over-the-top piece of costume jewelry, too!
I added an accordion sconce to the wall that's adjacent to my gallery wall; it felt just a little too large to mix into the wall itself. That said, I love when a smaller sconce is mixed in seamlessly with art. Even candle sconces (that never get lit… for safety reasons) can introduce a different shape to a gallery wall and will totally hang in an arrangement decoratively.
This one's a classic gallery wall add: The triangular shape of an old school felted pennant breaks up boxy frame shapes, and it's a good way to appease the sports fan in your household, too. I got this one on Etsy for my partner a couple of years ago; he's a huge Buffalo sports fan (Go Bills! Go Sabres!). This vintage pennant was a good way to subtly mix in his interests.

Something tucked behind (or in front of) a frame
I'm always a fan of tucking in a postcard, photo booth strip, or another flat object into the frame of a mirror or piece of art. This simple move adds a more a casual, collected feel to your gallery wall. My friend gifted me this bookmark from Octaevo, and I loved it so much I wanted to display it instead of hiding it in a book. Give your favorite flat object pride of place in a prominent spot on your gallery wall, and you'll be able to enjoy it everyday!
A mini shelf with a plant or bud vase
Plant life always perks up a space, and that goes for your gallery wall, too. This one's on my to-do list! Grab a mini shelf (I have a vintage pedestal one I plan to paint with a striped pattern) and a small potted plant or bud vase with fresh flowers, and voila! Just make sure you take the plant off the shelf when you water it so you don't accidentally bump it, which makes a mess. Another way to get this look is with a stag fern mounted to a piece of wood.
An ornament you love or that has sentimental value
One thing I love about my gallery wall is that so much of the artwork is by friends and family. My friend Kate is such a talented artist and gave me this beautiful ornament she hand-painted a couple of years ago, and I couldn't bear to keep it packed away with the rest of my holiday decor. So I added a pretty ribbon and hung it on the wall here. Having smaller objects helps to offset lots of larger frames; just be sure to add a couple of other pieces around the same size so these objects have "friends" and don't seem obscure when you step back and look at the arrangement as a whole. 
This is also on my to-do list, but mirrors are another classic, non-traditional gallery wall add. Pretty much any medium to small mirror works, depending on the scale of your wall and what else you have hung. Look for something with an interesting shape or frame, but you could also go frameless, too.
Adding a shadow box works because it mimics the shape and idea of a traditional frame but holds 3D objects. There are two options here, as far as I'm concerned: a traditional Mexican nicho (like the one I have here, another gift from a friend) for interesting color and texture, or, if you want to go more simple, grab an acrylic display box (I like these since they have mounting holes) and add something unexpected. Maybe it's a cool toy you had as a kid or your collection of vintage dice. Remember: Almost anything can be display-worthy if it's special to you, and any of these additions will make your gallery wall so much more personal and unique.