This Is the One Piece of Furniture That Brought Me More Family Time
We independently select these products—if you buy from one of our links, we may earn a commission. All prices were accurate at the time of publishing.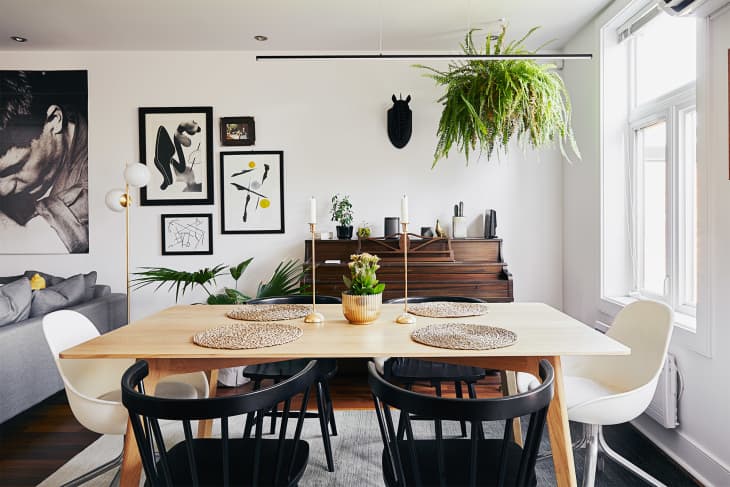 I've always felt like my house looks like I'm two years out of college. Basic couches, sporadic curtains, mismatched dishes, mismatched lamps. My saving grace? No posters taped to walls.
Follow Topics for more like this
Follow for more stories like this
In reality, though, I'm decades removed from college with a husband and two kids. I should have it together. My excuses: We made a habit out of moving every two years. I'm a decision-phobe who doesn't entertain much. There's always something else I'd rather put my money toward. 
A finely polished and cozy home has always felt out of my reach. I get overwhelmed. The expense! The options! The commitment! But maybe because we've been in the same place for several years now, or maybe because of the pandemic, my "just fine" home decor started to feel… not fine. Being confined to the house for the better part of two years has a way of revealing truths. 
My suddenly homeschooled children could barely find enough space around our small, pub-style kitchen table to work. When we did make room, the clunky wooden chairs reminded us just how different our new normal was. My husband and I bought this table when we bought our first house. We started with the necessities. I liked the pub table. The height made it feel like an adult table with character. 
When kids came along, that "character" was less charming and more hazardous, especially since the wobbly chair legs would come loose. The table essentially morphed into a desk topped with a fruit bowl — filled with coins, random Legos, and lost buttons — and flanked by piles of mail. My boys ate at our counter barstools, while my husband and I stood with plates in our hands like we were mingling at a dinner party. Technically, we ate together. Just like how, technically, you can sleep on a concrete slab.
The pandemic made that dysfunctional table even more dysfunctional. I browsed new tables with a renewed sense of urgency. It needed to seat us all comfortably and fulfill its dining purpose. Anything bigger than what we had, though, would be way too big. Anything comfortable would cost too much. Anything fancy would get ruined by kids. I looked and looked and looked. 
Then I found it. Naturally, it cost more than I wanted to spend. The cushy fabric chairs seemed like magnets for dirt and stains. The size would eat up our space. I let it simmer for months. I'd check and recheck the website for sales, to make sure that I still liked it, to see if there was anything else. Do people really spend thousands of dollars on tables? What if it became like the pub table I grew to hate? What if it just made the kitchen feel smaller? What if the seats weren't as comfortable as they looked? 
With a gentle push from my husband, we finally bought it, and it's the best home purchase we've ever made. Eating no longer feels one step away from standing over pots with forks. The table gets set. Food sits in serving bowls. We turn off the TV. We sink into those fabric seats, whose sandy color is light enough to be pretty but textured enough to handle small spills. 
It's not just that the table has made mealtime more deliberate; it's become a place we naturally gather during hectic days. We linger. We play games on a whim. The kids will sit and chat while they do homework and I put away groceries. 
Our table has become the understated centerpiece of our home, quietly changing the rhythm of our days. It's a constant reminder that splurging on furniture is sometimes about more than simple aesthetics.