The Salary You'd Need to Own the "This Is Us" House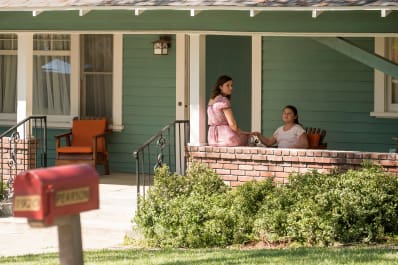 (Image credit: Ron Batzdorff/NBC/NBCU Photo Bank/Getty Images)
If you're a fan of NBC's wildly popular drama, "This Is Us," you probably know a thing or two about the Pearson family. Have you ever wondered about the beautiful (but doomed) home the family lives in? While the house is located in Pittsburgh on the show, it's actually filmed at a home in the Eagle Rock neighborhood of Los Angeles—the place where Rebecca and Jack road-tripped to early on in their relationship, ironically enough. Throughout the series, we see flashbacks of the residence decked out in its 1980s furnishings and flair. But in real life, as you can imagine, the home's interior looks wildly contemporary compared to its televised version.
According to Redfin, the four-bedroom home is valued at $1,334,466. If you wanted to live nearby, you could get away with making less cash—the median home price in the area is not quite as steep, but still hefty, at $890,400.
Using the guideline that your monthly mortgage payment should be no more than 28 percent of your salary, you'd need to earn roughly $456,000 a year to afford the $10,638 monthly payment at current interest rates, if you made a 10 percent down payment.
So besides million-dollar homes, what is the neighborhood of Eagle Rock like? Although the homes are definitely on the pricier side, many families come to the area for its artsy and bohemian vibe. It has wonderful boutiques, yoga studios, coffee shops, and restaurants, says Jessica Romero of Keller Williams.
Check out this modern four-bedroom home on Wildwood Drive in Eagle Rock, listed at $1,299,000.
Another draw of the area is the spectacular views, of which this home has plenty.
"Wildwood has an epic view of city lights and the actual Eagle Rock, which is one of the perks of choosing to live on a hillside location," says Romero. "It also happens to have a big, flat backyard, which is rare for the hills, as well."
In addition to beautiful views and access to amenities, many residents are attracted to the character of the homes in Eagle Rock.
Ernie Espinoza of Allison James Estates and Homes says many buyers choose to leave homes in nearby post-WWII developments and move to Eagle Rock because the homes are so unique.
Check out this four-bedroom Tudor-style home, listed at $1,289,000.
Although he acknowledges that rising prices can make the area cost-prohibitive, Espinoza says its easy commute to employment hubs—like Downtown L.A., Pasadena, Glendale, and Burbank—is another reason buyers flock to Eagle Rock.
Espinoza also says the area's restaurant scene is growing. Little Beast and Cacao, in particular, are great perks in this eclectic neighborhood. (Maybe there's a place or two where Rebecca could have sung her heart out, perhaps?)
Living where the Pearsons did sounds pretty great—although odds are the price would be different if it were actually located in Pittsburgh. But if you can afford it, put this on your wishlist!