This Weighted Blanket Could Help Relax You To Sleep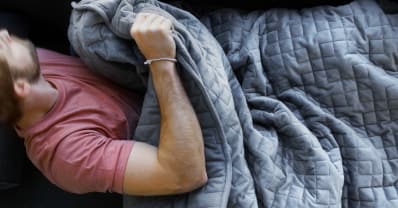 (Image credit: Gravity)
If you're one of the 40 million people that suffer from prolonged anxiety (or one of the millions more that have trouble getting to sleep), the answer to sweet, sweet slumber might just be hiding right in this blanket.
Gravity is a weighted blanket that's meant to provide soothing deep pressure across your whole body to help relax you to sleep. And good news: It might actually work. There's quite a bit of research on how weighted blankets can reduce the stress hormone cortisol and boost sleep hormones serotonin and melatonin, making it easier to calm down and drift off.
And even if you don't suffer from anxiety, it sounds just plain nice. Inside its (soft, removable, and washable) outer cover, the blanket is filled with polly pellets that represent seven to twelve percent of your body weight, which is meant to feel like a solid hug—basically swaddling for adults.
Gravity's Kickstarter page shares reviews that have called it "like Advil PM for your whole body," and describe how it reduced the time it took one person to fall asleep from 45 minutes to seven minutes. For those who struggle with calming their mind, it can be used during meditation, or even just relaxing after a long day.
The blanket comes in 15, 20, and 25 pound varieties, for getting close to that ideal 10 percent of your body weight for maximum effectiveness. Individual Gravity blankets start at $189 and are projected to ship in October 2017.