"Thrift-Find Maximalism" In a London Flat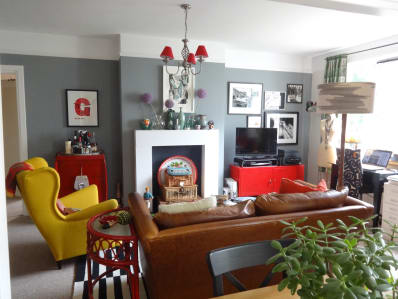 (Image credit: Submitted by Anmarie)
Name: Anmarie
Location: Wimbeldon — London, UK
My husband John and I have been renting our south London flat for one year. It's a two bedroom, one bath, ground floor flat in a purpose-built block of 32 similar flats. In our eight years of marriage we've lived in five rental flats and it seems creative decorating has occasionally left us high and not-so dry. More than once we've had to move when told by the landlord that he was selling up because we'd made the flat "so lovely."
(Image credit: Submitted by Anmarie)
Our latest abode wooed John straight away. Before we'd even stepped inside, he fell for the well-maintained flowering gardens surrounding the 3 story 60s-ish apartment block. He was ready to sign a lease pronto, trusting I would some how make the actual flat both fashionable and functioning. His faith in me gives me confidence to decorate with abandon.
(Image credit: Submitted by Anmarie)
Our style might be expressed as 50s/60s/70s thrift-find maximalism, although I'm proud to say we're very organized maximalist. As a part-time playwright, I appreciate clothing and household items with a story to tell - new stuff seems soulless. Furnishings that remind us of our diverse childhoods are snapped up from markets and charity shops and added to our ever-changing domestic landscape. I'm an American, raised in a small midwestern town while John is a Londoner, born and bred. We're both inspired by memories of our parents' and grandparents' homes and while we honor the past in our home, I'm pleased to report that the vibe is still contemporary and fresh. Aged 50-something, we're well-traveled, know what we like and have learned from lots of mistakes. I think our home reflects that.
(Image credit: Submitted by Anmarie)
My favourite room is the sitting room. I love being surrounded by all our books and I'm ridiculously proud of the thriving plants in every corner.
I'm not keen on the flooring in the flat, neither the carpeting nor the tiles. The most interesting thing I can say about the beige kitchen and bath tiles is a few of them are cracked.
I'm mad about fabrics - I can't sew but expect to return in a another life as a creative and handy seamstress. In this life however, I hoard vintage patterned rugs, curtains, throws and cushions.
(Image credit: Submitted by Anmarie)
I'm a perpetual re-purposer. I stack books to make plant stands, create a sort of picture rail with playing cards and carve out precious storage space in vintage picnic baskets. I always try to solve a decorating dilemma internally with things I've got before looking externally.
We've used Little Green paint in strategic spots to enliven the what is really just a collection of white boxes. Blocks of color help to organize our various collections, stacks and vignettes of mostly inherited or thrifted objects. I often find "brown furniture" comes in interesting shapes but wood-grain feels too granny-ish. We've turned to glossy red paint to breath life into aging but beloved dressers and side tables. Our oldies but goodies are accompanied by a smattering of IKEA stalwarts creating a look that is retro, relaxed and realistic.
Thanks, Anmarie!
Interested in sharing your home with Apartment Therapy? Contact the editors through our House Tour & House Call Submission Form.