A Brief History of Tie-Dye, the Trend That's Never Really Gone Away
We independently select these products—if you buy from one of our links, we may earn a commission. All prices were accurate at the time of publishing.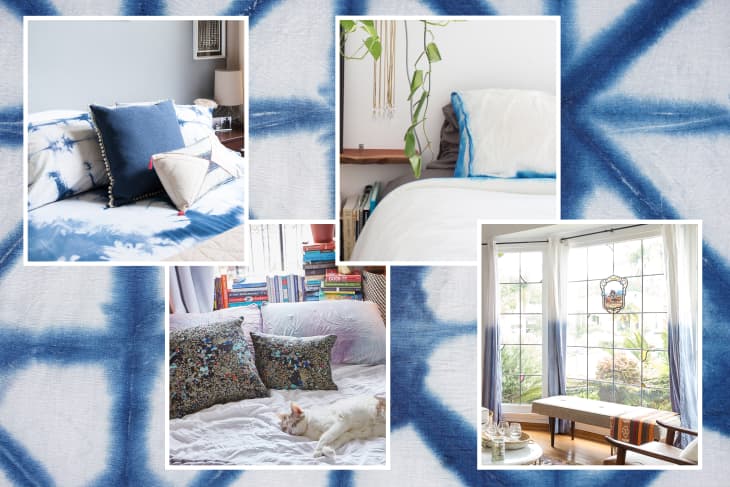 In the United States, the rainbow swirls of tie-dye usually bring to mind the counterculture movement of the late 1960s and early 1970s. Images of Woodstock, Jimi Hendrix, and The Grateful Dead may dance across your eyes, but tie-dye's history stretches far beyond the summer of love and psychedelia. Many cultures around the world—from Nigeria and China to Japan—have been using similar techniques for thousands of years, and specific patterns have come to symbolize specific regions. 
Some of the earliest examples of tie-dye come from Peru, but trade certainly helped spread different dyeing techniques and goods around the world. In India, some form of tie-dying was done as early as 4000 BCE. That technique is called "bandhani," which comes from the Sanskrit word "bandh," meaning "to bind or tie." Bandhanis have been used in religious ceremonies like weddings and funerals for thousands of years.
In Japan, tie-dye has been around since as early as 552 CE (though it became more widespread by the 8th century CE), and this version favored indigo dye, which was widely available at the time. According to textile scholar Yoshiko Iwamoto Wada's book, "Shibori: The Inventive Art of Japanese Shaped Resist Dyeing," the technique originated in China, but it really took off in Japan in the 17th and 19th centuries, when lower social classes were banned from wearing silk and searched for something else beautiful to wear.
Since then, tie-dye has popped up in history time and time again, curiously often when the masses wanted something eye-catching and budget friendly to decorate their houses with or to wear. During the Great Depression, pamphlets were handed out by the U.S. government showing women how to tie-dye old cotton and sugar sacks with blackberries, red cabbage, and marigolds to create clothes and home decorations for little to no money (although it was apparently called tied-dyeing!). People would dye everything from curtains and table centerpieces to pillow cases, infusing their rooms with happy, subtle colors using nothing more than simple homemade dyes and thread or rubber bands (though some off-the-shelf dyes were available as well—Rit Dye was created in 1918, right before the U.S. was cut off from its major dye supplier, Germany). 
In the 1960s, these same techniques were adopted and expanded upon by hippies, who infused the craft with an electric color palette and psychedelic swirl motifs. This revival started in the Haight-Ashbury district of San Francisco, aka the birthplace of the free love counterculture, but tie-dye quickly took off and shot into the mainstream. Much of what's associated with the hippie aesthetic was borrowed from foreign cultures—think of closets full of prayer beads, Nehru jackets, Middle Eastern kaftans, and African prints—and tie-dye fit right in with that aesthetic.
These psychedelic color explosions represented a rejection of "the establishment". Youth culture rebelled against the conservative dress and ideologies of their parents' generation, and tie-dye promised individuality. "At a time when individualism is at a premium, tie-dye means instant identity: It is virtually impossible to duplicate a tie-dye pattern," wrote Peter Benchley for Newsweek Service in 1970. Tie-dye shook off capitalism, materialism, and tired social norms—plus, it was super easy on the wallet, which was key for a subculture that didn't want to trouble itself with money.
Today, the kaleidoscope prints of tie-dye are making a comeback, and it's easy to see why. Socially, 2020 has a lot of similarities with the 1960s and 1970s—including ever-prominent battles over civil rights, women's rights, and environmental movements, so it's possible, on some level, that tie-dye now could hark back to the symbolism it had in these eras.
Moreover, the stay at home orders amid COVID-19 have also helped move tie-dye back into the mainstream. With people looking for fun, easy activities to do, tie-dye tutorial searches have skyrocketed on Pinterest and YouTube, giving people all the inspiration they need to transform dishcloths, table cloths, aprons, and just about anything else into indigo storm clouds or colorful explosions. No matter the century or decade, it appears tie-dye's here to stay.