Tiffany Haddish's First Painting Supports Underserved Arts Students
We
independently
select these products—if you buy from one of our links, we may earn a commission. All prices were accurate at the time of publishing.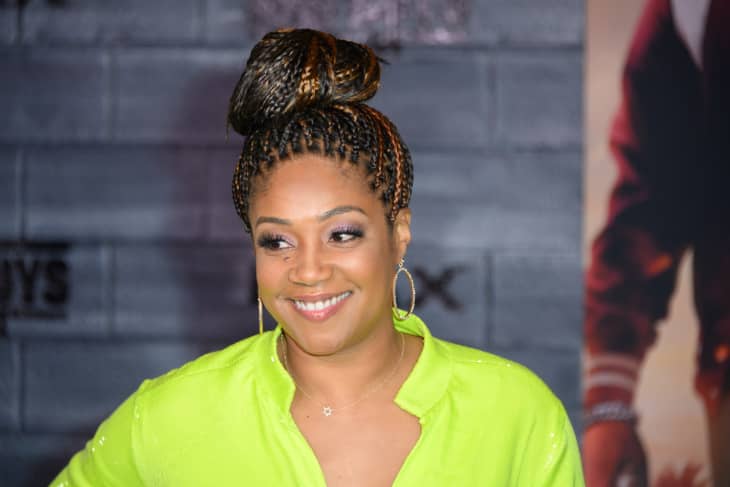 Tiffany Haddish is already an accomplished actor, author, and newly minted Grammy winner for her recent comedy album, "Black Mitzvah," but she's adding one more impressive accolade to her resume: painter for hire. Haddish is teaming up with Painting with the Stars to auction off her very first painting, with all proceeds from the sale going directly to support underserved arts students in the Los Angeles area.
The organization shared a glimpse of Haddish's colorful creation on its Instagram page, sharing that she's its first-ever celebrity artist. "We are so excited to announce our first celebrity artist, actress and comedian, Tiffany Haddish," the post said. "We are so honored to have this beautiful human being join us in helping underprivileged youth gain access to the arts. She's such an inspiration!"
Sharing a photo of Haddish with paintbrush in hand, the org thanked the "Tuca & Bertie" star for coming on board, writing, "This girl is on fire! Winning a Grammy recently and creating a super cool piece for our auction we can't wait to show. Details on her piece coming soon!"
All proceeds from the upcoming auction will go directly to Inner-City Arts, a nonprofit organization that helps fund and support arts programs in the Los Angeles area by providing supplies, educational tools, and studio spaces to students and teachers who don't have adequate access to arts resources. Haddish will join the ranks of other as-yet-unnamed celebrities lending their talents and serving up new works of art for auction.
Supporting students in the L.A. area is close to both home and the heart for Haddish, who grew up in the area herself and found herself in foster care and without secure housing throughout her teens. In a statement posted on the Painting with the Stars website, she shared, "I remember what it was like as a kid to do arts and crafts, and I remember what it was like to not be able to do so. So I want to be able to make sure all kids have the opportunity to create."
You can bid on Haddish's painting sometime this summer, but TMZ shared a glimpse of her finished work, and it appears to be a vibrant painting featuring a piano leading into a row of flowers against a blue sky backdrop. It's not the first time Haddish has put brush to paper, however. The Groupon spokesperson teamed up with her boyfriend, Common, on a "paint and pour" adventure last March, showing off their sweet paintings on Instagram.
Haddish has continued to give back to youth in need in various ways. She supports the Unusual Suspects Theatre Company and offers theater workshops to students and adults in underserved high schools and communities in L.A. She also recently launched the She Ready Foundation to support foster children by providing funds and sponsorship, suitcases to keep their belongings safe and secure, mentoring, and counseling services.