Watch This TikToker Turn Their Basement into a Vintage-Style Speakeasy
We
independently
select these products—if you buy from one of our links, we may earn a commission. All prices were accurate at the time of publishing.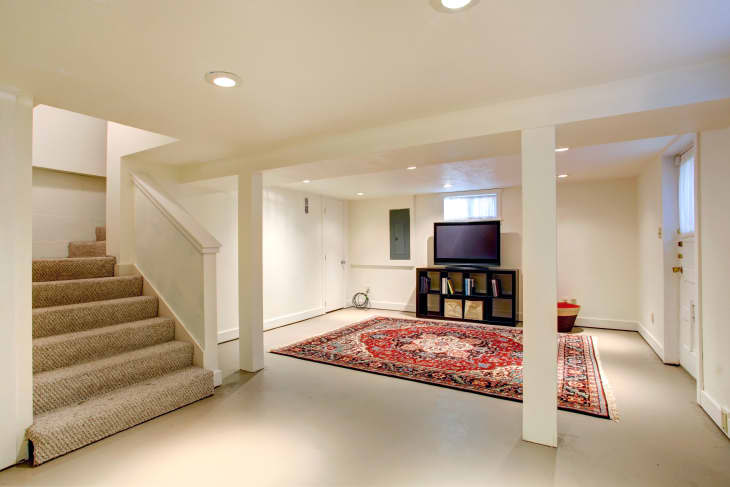 A finished basement has so much potential. It can be a recreational room, a home gym, or a place to hang out and watch TV. But one TikToker wanted to turn her finished basement into the place to entertain guests and party the night away. So, with the help of her husband, Grant, she transformed their basic finished basement into a vintage-inspired speakeasy.
"Two and a half months ago, my husband and I set out to turn our basement into our very own speakeasy," TikTok user Josie Bullard said in a March video. "We have poured our hearts into this project and we are so excited with how it came together in the end. I love every single personalized detail and touch that we added to the space. It just made it feel so special."
The first step the Bullards tackled was removing the existing wall-to-wall carpeting and painting the walls and ceiling that moody teal color. The dark paint really closed the space in to make it feel much cozier and more intimate.
Next came the vinyl checkerboard flooring from Lowe's and the custom bar booth that the couple made themselves. To create that channeled look on the back of the booth, they actually used halved pool noodles under the upholstery fabric.
And for the finishing touches, Josie installed some reflective film behind the bar to give the appearance of a classic antiqued mirror and then she and Grant did a photoshoot in the space to fill their collection of vintage gold frames. 
"Eventually, our dream is to cover every single inch of this basement in frames from people who come over to our house and come to parties," Josie added.
If you're about to tackle your own finished basement project, do as the Bullards did and think outside the box. You may just have an entertaining gold mine and haven't even realized it.