When It Comes to "the Big Light" Debate, I'm on the Side of TikTok, and Here's Why
We
independently
select these products—if you buy from one of our links, we may earn a commission. All prices were accurate at the time of publishing.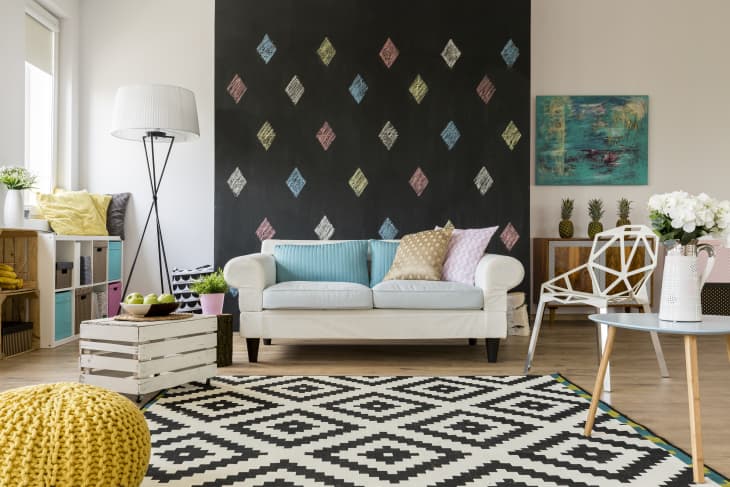 A few weeks ago, a friend sent me a link to a TikTok video without any explanation. I clicked in and was treated to about 15 seconds of someone turning on a variety of lights while a woman explained that "I don't have many rules for my house, but I do have one, and that is that we never, ever, ever, ever, ever, ever use the big light." 
I have personally been waging a years-long campaign to convince a good friend of mine to invest in a singular lamp — any lamp! — so that when we come over, we have an option besides darkness and "the big light" (I choose darkness every time). The friend who sent me the TikTok, an outwardly neutral third party that secretly agrees with me, knew I would enjoy this video immensely, as it allowed me to feel both vindicated and seen (as all good social media should).
The original video by user geeeofdeee is charming in its simplicity: a few quick shots of her talking and a lot of shots of her home with colorful, vibey lighting. It could have easily been lost in the sea of perfectly fine content that fails to catch a wave, but a tsunami of copycat videos sprung up alongside it. What geeeofdeee had on her side was a popular, common enemy: bad ambiance. "The big light" term as I have (and now the whole internet and world has) come to know it seems to be a catchall term for all sorts of overhead lighting — frosted flush mount domes (aka boob lamps), large house-flipper friendly chandeliers, ceiling fans — really any downward, intensely direct light source that, though practical, tends to mess up the look and feel of a space any time it's turned on, day or night.
Unlike some other home decor TikTok trends, designers seem to be against "the big light," too, and for all the same reasons. "Large overhead lights without dimmers are the worst offenders," says designer Leah Alexander of Beauty Is Abundant. "They're oftentimes harsh, overly bright, concentrated sources of light that feel like interrogation lamps or takeout food heat lamps."
While no one wants to feel like a box of chicken strips in their own home, Alexander really touched on something important. The lighting sources these TikToks showcase are wildly different, and the appearance of the lighting displayed runs the gamut as well. It would also be easy to break down the lighting debate as cold overhead lighting versus warm lamp light, but it's not that simple. The problem with "the big light" is that it's a concentrated source that doesn't care about your space or style or the shape and structure of the room. One size — or "big light" — doesn't fit all when it comes to illuminating a room. For your home to really shine, multiple, layered lighting sources really will serve it best. So buy that floor lamp you've been obsessing over. I promise it will help.
If you're now also looking around your space and gripped with the fear that you've been using "the big light" without abandon all along, rest easy. "There is definitely a difference between 'the big light' and overhead lighting," Alexander says. "Small recessed lights on dimmers or cove lighting concealed in ceiling architecture are more manageable than one massive harsh light source." Dimmer switches along with inventive use of track lighting and an ever-powerful, affordable light bulb update can help one avoid TBL syndrome. 
Whether you love the "big light" or hate it — and most of us, at least those of us who are very online, fall into the latter camp — there's something joyful in watching a design moment unite the internet.