Watch This Aunt Customize a Dollhouse (Complete with Grouted Tile!) for Her Niece In Just 24 Hours
We
independently
select these products—if you buy from one of our links, we may earn a commission. All prices were accurate at the time of publishing.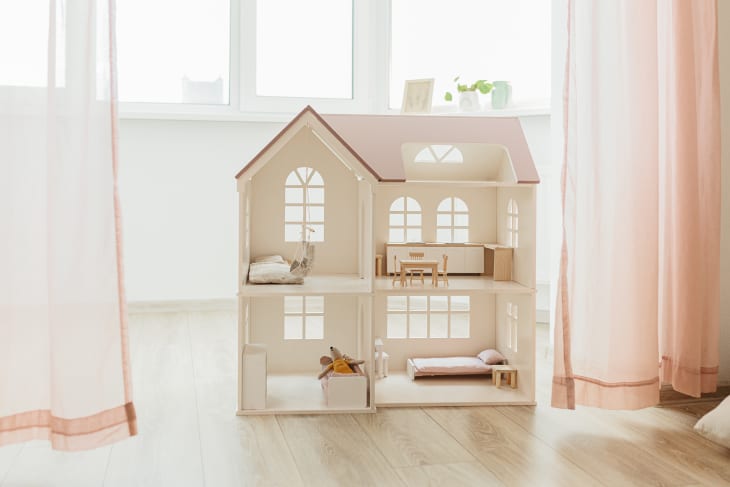 With so many details involved in decorating dollhouses, it typically takes days or weeks, if not months, to finish one. So what would a dollhouse look like if its designer only had 24 hours?
That's the challenge that TikTok content creator and DIY expert Emily Shaw gave to herself. In a series of videos, she tells her followers that she has always dreamed of decorating a dollhouse, so she bought a bare version at Michaels on a whim, then decided to give the finished product as a gift to her niece. 
Since Shaw only had 24 hours, she asked her best friend to help out, and together, they painted and stained the exteriors and furniture, as well as the mini houseplants. Afterward, they applied wallpaper, with each room having its own unique design, including one with a Gucci pattern.
In another video, she also reveals that they gave the dollhouse some glamorous details. For instance, using jewelry stones, they made floor tiles complete with grout. On why she put in the extra effort while on a time limit, Shaw said: "Listen, I only have 24 hours, but that doesn't mean that I'm not going to use every single minute of this 24 hours."
And finally, in the third clip, they drop off the dollhouse and see her niece's heartwarming reaction. Shaw recalled: "Immediately, when she saw it, she ran straight to it," adding that after asking for dolls to play with, her niece "had so much fun."
The internet, of course, loved the sweet gesture. "Definitely a core memory," said one commenter. Another added: "And now your niece is gonna keep it forever and give it to her kids and she's gonna be like when I was younger my auntie made this for me."