That Satisfying Sink-Cleaning Hack on TikTok Definitely Works — But You're Doing it Wrong
We
independently
select these products—if you buy from one of our links, we may earn a commission. All prices were accurate at the time of publishing.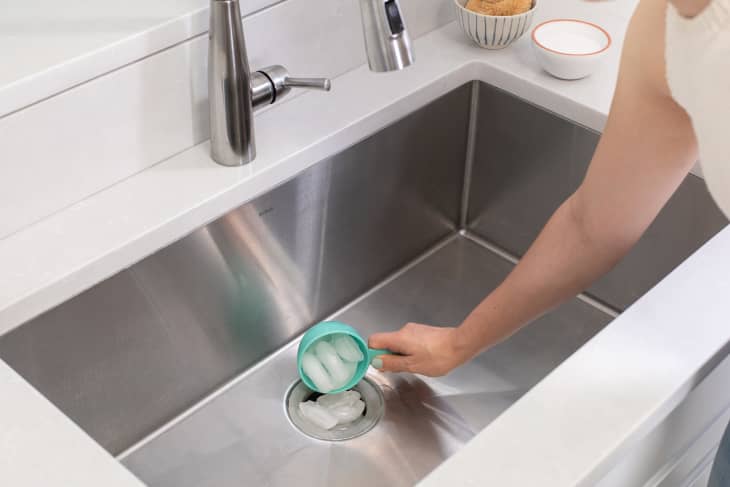 Some of the most satisfying cleaning jobs also happen to be the grossest. Somehow, all that elbow grease seems to pay off when you have a visible representation of what you just cleaned — like when you empty dust bunnies and dirt out your vacuum or dump the brown, dirty water after shampooing your carpets. Apparently, according to a viral TikTok, you can experience the same gross but oddly satisfying effect by cleaning your garbage disposal with ice and hot water.
In the video, the creator puts as many ice cubes as she can fit down her disposal, then starts running the disposal. Next, she turns on the hot water, at which point gross, brown liquid starts to bubble up from the disposal — evidence that the ice method does indeed pull junk from your drain. 
Of course, since I already had the ingredients on hand, I had to try the viral hack in my own sink, which I knew needed some cleaning.

I followed the video's instructions exactly, but ended up disappointed — as soon as I turned on the hot water, my disposal sucked all the ice down, with no brown water or gross debris coming back up. 
According to Paul Abrams, a representative from Roto-Rooter Services, that's actually a good thing. As a pro, he's long recommended the ice method because it's a simple, free way to knock loose stubborn, stuck-on food debris lodged in your disposal, and the goal is to send the gross debris down into the sewer, where it belongs — not back up into the sink.
"What's a little different about the TikTok video is that it shows the user cramming ice into the disposal, then turning it on and with running hot water," he says. "There's nothing wrong with this approach, it comes down to personal preference, but the ice cramming method only serves to fill the disposal to capacity so that some of the gunk has nowhere else to go but up and out of the drain when the user turns on the hot water, further filling the disposal and drain beyond capacity."

Roto-Rooter's approach, Abrams says, doesn't require hot water, and as a result, the gunk won't come bubbling back up.
How to Clean Your Garbage Disposal With Ice, The Right Way
For best results, Roto-Rooter recommends just pouring a bowl or a big glass of ice cubes down the drain (you don't have to cram it in or completely fill the disposal), along with a gentle cleaning agent of some kind. 
For instance, you could add a peeled lemon cut into wedges, a cup of dish soap, a measured ½ cup of baking soda or ½ cup of lemon juice, then turn on the disposal. You could even pour in ½ cup of baking soda followed by ½ cup of white vinegar to get some fizzy cleaning action going.
Whichever concoction you use, you'll want to thoroughly rinse the drain with hot water for at least 30 seconds after the ice has pulverized so everything reaches the sewer. In the end, you'll have a cleaner, better-smelling disposal and drain. It might be less visually satisfying in the process, but at least you won't have to clean up all that gunk from your sink bowl.

Read more: How To Clean Your Kitchen Sink & Disposal