4 Tips for Bringing the Outside In for Fall for Free, According to Designers
We
independently
select these products—if you buy from one of our links, we may earn a commission. All prices were accurate at the time of publishing.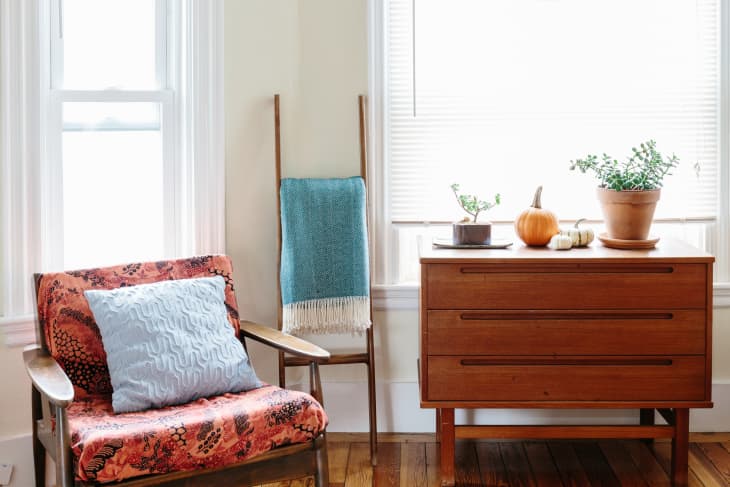 Some people love fall for its pumpkin patches, cozy outdoor picnics, and jaunts through leaf-lined streets. Then there are some people who love fall so much that they want to bring its colors, branches, and general feeling of comfiness indoors so they can be surrounded by these things 24/7. Fortunately for the latter, there are plenty of zero-cost ways to turn your living space into an autumnal, pre-winter wonderland, and it's not too late to channel this look if you love it. 
Designer Linda Hayslett of LH.Designs and Probably This duo Matt Armato and Beau Ciolino, whose debut book, "Housewarming," comes out April 2022, are all self-proclaimed fans of fall and have several tips for transforming your space on a dime… literally. "Fall is one of our favorite times of year to decorate because the entire purpose is to inspire warmth, togetherness, and relaxation," says Ciolino. "That's maybe a bit cheesy, but fall really is just hands-down the most relaxing time of year."
To achieve the most fall-forward environment (after just falling back last week!), I spoke to those three experts to tease out their top tips for transforming your home so that it feels more like the outside on the inside. You don't have to rush the seasons if you don't want to, so here's how to give fall one last decorative breath.
Look beyond pumpkins and gourds
You don't have to head to a pumpkin patch or an apple orchard to find plants and produce that still scream fall. "We love incorporating natural and organic elements into our fall decorating, so beyond pumpkins and gourds, items such as dried hydrangeas, eucalyptus, and pinecones often find their way into our fall decorations," says Ciolino. Right now, dried hydrangeas seem to be having a moment; designer and HGTV star Leanne Ford used them to put together a flower "chandelier" when styling out her latest Crate & Barrel collection (which is pictured above). So don't be afraid to think outside the box with your display ideas either.
Fall lovers can forage for many of these items in their own backyards or make special requests through local florists. You might even find some of these treasures at Trader Joes, which isn't a zero-dollar source but should be cheap nonetheless. "Branches, leaves, acorns, pine, logs, and pinecones are some favorites from nature that I like to bring into the house for decorations," says Hayslett. Consider the fragrant scent of these forest-sourced items an added bonus. 
Keep things in their natural state
While it may be tempting to spray paint branches or roll pinecones in glitter, all three designers agree nature is most beautiful when displayed in its most untouched form. "I normally like to keep things in their natural state unless there's a specific look or theme," shares Hayslett. "Things in nature are pretty neutral, so it's easy to keep them longer for different holidays and seasons if they stay in their natural state."
You can always layer seasonal or holiday specific colors onto your natural touches. Consider adding tiny ornaments to bare branches in a vase for Christmas or using an orange bowl as a base for a pinecone centerpiece for Thanksgiving.
Seek simple contrast in your display
You'll want your natural items to take center stage, so it's important to choose simple accompanying pieces that won't upstage them. "Contrast is a beautiful thing, so whenever working with organic elements like unwieldy branches and dried florals, using minimal vases and containers with neutral colors, clean lines, and simple shapes is a great way to create balance and keep everything orderly," recommends Armato. 
Hayslett likes to use some of the smaller items such as acorns and pinecones for fillers in vases or hurricanes with candles. You can even use elements like this in clear glass lanterns. "They can really set the mood and make displays look festive and full," adds Hayslett. 
Be mindful of dirt, bugs, and other critters
Unfortunately, when dealing with natural elements, you're also running the risk of bringing insects and critters into your home. Some leaves and branches can also be dirty, too. To ensure things are bug- and dirt-free, Hayslett shakes larger items like branches and logs then sprays them down with bug spray and airs them out to dry for a few minutes before using them. "You can also apply this to hardier materials such as acorns and pinecones," she says. For more delicate items like leaves, inspecting and slightly shaking them is a good idea, too.
Ciolino and Armato take a less thorough approach, accepting the fact that a little bit of grime comes with the territory. "As for bugs and dirt — they happen!" says Armato. "If you're uneasy about critters, just give each piece of foliage a thorough inspection before bringing it inside. We normally just hope for the best!"