9 Tips for Scoring Good Deals at Yard Sales All Summer Long — from a Seasoned Pro
We independently select these products—if you buy from one of our links, we may earn a commission. All prices were accurate at the time of publishing.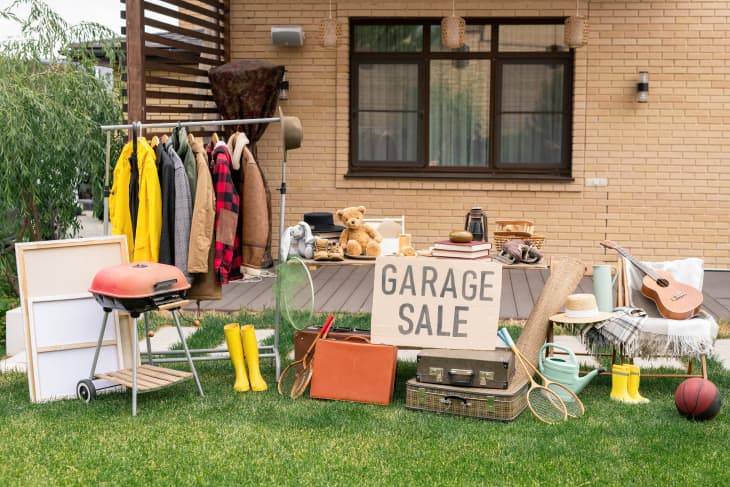 I love thrifting. It's one of my favorite pastimes and something I was doing way before it was considered cool, although not by choice. My mom started an antique shop when I was five, which meant that I grew up going to flea markets, thrift stores, antique shows, and — my current favorite — yard sales. Once warm weather hits, I enjoy getting up early on Saturday morning, grabbing coffee and a donut, and heading off to find some deals.
From books and kitchen gadgets to furniture and clothing, I've been able to fill my house at a fraction of the retail price, and I'm not shy about hosting my own garage sale, either. It's the perfect way to quickly purge items while getting some extra cash. So, whether you're new to the yard sale game or are already an avid thrifter, here are nine tips for scoring bargains the next time you head out to shop this summer's sales.
Plan out your route ahead of time.
Many folks start putting their yard sale posters out early in the week, so start looking for signs on Thursday or Friday. Then scour Craigslist and the newspaper (it seems archaic, but some older folks with vintage items list their sales in the paper). Also, see if your city has a local yard sale page on Facebook. Then, plan your route accordingly, starting at sales closer to your home or at a listing that catches your eye. Although you may find a few last-minute ones on Saturday morning, pre-planning your route gives you a good plan of attack. 
Having $1, $5, and $10 bills is helpful, especially if you offer a lower price and can have exact change ready to hand over to the seller immediately. ATMs typically only give out $20s, so plan to get smaller bills before heading out to help avoid a potentially embarrassing situation. I once got a seller to reduce the price on a $20 item significantly, but I only had a $20 bill. It was a little embarrassing when I was asking for change. Lesson learned!
Familiarize yourself with yard sale pricing.
When my son was little, I happened upon a garage sale with tons of upscale baby boy clothes. I was ecstatic until I saw the prices, which were about half of what they would sell retail. Yikes! A general rule is that an item should be 10 to 20 percent of the original price. Working appliances may garner a bit more, and some things may be worth less. Knowing what standard yard sale pricing is can help avoid overpaying for items. After hitting a few sales, you should have a good idea of the acceptable price range in your area.
Arrive at the sale early.
Yard sales offer the opportunity to score items much less than they would cost new, so arriving early is vital to get highly sought-after items. However, don't arrive too early. I've had folks show up with flashlights 90 minutes before our advertised start time, which isn't advisable, but try to get to the sale close to or just before the starting time. If you happen upon sellers that aren't quite ready, you can peruse what they do have out and head back later in the day.
Sellers are ready to part with their things, so it's perfectly acceptable to haggle on pricing, especially if you are interested in a high-dollar item or have a grouping of things. Either ask the seller if they can lower the price or feel free to make an offer. However, don't suggest too low a price. The seller may take offense and stick to their original cost. For example, recommending $15 or $18 for a $20 item is perfectly acceptable, whereas an offer of $5 may be considered offensive. 
Get to sales near closing time.
Although you can score the best stuff at the beginning of the sale, you may get a better price on lingering items at the end. After all, when the seller is faced with the reality that an item won't sell, they may be willing to drastically reduce the price to avoid storing or moving the object. So if you sleep through your alarm on Saturday morning, don't lose hope. You can still head out and catch those later deals as sellers are closing up shop. 
Head to group yard sales.
To maximize your time, head to areas where there are many sellers. Look for multi-family and neighborhood yard sales. When there are multiple sellers, you'll find a greater variety of items, making the time more productive. Also, I love charity sales put on by a church, school, or nonprofit, where people tend to donate high-quality items. I've gotten such great deals on everything from household items to vintage finds by shopping at sales associated with charities.
Some of my favorite deals were lurking at the bottom of a bag or in a box the seller forgot to unpack. If you find a sale with quality items at a reasonable price, delve deeper into their stash. Even if things are laid out on tables, your eye can miss stuff as you scan. Also, don't be afraid to ask if something is for sale. For example, I was searching for outdoor rugs, and a seller was using two to display his items. He hadn't considered selling them until I asked, and then I got both for $10 — a great deal!
Inspect items thoroughly.
Broken items are never a bargain, so check things over before committing to a purchase. For example, scour dishes for small chips or cracks, plug in appliances to ensure they are in working condition, and check clothing for rips, tears, and holes. It's always a bad deal when you get something home and find it unusable.