A Storied San Francisco Home That Inspires Style and Spirit
We independently select these products—if you buy from one of our links, we may earn a commission. All prices were accurate at the time of publishing.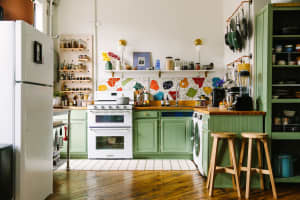 Can't-Miss House Tours Straight to Your Inbox
Keep up with our latest house tours each weekday with our House Tour of the Day newsletter
Name: Toan Lam
Location: Russian Hill — San Francisco
Size: 1,170 square feet
Years lived in: 10 years; renting
Toan Lam's century-old Edwardian—situated on one of the steepest hills in San Francisco—was one of the backdrops for the movie "The Joy Luck Club," he'll tell you. And inside, every room is full of unique finds from all over the world. The alpaca rug in the living room? He bought that in Peru. The antique candelabra in the dining room? That was a gift from a French designer he met on a Craigslist run. "Walking through my home is like walking through a storybook," Toan says. "Every well lived-in home tells a story—especially this apartment."
Toan's personal story is unique and inspiring, too. He and his family fled war-torn Vietnam in the late '70s, leaving behind their bustling construction business. Their first home in South Sacramento was in a trailer park, with all 10 of them crammed into a trailer. "We only had $4 in our pockets," Toan says. "My parents' American dream was for me and my siblings to gain freedom and a better education." Toan's American dream, he says, is to tell stories that inspire people to live to the fullest—and use that power to help others.
A former TV reporter and PBS host, Toan now hosts a YouTube series called "Style Your Spirit" in which he shares design and spiritual tips, such as the importance of candle care and self-care, or how to clear the energy in your physical and mental space.
His series and this home are filled with the core mission of "Style Your Spirit"—to give his audience inspiration or what he calls "simple design tips that create big shifts."
Apartment Therapy Survey:
Describe your style: Old world, high-low boho—a few high-end items, but mostly stuff collected from travels, thrift/antique stores, or found on the street—with a whimsy twist.
Inspiration: My grandmothers' style and spirit are swirling around my abode. My paternal grandmother was poor most her life, and lost her husband and six children before she passed. She was one of the most spiritual people I know. You can feel her Zen influence through my home. My maternal grandmother was on the other end of the spectrum. She embodied an Asian-French Jackie O. Her hair was always "did." Her outfits matched her handbags, jewelry, and shoes. She was one of the most stylish peeps on the planet. The reflection of her fabulousness, elegance, and frugality is swirling around my place. My home reflects my story: the travels, from Paris, Portugal to Peru, and the adoration of my grandmothers and my fabulousness of high-end boutiques, thrifting, and finding gems on the street. Also, nature, travel, Paris flea markets, and thrift stores.
Favorite Element: Everything in and around this space brings me joy. The crown molding, bay windows, and flow of energy. Like one of my fave shop owners says, "Everything here has a story. Ask me a question, I'll spin you a tale." The alpaca rug I bought in a Peruvian flea market. The porcelain hand is an antique mold for gloves that I discovered from a ribbon store, which was the first store to bring ribbons from France to America. I can go on and on.
Biggest Challenge: Oh boy, everything brings me joy up in here! Getting rid of stuff. I adore it all. J'adore!
What Friends Say: "It's so you! He knows where to shop for both high-end items and where to treasure hunt or DIY on the cheap. OMG! I can't believe you bought that for that price." What can I say, I'm an immigrant Asian—I love me a good deal.
Biggest Embarrassment: UGH! I carefully curate it so that everywhere you sit (even on the toilet) you have something that is an aesthetic treat—or as friends say, "You can Instagram every corner." Everything should inspire and tantalize your senses. But when you're renting, your hands are sometimes tied. I abhor the kitchen cupboards—the color and design.
Proudest DIY: I found the black cabinet in the main bathroom literally on the streets of San Francisco, the Mission District to be exact. Since there's no proper place to sand and paint, I DIY'd on the roof and nearly died of sun stroke. Don't do this with your shirt off on a warm autumn day. I got severely sunburnt and almost went to the hospital. But it was worth it. I painted it black and finished it with the cutest owl knobs. Suffer for beauty, darling!
Biggest Indulgence: I love me a good deal. The couch was the most expensive thing in the home. I searched high and low and finally discovered this beauty. I used to work at a furniture store, so I knew what to look for: microfiber (it's stain resistant, a.k.a. good for babies and fur babes) and has one big cushion that doubles as a comfy great bed for guests. The ones with two or three cushions hurt your back when you sleep on it. Bah!
Best Advice: You do you, boo! Who cares what other people like? Have the confidence to decorate in a way that feels best to you. They don't inhabit the space, you do. Unless you're sharing it with your partner, then you have to find a happy medium. As they say, "happy boo, happy you!" Although, the place should rise to meet your best self. As designer Nate Berkus says, "Your home should rise to meet you."
Dream Sources: ABC Carpet & Home, Karl the Store, Poetica, Sue Fisher King, Astier de Villatte, de Gournay, flea markets in France, Andean-style artisan markets in Peru
Roberto sofa — Z Gallerie
Cane back chairs — Goodwill
White alpaca rug — Artisan market in Peru
Pendant lamp — Z Gallerie
Fruit basket pendant — From India. I found it in the clearance isle and knew I could DIY it into a pendant lamp.
Wrought iron floor candelabra — Craigslist
Wrought iron wall sconces — Goodwill
French hutch — Craigslist
Dining Table — It was hard to find a narrow dining table with leaves. This is an antique craft table I found on Craigslist
Rug — Estate sale

Coral tassel shower curtain — World Market
Black cabinet — Found on the streets of San Francisco

Bedsheets — Restoration Hardware
Linen settee — Joss & Main (discontinued)
Mirror — Craigslist
Petaled pendant lamps — Anthropologie
Vintage mannequin — Jessie Black
Wicker end table — Goodwill
Billowing linen curtains — Jessie Black & Restoration Hardware
Antique bed — Found on the streets of San Francisco
Antique French dresser — Craigslist
White dresser — IKEA
Desk — IKEA
Curtains — IKEA
Rug — Karl the Store