3 Pro-Approved Tools You Need If You Hate Assembling IKEA Furniture
We
independently
select these products—if you buy from one of our links, we may earn a commission. All prices were accurate at the time of publishing.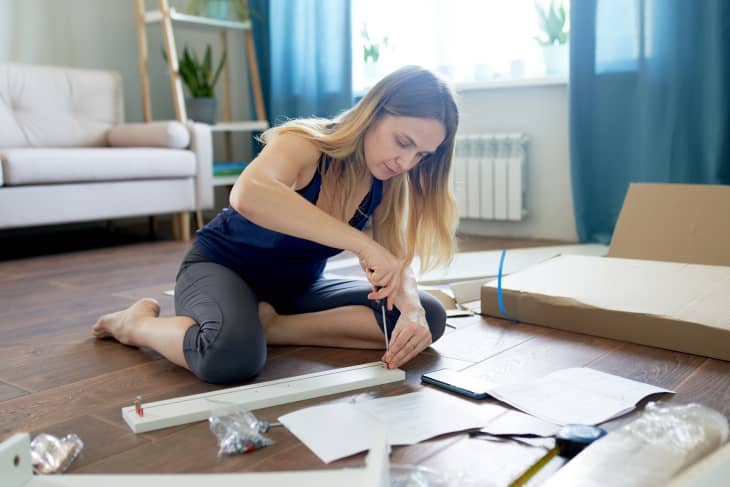 Apartment Therapy has shared tons of IKEA hacks over the years. As someone who's covered an IKEA hack or two (hundred) while working at Apartment Therapy, and as someone who once took the bus to the Brooklyn IKEA twice in one day, I could probably rattle off the names of about half of their Swedish-named inventory for you off the top of my head, and maybe even give you a suggestion or two for how to hack that product for a new look or even a completely different use.
One thing I'm still not very good at, despite how many times I've moved, is IKEA furniture assembly. The little cartoon IKEA guy standing with a hammer, half a shelf, and a question mark above his head is me, most of the time. But you know who does know a lot about IKEA furniture assembly? A Taskrabbit who assembles four or five pieces of flat-pack furniture per week.
For the unfamiliar, Taskrabbit is an app used in a lot of metro areas where you can hire folks to do odd jobs for you, like moving heavy furniture, organizing your closet, painting a wall, mounting a TV, waiting in a long line, and more. Flat-pack furniture assembly is among the most-requested tasks on the app, and for good reason. It can be tedious due to the number of pieces and confusing to know which piece is which. 
Vanessa Garcia, based in Orange County, California, is a tasker on the app who's assembled around 170 pieces of furniture for clients. It's no surprise, then, that she's discovered a few ways to make the process easier.
Use a drill or electric screwdriver.
The first thing you need to know is that Garcia often uses both a drill and a screwdriver instead of the IKEA-supplied Allen wrench to fasten screws faster. "There's certain times that you do need the Allen wrench because the drill won't fit, but other than that, I prefer to always use a drill," Garcia says. "But I will say that for anyone who's not professionally trained with a drill or who doesn't know how to use one, they should practice first."
She notes that if you don't practice first, you run the risk of stripping the IKEA-supplied hardware or accidentally drilling through the furniture itself.
You don't need a super powerful drill for this job, since you won't need to be actually making holes in the pre-drilled pieces. If you don't already have a cordless drill, you can grab a basic one for under $40. An electric screwdriver — priced even lower at about $20 — will also do the trick.
Outfit it with hex bits in various sizes.
To make your drill or electric screwdriver work for your IKEA piece, you'll also need to pick up hex bits; those match the shape of the IKEA-classic Allen wrench, so picking up a set that includes various sizes should cover all of your projects.
Use a drill bit extender to reach tough corners.
Garcia's real game-changer tip, though, deals with hard-to-reach corners in deep, rectangular pieces of furniture where the back is already attached (which, let's face it, IKEA has a lot of). In those instances, Garcia reaches for her drill bit extender. The piece fits into any drill and helps increase your reach by a few extra inches.
"If you have one that can curve for the tough corners or the tough edges where a drill might not fit, that's really helpful," Garcia says. And the good news is, these extenders aren't too splurgy. If you've just moved and have a lot of furniture to assemble, the upfront cost of about $30 for the extender and the bits. It's a worthwhile investment to significantly cut down your assembly time — not to mention your headache. Happy furniture assembling, IKEA lovers!