A Creative California House is Color Saturated
We
independently
select these products—if you buy from one of our links, we may earn a commission. All prices were accurate at the time of publishing.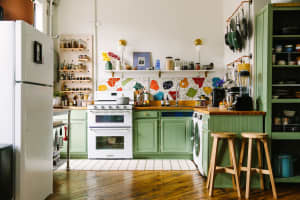 Can't-Miss House Tours Straight to Your Inbox
Keep up with our latest house tours each weekday with our House Tour of the Day newsletter
Name: Genevieve Danger Berrick
Location: Echo Park — Los Angeles, California
Size: 900(ish) square feet
Years Lived In: 1 year, renting
Family legend has it that when Genevieve was 3 years old she firmly informed her mother that she would no longer be wearing pink. And she stood by her word until she rediscovered the color and its place in her east side home. "I decided to really lean into my enjoyment of it." While pink certainly shows up in unique and creative ways throughout her home, it is hardly the star of the show. Throughout you'll find a thoughtful and expressive mix of colors and patterns that collide harmoniously to create a space that is uniquely hers.
Yet we all know it takes more than just patterns and colors to make a house a home. Having grown up in Singapore, she learned that diversity is an important element that brings communities to life. While Silver Lake has changed a lot since she moved here six years ago, this little group of apartments has always maintained a real community feel. In fact, she actually ended up in this particular house by agreeing to temporarily swap apartments with her next-door neighbor. Her neighbor needed a second bedroom and Genevieve wanted to experiment with what living alone felt like. Turns out she really enjoyed it, so with her puppy in tow, she moved in and just like that the swap became permanent and she had a blank canvas to work with.
In her new space Genevieve was empowered to decorate her home using her own creative sense as her guide. She decided to frame two sketches that she did when she was 15 and dreamed of going to art school. "They had been tucked away in a folder for years. Choosing to mount them over my workspace was a key moment of investing in valuing the work that I do and have done. I didn't realize what an important gesture it was at the time, but it's turned out to really fuel my work." The surrounding walls are painted in carefully chosen colors while the others are adorned in exquisite wallpapers that are backdrops to the rest of her art collection, which is almost exclusively made by women, people of color, and members of the LGBTQ community. "I have always been fascinated by the way that marginalized folks self-represent in a world that generally does a poor job of representing them, and it's a joy to live in a space with that kind of representation all around me."
Apartment Therapy Survey:
My Style: Eclectic Art-forward Color-saturation Maximalist.
Inspiration: This was really an experiment in discovering my own personal style, after moving into my own space for the first time.
Favorite Element: The art. And books.
Biggest Challenge: I learned a lot about my abilities as I tackled an array of handy tasks around the place to make it truly feel like mine. It's been a great discovery, and turns out sewing, upholstery, crafting, reframing, and painting walls are all in my repertoire—even installing the "rainfall" shower head that I enjoy every day now.
What Friends Say: They all keep volunteering to be my puppysitter when I'm out of town! Usually they remark about how striking the place is while also feeling homey and warm.
Biggest Embarrassment: I work from home, and am always in the midst of one craft project or another, and so my space is well lived in at all times. While it means that I get to be surrounded constantly with color and creativity, I often have to scramble to have it ready for other folks to spend time in!
Proudest DIY: Honestly, it's less one object so much as how well this place has come together as a cohesive whole. Although discovering that I could paint walls well enough to get a thumbs up from my friends who used to be house painting professionals was a nice moment.
Biggest Indulgence: That floral wallpaper. I had such a specific image of what I wanted, and fell in love with it immediately. It wound up costing way more than I had hoped to spend, but the joy it brings me every day feels worth every cent.
Best Advice: Be prepared to make mistakes, and adjust and adapt. Sometimes the thing you love isn't the right thing for your space, and the perfect thing for the space isn't something you'd have expected. If someone had told me a few years ago that pink would be a core color theme in this space, I would have laughed outright… but here I am!
Dream Sources: This website was something I looked at a bunch as I was working on my ideas! The ways that people live in their spaces has always been a really key inspiration, but I have to admit I love learning about how to craft your own space from any and all resources I can lay my hands on. As a secret homebody, having a space that really brings me joy, that I can work on and in, feels like a special source of power and inspiration.
PAINT & COLORS
Paints — Behr by Home Depot. The grays were different lightness and darkness on the same paint chip to marry them across the rooms.
LIVING ROOM
Bar cart — Target
Desk — Target
Replica ghost chair — Amazon
Coffee table, armchairs, side tables, credenza and, floor lamp — Thrifted
'Vintage' record player — Crosley
Plants — Sunset Nursery
Floor mirror — Handmade from found recycled wood and an old piece of glass
Sunburst mirror — Home Depot