A "Little Bit Bohemian, Little Bit Scandinavian, Little Bit Rock & Roll" Home in Norway
We independently select these products—if you buy from one of our links, we may earn a commission. All prices were accurate at the time of publishing.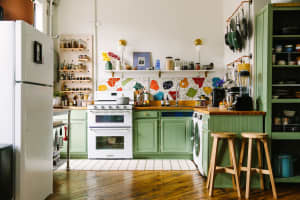 Can't-Miss House Tours Straight to Your Inbox
Keep up with our latest house tours each weekday with our House Tour of the Day newsletter
Name: Julianne Rydberg
Location: Buskerud, Norway
Size: 99 square meters
Years lived in: 1 year
Welcome to Scandi Week—Apartment Therapy's seven-day focus on all-things Scandinavia (often defined as the countries of Sweden, Denmark, and Norway). Sometimes it seems like the whole world is obsessed with trying to copy this corner of the globe, from its timeless style aesthetic to its now-famous coziness rituals. For the next week, we'll take a look at all of it—cleaning, pop culture, and of course tons of eye popping design inspiration. Pull up a blanket and get hygge with us. This tour is a rerun of a gorgeous Scandinavian home we toured a few years ago…but read below an update on Julianne's new home!
This home was a new build, but you would never know that by walking through the rooms. Each space is layered in textures, natural materials and art. After losing her rock and roll musician father, Julianne redecorated the living room to include images of their favorite musical artists.
"The house was one of ten houses that was built with the same design," Julianne writes. "Modern and Scandinavian. So I wanted a more personal touch and am constantly trying to add my own style; old meets new, kind of."
Since this tour first ran two years ago, some changes have come into Julianna's home and life. Firstly, she now blogs under the website A Beautiful Living. And…she's said goodbye to the home in this tour to chase a dream of slow country living in what looks like an absolute dream house. She describes the motivation behind this very recent move in a blog post.
"During my childhood in northern Norway, I dreamt of living in a place like where we have our cabin. Secluded, but still a short way to everything we need. A place where there's animals around us, where birds sing, and a place where we can sit on our staircase and soak in the morning sun.
Every time I travel back home, I still want to go to our cabin. Because that's the only place in the world where I can find that kind of peace I crave. Now we can finally find it in our own home."
Apartment Therapy Survey:
Our Style: I really don't know what my style is. But I'd have to say that it's a mix of old and new. I'm always thrifting and rarely buy new stuff. I'm a little bit bohemian, a little bit Scandinavian, a little bit rock & roll, and a little bit classic. I'm a little of everything.
Inspiration: Norwegians tends to go for the typical Scandinavian style, which has a very minimal vibe. But I don't feel that vibe in my own home. I get inspired by different time eras, and get most of my inspiration from our neighbor country, Sweden. They have a little more different kind of style, and I get really inspired by bloggers like Johanna Bradford, Krickelin and AnnaCate. And also Kinfolk home.
But I also get inspiration from my own life. My father recently passed away, and shortly after that I started redecorating our living room, giving it a whole different style. Now the walls are decorated with our favorite musicians, and has different elements of our musical interests. And that feels right, since my father was a rock & roll musician and I inherited his taste in music. It definitely reflects my childhood.
Favorite Element: I really love bringing nature into my home. Wooden details, bamboo, flowers and greens. And that also feels right, since most of us Norwegians are nature freaks!
Biggest Challenge: It definitely has to be the way the house is built. It's a completely new, very modern house. But the measurements are tricky when it comes to choosing furniture and such. But I feel that we have made it work for us.
What Friends Say: I think our friends like our home, and that they feel at home here. At least I hope they do. Our home is also their home. That's my philosophy.
Biggest Embarrassment: I don't think we've had any yet. But who knows what'll happen in the future?
Proudest DIY: It has to be our backyard, which Howard build this spring with his father. Our neighborhood is very crowded, so this is our way to have some privacy. I really love sitting there when it's really hot, since it's very cool there. Or in the evenings when we get to open a bottle of wine under the lights. It's sooo cozy!
Biggest Indulgence: Well, when we moved in, everything was (per definition) "finished." But I still wanted to redecorate to make it our own. So we've painted A LOT, put up wallpaper and done a lot of "unnecessary" changes. But it was totally worth it. Every house in our neighborhood looks the same. But now our house has a much more personal touch!
Best Advice: Look away from trends when you want to decorate. Don't look at what other people do, unless it's for getting ideas and inspiration. Do your own thing and choose the things YOU like. Write down a list of what you get inspired by, and take your time. Everybody can decorate a house, but making a home takes a lot more time. Like Fleetwood Mac said once: Go your own way!