This Philadelphia Home Has Incredible Hand-Built Details
We
independently
select these products—if you buy from one of our links, we may earn a commission. All prices were accurate at the time of publishing.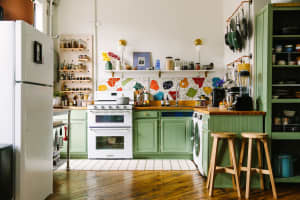 Can't-Miss House Tours Straight to Your Inbox
Keep up with our latest house tours each weekday with our House Tour of the Day newsletter
Name: Benn Colker and Aimee Kirby
Location: Philadelphia, Pennsylvania
Size: 1,082 Square Feet
Years Lived In: 9 months, but they rent from homeowner, Kristin Graettinger, who has owned the home for 10 years.
This house in the neighborhood of East Kensington is the creative collaboration of more than just those people that currently dwell in it. It's a combined passion project between a resourceful homeowner and the two artistic renters that presently call it home.
Kristin Graettinger bought this house at age 24. "It was far from my dream house, but it had most the things on my wish list, high ceilings, a yard space, a basement that I could stand up straight in. The 10 years I lived in that house I taught myself how to fix everything. It's not perfect but I considered it my learning house." In her renovations she built the first floor bathroom from nothing. The custom pattern on the kitchen walls is from tearing walls out in the house and reusing the material. The shelves under the stairs and the cedar on the bathroom walls were both salvaged, too. She put a lot of love in this house.
Kristen now rents out the house to Aimee and Benn, and their style has added to the home's unique charm. Aimee is the founder and creative director of Ferox Studio, a garden and floral design company working in NYC, Philadelphia, and beyond. At the heart of her work is a deep love for meadowscapes and pollinator perennials; she sees every new garden as an opportunity to create a dynamic green space, as well as habitat. Benn is an artist and collector of things. He constructs narratives through found artifacts. With a topic in mind, Benn gathers objects that might have interesting points of view.
Because of the unique nature of this house, we've actually asked Aimee, Benn, and Kristin to answer the house tour survey questions, since each person has had a hand in shaping this space.
Apartment Therapy Survey:
Our Style: Eclectic, Collection-Based, Natural, Art-Driven, Mid-Century Salvage.
Inspiration:
Aimee and Benn: Found objects, the natural world.
Kristin: '50s style, vintage car and motorcycle culture, making anything discarded have purpose again (i.e. the challenge of repurposing junk I've acquired into my home repairs and design).
Favorite Element:
Aimee and Benn: How our personal collections and objects blend and magnify one another.
Kristin: The downstairs half bath windows. The half bathroom didn't exist when I moved in, it was the living room. I didn't want to lose all the light with the bathroom being built and covering existing windows and thought a row of windows at the top would help filter in a bit of the light.
Biggest Challenge:
Aimee and Benn: Practicing Restraint. There are so many glorious objects out there in the world!
Kristin: I didn't have very much renovation experience when I bought the house and it was almost not livable when I bought it. The hardest part was prioritizing my repairs and having a budget to make them—I was 24 when I purchased the house and I hardly had any money.
What Friends Say:
Aimee + Benn: Friends and family always comment about how our row home looks nothing like a traditional Philadelphian row home. We love how different and special it is. We owe so much of that to Kristin's previous 10 years of hard work.
They make fun of me and say I'm DEY (do everything yourself), not DIY.
The house is unrecognizable from how it looked when I moved in.
How did you learn how to do so much house stuff?
Biggest Embarrassment:
Kristin: I'm terrible at focusing on one project which means I almost never finish anything in a timely manner. I'll finish big projects up until they're functional and take forever to put in the finishing details, sometimes because I get distracted, I don't have the budget, or am still working out the elements in my head. I was working on finishing the house until the day I handed over the keys and could have kept going for months if I had the chance.
Proudest DIY:
Aimee: The garden. Ferox Studio is my job and my passion but… as a garden designer, I create outdoor spaces for clients every day. It is satisfying to come home, tend to, and experiment in the garden for myself. Without restriction and timeline. I try to expand on green space in every area of our home possible: front façade, backyard, window boxes, and interior. I love creating layers and textures, as well as creating a habitat for pollinators, which is so important. Shout out to the bees!
Kristin: There used to be a brick wall dividing the dining room and old kitchen; I tore it down brick by brick and rebuilt the two sides of the brick wall because those sections were load bearing. The remaining bricks from the wall are now the back patio.
Designing the kitchen was a whole other challenge. I swapped the door and window to make a galley style kitchen, which I feel uses the space in the best way. It's hard to pick one element to be proud of in the house; I renovated the entire thing mostly by myself over ten years with very little home repair experience. I certainly would have changed things had I continued to live there but I'm proud of the entire thing, and everything I taught myself over all these years.
Biggest Indulgence:
Aimee: Consistently going over seasonal plant budgets.
Kristin: The kitchen, even though I knew halfway through the renovation I was going to be moving out and I'd likely not get to enjoy the space I renovated in the same way I would have had I stayed.
Best Advice:
Kristin: Be patient. You can do it yourself, trust me. Research on the internet, watch tons of videos, and ask a friend who you trust and knows what they're doing anytime you need advice. My mindset has always been: I won't break it any more than it already is, so I'll try to fix it and if I can't I'll call a professional. I don't think I've had to call a professional once yet after starting something.
ENTRY
Large doors – Architectural Salvage
LIVING ROOM
White sofa — Urban Outfitters
Fur pillow – Captured in the urban wilderness…
Yellow loveseat — Gift of Jason Howard
Lamp — Found thrifting in Youngstown, Ohio
Asian chair — Mother of Junk in Williamsburg, Brooklyn
Coffee table —Found on the street in Harlem, NYC, then painted
Organ – Gift from a family friend, picked up in Cincinnati, OH
Barrel — On permanent loan from a sandwich shop in Washington, D.C.
Phonograph – Flea Market at the All State Arena, Illinois
Timber bench — Made by Jason Howard
On and around timber nench: Dried banana leaf protea flower glass mold from Blenco Glass, WV Ceramic Insulator with dried flowers and blacksmithing experiment
Awesome stick – Bridgeton, New Jersey
Compote dish – Campania International
White and black chair- Inherited from Benn's grandparents Herb and Betty Colker
Collection shelf – "Zig Zag Wanderer" by Jason Howard – with a cast of Benn's foot
On Shelf – Children's hats, bonsai mountain-scapes; collected debris from the Delaware Bay Toy Train (purchased from a guy in a van in a parking lot); Butterfly Collection; NYC Antique Store Shoes from Danners Boots; Record (Neko Case); Hot Women CD (This is a diverse compilation of a wide variety of music styles predominantly from the 1920s and 1930s, compiled from Robert Crumb's personal collection of 78's. Music is predominantly from equatorial regions such as Central America and the Caribbean but also from North Africa, Mediterranean Europe and the Middle East); Stamp Machine (Ithaca, New York antique store next to the old high voltage lab); "Bad Data Machine" (This device helps deal with bad WiFi and cell service )
Lath wall – Kirstin created these from lath pulled from the house
Living room photographs – Julie Meridian Art
Two top paintings – Elizabeth Shreve
Lower center painting – by James Tafel Shuster
Center print – Miro
"Woman and Bird in the Moonlight" Salome poster – Found on the street in Clinton Hill, Brooklyn
Books on our coffee table right now: "Xerophile – Cactus Photographs from Expeditions of the Obsessed"; "Wilder Mann," by Charles Freger; "Bernd and Hilla Becher – Life & Work," by Susanne Lange; "Dreamscapes – Inspiration & Beauty in Gardens Near and Far," by Claire Takacs
DINING ROOM
Kandinsky Print (1957 Guggenheim show) – From Benn's grandparents Herb and Betty Colker
Large dining table — Provenance Companies, Philadelphia, Pennsylvania
Old radio — Gift from Jason Howard
Photograph of Benn with Blue Heron
KITCHEN
Kristin's creation
Hanging Plant – Asparagus
BEDROOM
Paint — Salmon Stream, Benjamin Moore
Abstract painting – Found on the street under the Manhattan Bridge, Brooklyn NY
Fan, side table, and lamp — Jinxed Philadelphia
Photo — Benn and Aimee's engagement installation in Joshua Tree
Tapestry – Artist Strange Dirt; Marsha Robinson
Mirror – Found on a demo site; Painted and restored
DOWNSTAIRS BATHROOM
Paint — Light Pistachio, Benjamin Moore
Print — Painted Photograph "Altar of the Condor – Machu Picchu, Peru," by Corson Hirschfeld
Peacock picture — Street find in Ithaca, New York
Plants — Calethea, Pothos, Ripsalis, begonia, Angelonia, Sedum Morganianum, tillandsia
UPSTAIRS BATHROOM
Hanging light – Warren Muller and Benn Colker original (made from object of unknown origin)
AIMEE'S HOME STUDIO
Paint — Sterling Forest, Benjamin Moore
On shelf — Photograph of my grandmother Helen, from her wedding day
Various natural items collected from travels
Pampas grass — Favorite botanical item to work with
Natural Objects collected through various botanical commissions, or travels through the southwest.
BENN'S STUDIO
Collection of tiny chairs – Selections from the Vitra Design Collection
Miniatures — Inherited from Benn's grandmother Betty Colker
Engineering blueprint – Architectural Artifacts, Chicago, Illinois
Bowling photo – From Benn's grandfather Ferd Hodde
Cowboy hat – Reno, Nevada
Armchair – Anna Goff's grandfather's crossword puzzle chair
(In front of armchair) Ambiguous Rolly robot-dog – quite calm, but occasionally very loud
Rug – Inherited from Benn's grandparents Herb and Betty Colker
Desk chair – Jinxed Philadelphia
Samovar – From Benn's great, great grandfather Samuel Footlick
Around Samovar – Engagement Diamond in Bell Jar (a co-designed engagement gift from Aimee); Cambodian Cow Bell (Purchased in Siem Riep, Cambodia); Vernier height gauge; Woodcut Memory Game, by Bryan Nash Gill
On bookshelf right of desk – Isaiah Zagar tile piece; Somewhat old and very old baseball gloves; Baseball from Benn's 1998 little league championship game
Selection from books – "The Shape of Time," by George Kubler; "Invisible Cities," by Italo Calvino; "Gordon Matta Clark: Experience Becomes the Object," by Caroline Goodden & Gerry Hovagimyan; "The Old One and The Dragon," by Julie Meridian; 2 Volume set of the "Cyclopedia of Applied Mechanics, 1882"
BACKYARD
Mostly pollinator perennials
In ground plants — rudbeckia, echinacea, agastache, Russian sage, eupatorium, lagerstroemia, coreopsis, dichondra, climbing roses, salix purpurpea, lavender provence
On table — pilea peperomioides, stag horn gern, mother of thousands, assorted herbs
Pots — Terrain Barnacle Collection
Pots — Campania International
Thanks, Aimee, Benn, and Kristen!