This Santa Cruz Apartment Transformed into a Vibrant Sanctuary
We
independently
select these products—if you buy from one of our links, we may earn a commission. All prices were accurate at the time of publishing.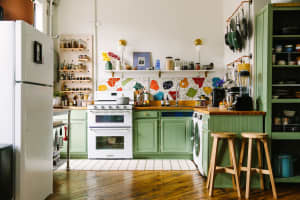 Can't-Miss House Tours Straight to Your Inbox
Keep up with our latest house tours each weekday with our House Tour of the Day newsletter
Name: Lilly Giraldo
Location: Seabright — Santa Cruz, California
Size: 900 square feet
Years lived in: 3 years, renting
I currently live in a two-bedroom apartment in the Seabright neighborhood of Santa Cruz. I moved to Santa Cruz fresh out of college and I remember thinking, "When I grow up I want to live in Seabright," and 20 years later (and after kind of growing up), I found this lovely apartment. I'm within walking distance of the beach and I can hear the waves crashing late at night.
I work long hours and my home is my sanctuary. It makes me so happy to come home to a clean, bright apartment full of sunlight and thriving plants. My apartment is nondescript from the outside, but it's a completely different world inside. Most of my furniture is secondhand and I've lived in so many apartments over the years that I'm really good at adding my own stamp to even the most generic space.
I collect trinkets and knickknacks and I can tell you when and where I picked up almost every single one of them. I've traveled to lots of cool places and have picked up countless objects (that easily fit in a suitcase!) on my adventures.
Mainly, I'm a frustrated artist and my home is my creative outlet. It's the one place where I can truly express myself and display whatever random object catches my eye.
Apartment Therapy Survey:
My Style: I'd say my style is "Colombia meets California." My parents are both originally from Colombia, and growing up we were lucky enough to visit often. I have lots of great pieces picked up on our trips there. Over the years my mom collected some rad stuff too, and bit by bit she's been passing it on to me. Colombia, and Latin America in general, are strong influences on my decorating style, especially how easily people use color in their homes.
As for the California side, I grew up in New England and moved West over 20 years ago and fell in love with California style. It's eclectic and interesting and warm, and the beach and sun are ever present.
Inspiration: Latin American religious art and architecture. I've visited beautiful colonial cathedrals in places like Quito, Cusco, and Mexico City and am in awe of the altars covered in gold leaf. I have a collection of crosses displayed throughout my home.
I ended up learning a lot about Mexican culture and history as a result of my love of Frida Kahlo and I think it shows in my style.
Favorite Element: This is a hard one to narrow down, so I'll list two favorite elements.
The first is the shadow box hanging in my bedroom. I found it over 30 years ago at an antiques fair in Rhode Island. I begged my mom to buy it for me. I've always loved dollhouses and miniatures and I've packed it full of all of my favorite minis, including little things I collected when I was in elementary school!
Next is the antique sewing machine in my bedroom. On my last trip to Colombia, my tias gave me my grandmother's sewing machine. I stuffed it in a duffel bag (and wrapped the sewing machine in the cowhide rug I bought for $80 and surrounded it with bags of coffee I bought as gifts) and dragged it all over the airport and all the way back to California. It was totally worth it.
Biggest Challenge: There's a limit to how much you can personalize a rental. I do my best to work with what I have, but if I owned my own home I would go crazy style-wise. In the end, I do live in a rental, and the kitchen appliances and sink are old. I'd kill for a deeper sink and a faucet with a spray attachment to give my plants a good bath.
What Friends Say: I find that people tend to wander around to take it all in and then find a couple of things they like the most. One friend said my home is like a little museum and others have said my plants must be fake (I assure you, they're not!).
Biggest Embarrassment: I never have any food in my fridge. It's become a running joke with my family.
Biggest Indulgence: After waiting many years, I decided it was time to buy a real couch and splurged on a leather sofa from West Elm. It's gotten more comfortable over time as the leather has worn in.
Best Advice: Make sure you have a connection to all of the things in your home. Each object in my home represents a memory or a specific moment in my life. Surround yourself with as much beauty as you can. Also, take your time decorating. I've lived here three years, but I'll never be finished. It's an ongoing project that I love being a part of.
LIVING ROOM
Couch — West Elm
Mirrored table — Target
Lounge chairs — Secondhand
Chest of drawers — Consignment store
Print to the left of chest of drawers — Bridget Henry, 2016 (purchased during Santa Cruz Open Studios)
DINING ROOM
Table — Hand-carved oak table purchased second-hand
Dining chairs — Vintage Cesca chairs from consignment store
Long table — Pier 1
BEDROOM
Dresser — Almost 50 years old and belonged to my parents. I had wanted it forever and they finally gave it to me when they moved to California.
Duvet — Kip & Co