Towels, Sheets, BIFL: An Interview With the Reddit Queen of Home Textiles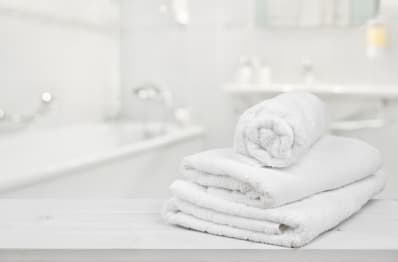 (Image credit: Getty)
Over on a Reddit thread about items that can and can't be BIFL (bought for life), there's a series of comments about what makes towels (and sheets, and duvet covers) good enough to last a lifetime.
They come from Reddit user (and fabric expert) JessthePest (all of whose comments are delightful, if you care to spend a morning falling down various Reddit rabbit holes).
I recommend the entire towel thread, as well as her extended sheets manifesto. And if after reading those you still want more, as I did, I DM'ed her to see if she'd be game to answer a few (or, a lot) more towel- and sheet-related questions, which she very kindly was. I still don't know her real name (I didn't ask), so thank you, Reddit, for making this possible.
Reddit/BIFL Questions
Do you remember the first BIFL-related thread that caught your eye on Reddit?
Yes! It was about correctly seasoning cast iron pans! We actually switched all our pans to cast iron, and I haunt country auctions and garage sales for Griswold cast iron. We had one 8" pan before the post, and I realized my husband was seasoning it wrong — which is why I hated using it! He is now not allowed anywhere near the oven with them and I love using them!
Are there things you've bought or done differently since finding the BIFL Reddit section?
I've had one BIFL request for a hot/cold portable mug/thermos that I ended up buying. I was going to buy an InstantPot anyway, but I joined in on the lovin' on Prime Day. I like reading the leather belts/wallets/etc. posts. My husband's are still in use, but I save the posts' information for future gift sourcing. Tools, I look at. Kitchenware, especially for home preserving.
BIFL is kind of in a difficult position, as a subreddit. Most modern things are built to be replaced, so anything newer than a few years is suspect. But that same value means that by the time we recognize it's a BIFL, the product may not still be around, or at least not at the same function or capacity. For this reason, I avoid anything that has a plug. It's either too old for me to find or too new for me to trust. I also tend to avoid things with plastic in it. With a few exceptions, plastic cracks and deteriorates over time (and in some cases, with heat). Also, if it does break, plastic will not decompose. Neither does metal or glass, but a knife can be sent to a metal recycling plant; a food processor will go to the dump.
Towel Questions
The thing that most blows my mind, re: your advice about towels, is the idea of getting white ones, rather than colorful ones ["White towels because of the heat of the wash will start to fade any color you chose, and because it's easy to keep white"]. But after reading your explanation, it makes sense to me and I am converted. Are all your own towels white?
Yeah! Most of them. My husband had some frayed, grotty ones that were cast-offs from his parents that I cut up for kitchen towels. I think we have one random sage green one that I never use because it's too short to wrap around me and one hooded towel with a frog on it I got as a baby shower gift. I have more colored wash clothes than towels for some reason. I don't remember buying a single one of them, but they're in my cedar chest.
You could still do colorful hand towels! I totally love Miss Manners, and one of her biggest pet peeves is a single communal hand towel (or, worse, a slightly damp body towel still hanging on the shower rod) to dry hands off in a bathroom. For parties and such, she recommends a stack of hand towels (or wash cloths) for guests with a hamper to discard once used. This is slightly fussy, and something I don't do, myself, since our house it tiny and we rarely have the number of guests to make this functional, but I've been at parties where they've done this, and it feel super-luxurious ... all for the price of a load of laundry.
What are some good things to do with old towels that are past their bath-and-shower prime?
I'm assuming you mean the standard terry cloth towels. I always have one or two in each car in case of emergency. Our dog has two for his bath times. If you have kids, they could get frayed (not gross, though) towels. Beach towels, if they're big enough. Keep a couple in the garage. Cut them up and hem for kitchen towels. Cut them up and don't bother hemming for cleaning towels. We actually don't buy paper towels anymore. So, anything you'd use a paper towel for, you could use these.
If you were a decent sewer, you could make your own hand towels or wash cloths from a frayed or stained towel (avoid the stain) — or you could make beach cover-ups or wet-hair turbans. You could also line old towels with waterproof PUL [polyurethane laminate] and make hair mask turbans/caps, baby diapers.
If you bleached the crap out of them and knew they were clean, old towels could be a filling for a summer quilt, too. There's lots you could do! Cut them into strips and make a braided rug. Make baby burp cloths or a robe for a baby or toddler...
When should people wash their towels? Or, when is a towel ready to be washed?
This is all personal preference. Some people, no matter what I say, will believe a towel used once is clean enough to use again. Some people will never, ever wash a towel and it will perpetually smell of mildew. And, to make it even more confusing, do you have long hair or short, and do you let your hair air dry or wrap it up? Do you put on lotion after your shower, or walk around your house making breakfast in your towel?
I have very long hair, but I don't wrap it in a towel, I wrap it in an old tee shirt of my husband's, because it's curly and drying it with terry cloth makes it frizzy. I dab myself dry with the towel, I don't rub my skin with it. Once I'm dry, I hang up the towel to dry then I put on lotion and walk around nekkid for five minutes to let it absorb before getting dressed. When I give myself a spa treatment, I don't walk around in my towel, but I do have a robe I use if I have to herd kids. I wash my towel once a week, showering on average four or five times. But, remember, I don't put my hair in it. I don't wash my hair every time I shower, anyway.
What's the best way to get mascara out of towels? (Is the answer to have white towels and bleach them?)
I have a couple of flannel washcloths I use to take off my face. I'll use a good eye makeup remover, Estée Lauder Gentle Eye Makeup Remover, and cotton balls. I also use that on my lips if I used lipstick and somehow managed to not chew it all off by the end of the day. Then I wash my face (Cetaphil) with the washcloths and dry with another. Now, these washcloths I made myself. I cloth-diapered my children and I was experimenting with wipes-sizes. Two inch squared wipes were too small, four inch squared wipes were too big, and three inch squared were just right. Other than the single test wipe, none of the two- and four- inch wipes were used on a baby's bottom, so we use them for wash clothes. They have a cute green ducky motif on them. I'd use flannel on your face, rather than terry cloth. The loops of the terry make it easier to stain and harder to treat.
Carbona Stain Devils has a good mascara-stain remover for any current towels with stains on them, but I find the more often they were dried, the less likely to be removed completely. You could try bleaching. Try a 50/50 water/chorine bleach mixture in a spray bottle, saturate and soak. Check back in an hour — no more than three — and then wash. Chlorine bleach will eat at the towel, so it's best not to do it all the time and redirect the mascara onto something else.
Are there really people who wipe down their showers with their towels?! That is incredible. Are there other unusual/horrifying things that people do with towels??
Omg, what do people not do with towels?!? My college had conferences they'd host over the summer. Alumni would come and stay anywhere from overnight to a week in the dorms. These people knew it was current students turning over their rooms, and still they'd leave nasty surprises for us to collect. It'd run the gamut from every bodily fluid a person has, to dying their hair, to taking them outside to sun on. One guy used one of our wet washcloths to store worms in; he'd fish every morning in the stream that cut through campus and would dig up worms the night before and keep them in this damp washcloth in a cup.
I just wonder what people do with their towels in the privacy of their own homes if they're willing to do this with semi-public towels.
Sheet Questions
What do you dislike about jersey sheets? (I'm not a jersey-sheet defender, but I am curious.)
So, jersey sheets are insanely soft, yes. But, I have never seen a jersey sheet that doesn't eventually pill. Also, jersey is a knit fabric. Knit is stretchy. Stretchy means it eventually loosens up, which means wrinkles. I have kids and kids mean sand, crumbs, coins, Elsa dolls and GI Joes wind up in my bed on the regular. Wrinkles plus these wonderful gifts? I'd be washing my sheets on a daily basis.
Do you have any advice for people interested in buying linen sheets on eBay (or similar)?
I've never bought sheets on eBay before. Caveat Emptor. But, I've thrift shopped sheets before and the concept is the same. Decide what you like and look for it. It's, really, deciding what you like that takes the most time. And, if you have a bed-partner, compromising if you have two different likes. Once you decide you like 400 count cotton sateen sheets, or 250 count cotton percale, you can search for that. You may not find exactly that. Maybe 500 count sateen or 200 count cotton percale. You could buy if the price is right and see if you can be flexible, or you can be really picky and wait. The only thing I'd be hesitant about with eBay is while all the stats might be right, and you're thinking you have a good deal because This Brand Sheets retails for X00% more, you could be getting sheets that were abused and you wouldn't know it.
No sheet should be pilly. If you get fitted sheets, the elastic should be supple with good return. The pillowcases should have the same texture throughout; you shouldn't feel any oil or thicker deposits in the center. The selvedge and hem edges should be smooth, without frays or tears. These are really hard to gauge until you see them in person, and not every seller on eBay is going to know to report these or care enough to check for you.
If I master hospital corners, am I theoretically freed from the fitted sheet for the rest of time? (And should I be buying up in size if I'm using a flat sheet as a bottom sheet going forward — like does a king-size flat sheet work as a bottom sheet for a queen mattress?)
Theoretically, yes. Military, hospitals and hotels all use flat sheets and no one has a problem. If you like a tucked-in top sheet, hospital corners will be awesome and you'll have no problems. If you like a loose top sheet, don't tuck your top sheet in, or you'll pull everything out when you pull our your top sheet ... or learn to like a tucked in bed.
You shouldn't have to buy up a size, but if you have a deep pocket mattress, you'll want to look for a brand that sells top sheets for deep pocket. There should be eight inches of sheet or more to tuck under our mattress, too little and you might struggle with keeping it tucked in. You could go up to King, but you're only getting significantly more width; the length only 6" more in a King than a Queen flat sheet. The additional cost might not be worth it.
How can people prevent sheet pilling? And is there anything to be done for already-pilled sheets?
Pilling happens from friction. Usually it happens in the center of the bed where you roll around. If you could train yourself to not move around as you slept, that could be a way to prevent pilling, but really the answer is to get a quality sheet. Satin or sateen weaves will pill more frequently than a plain weave, because the warp threads are longer on the surface of the sheet and so they're likelier to snag. You could also air dry your sheets to prevent pilling. Friction will happen in the agitation of the washer, but removing a sheet from the agitation of a dryer will reduce the amount of friction by a lot.
Unfortunately, there is nothing I've heard of to eliminate pilling on an already-pilled sheet. A pill is a strand of thread from a textile that has unwoven itself, is collecting lint, and is balling up. There's no way to re-weave that. You can get a sweater shaver and cut off the pills, but that's a temporary solution; removing that strand weakens the area and eventually, it's going to tear. But cutting is better than pulling the pills out. If you're fidgety and tend to pick at stuff, cut it before pulling it.
What are your thoughts on silk sheets (I see you are a fan but I will leave this open-ended)?
I still don't have a set. I can only dream. I do buy a lot of silk for my clothing and I still love it lots. I have been thinking about indulging in a silk pillowcase, maybe for Christmas this year. I'd get to feel it on my face, and it's supposed to be great for the health of your hair! I could even make my own since one won't require that much yardage of fabric ... okay. Thanks! I just talked myself into it!
Thank you!
Apartment Therapy supports our readers with carefully chosen product recommendations to improve life at home. You support us through our independently chosen links, many of which earn us a commission.