The Rock-Paper-Scissors Trader Joe's Date Night Is the Fun and Cheap Idea You've Been Looking For
We
independently
select these products—if you buy from one of our links, we may earn a commission. All prices were accurate at the time of publishing.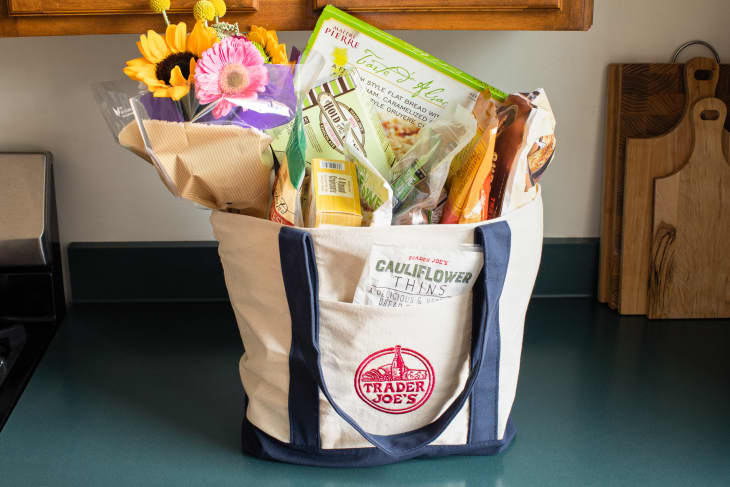 If you were an alien learning about human dating by watching every episode of "The Bachelorette," you would likely come to believe that a date means going skydiving, having a country musician surprise you with a private concert, or sitting in front of a twinkle-lit dinner but never quite eating anything on your plate. And those can be dates! But often, the nicest activities are far simpler. And I'm here to tell you one of the simplest, cheapest, and most fun dates of all involves going to the grocery store. Specifically, Trader Joe's.
Hear me out: Between its zany graphic design, plethora of snacks, and Mad Libs flavor combinations, Trader Joe's is like an amusement park for groceries. It has such a frenzied and loyal allegiance that people have debated whether its following could qualify as a cult. The employees are famously flirty, adding to the atmosphere of romance! And, if you're shopping at a location that serves beer and wine, you can find some mouthwatering bottles for blissfully bottom-shelf prices. 
Though you've probably been to Trader Joe's and even been grocery shopping with your partner, a recent TikTok trend proposes an old-school way to turn the mundane activity into a memorable date night: Play rock-paper-scissors. Go shopping for dinner, but for each course of the meal (appetizer, main, dessert, beverage), throw down hands to decide who gets to choose the dish. After seeing the trend on my timeline, I decided to take it for a test run to see just how fun a grocery shopping date could be. Here's how it went.
I did not anticipate being so embarrassed to play rock-paper-scissors in public. I ushered my boyfriend to the end of the freezer aisle to compete in peace and he ruthlessly dominated my paper with scissors. He scanned the frozen appetizer selection and landed on Mini Vegetable Samosas, a South Asian pastry I love — and a relative steal at $3.79 for 12 pieces. 
I learned my lesson from last round that being paper is no way to win! This time I played scissors, a historically successful move, yet he pulled a fast one on me by playing rock and winning yet again. He opted for the Mandarin Orange Chicken ($4.99 for a five-servings bag) because he says he's never tried it (later, while eating dinner he will say, "Oh, I actually have had this before!") and we decided to cook some white rice at home to go with it. Though I have no say in the matter, given that the orange chicken is consistently a top-selling Trader's Joe's item, I completely stand by his choice. 
I am not above someone letting me win!! My boyfriend apparently is. We rock-paper-scissors and once again he ruled with an iron fist (rock). Dessert is very important to me so I hovered anxiously as he perused the frozen dessert aisle, the little treats section, and the baked goods area. He finally picked up the Chocolate Brooklyn Babka ($5.99) and I was thrilled. Layers of soft, chocolatey pastry that are deliciously sweet without being cloying? It's almost as if I have won the round. 
I am going to bravely tell the truth: I lost again. But, like the incredible sport I am, I begged for a rematch and won! This was not in our original rule book, but I would recommend having a one-rematch caveat for anyone trying out this date idea for themselves. I victoriously whisked the cart over to the wine section and end up landing on a bottle of the non-alcoholic seasonal Sugar Plum Sparkling Beverage ($3.99). Later, I made a drink with Tito's vodka, lime juice, Sugar Plum goodness, and a champagne gummy bear sunk into the glass for good cheer, dubbing it the Candy Land Cocktail. One has to wonder what this kind of creativity could have done for a main course or appetizer. 
Bonus round: Snack for the ride home
We were hungry for dinner, so we played one more hand for a good to-go snack. In a surprise twist, my boyfriend won again and made an excellent choice to get some lentil and chickpea Papadums ($2.69), which was the perfect crisp and savory snack to tide us over while we got home and heated up the oven. And of course, I grabbed some Friday Flowers on the way out. 
Was the Trader Joe's date night worth it?
At less than $25 for dinner for two (plus leftovers), it was certainly worth it. Gamifying the grocery shopping process — an activity I actually love to do anyway — made it fun, and putting on some music while making the resulting meal felt so much more special than just heating up a frozen dinner. Though cooking a gourmet, multi-step recipe is also very romantic, this version was not only inexpensive but also didn't take a lot of time, making it perfect for even a midweek date night. I was also able to pick up some other grocery staples I needed in the process, and I'm a big fan of anything that makes the daily chores I can take for granted feel extra special.